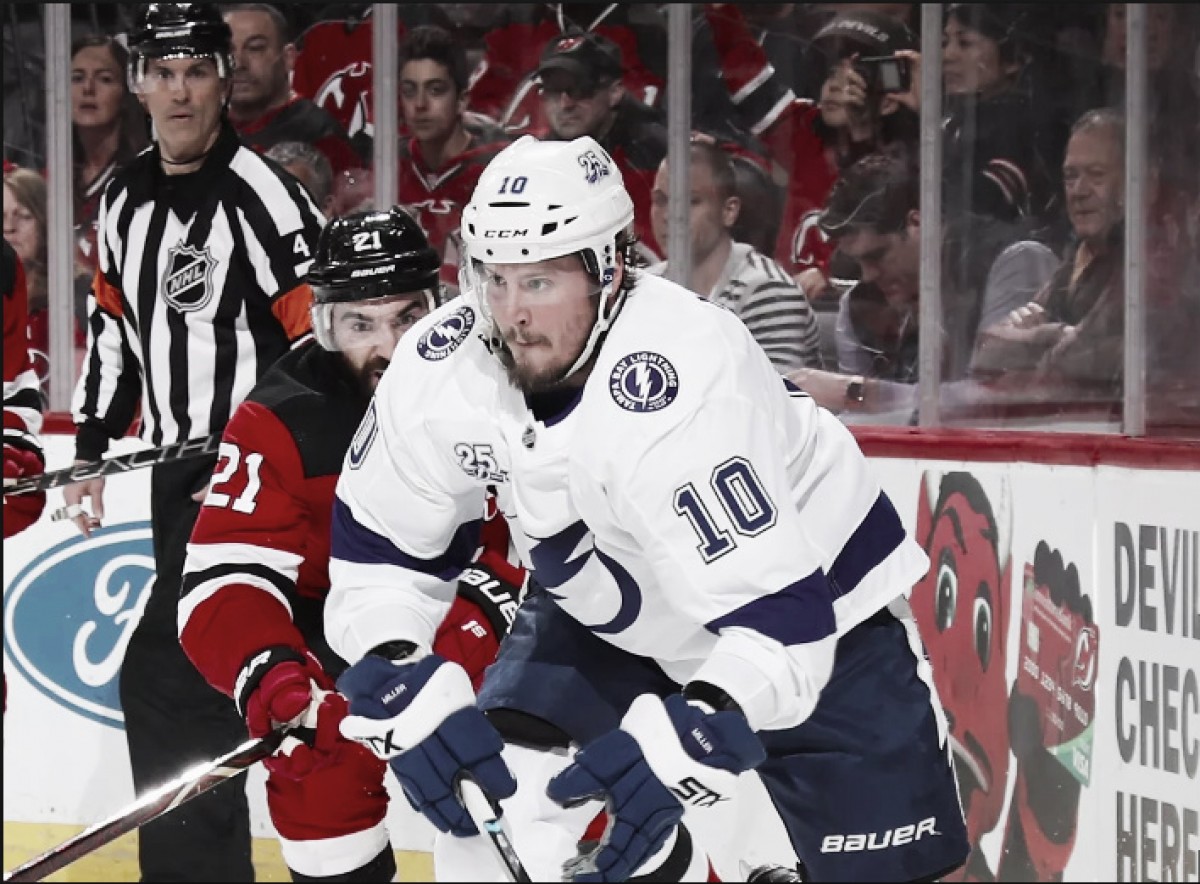 Forward J.T. Miller is a member of the Tampa Bay Lightning for five more years. The Lightning acquired Miller from the New York Rangers last year via trade.
Miller signed a five-year contract that adds up to $26.25M. He will count $5.5M against the salary cap through 2022/2023. The deal was announced Tuesday by general manager Steve Yzerman.
Lightning land Miller for five years
When Miller was acquired at the trade deadline, he went on to put up 18 points in 19 regular-season games with the Bolts, and then another eight in 17 playoff games. In 360 career NHL games, Miller has 82 goals and 108 assists.
He was especially one of the most valuable players on the power-play in both Tampa Bay and New York totaling 11 goals and seven assists with the extra-man advantage. Five of those goals came in his short stretch with the Bolts.
The contract signed by Miller puts the cap-strapped Lightning closer to the ceiling of $79.5M that's still needed to sign defenseman Slater Koekkoek and forward Cedric Paquette.
Miller was projected to cost just over $6M a year. He will now be the fourth-highest paid player on the roster next season unless the Lightning land John Tavares during the free-agency window.
Tavares is still examining his options from five teams interested in his services. Tampa may be in the running, but it will take some ingenious juggling of the numbers to fit his salary in. One key factor would be that there is no state income tax in Florida, saving JT millions.
Three Bolts players could become unrestricted free agents July 1 of 2019. Ryan McDonagh, Dan Girardi, and Anton Stralman. After that, Ryan Callahan's contract expires.
The Lightning opens their regular season against in-state rivals Flordia Panthers on October 6. The Lightning made it to the Eastern Conference Finals on the 2018 NHL Stanley Cup Playoffs, where they lost in seven games to champions Washington Capitals. The Caps went on to win the Stanley Cup for the first time in history after defeating the Vegas Golden Knights in five games to capture the title.
Will the signing of Miller help the Lightning stay competitive and perhaps move on to the Cup Finals next season? Let us know in the comments section below.