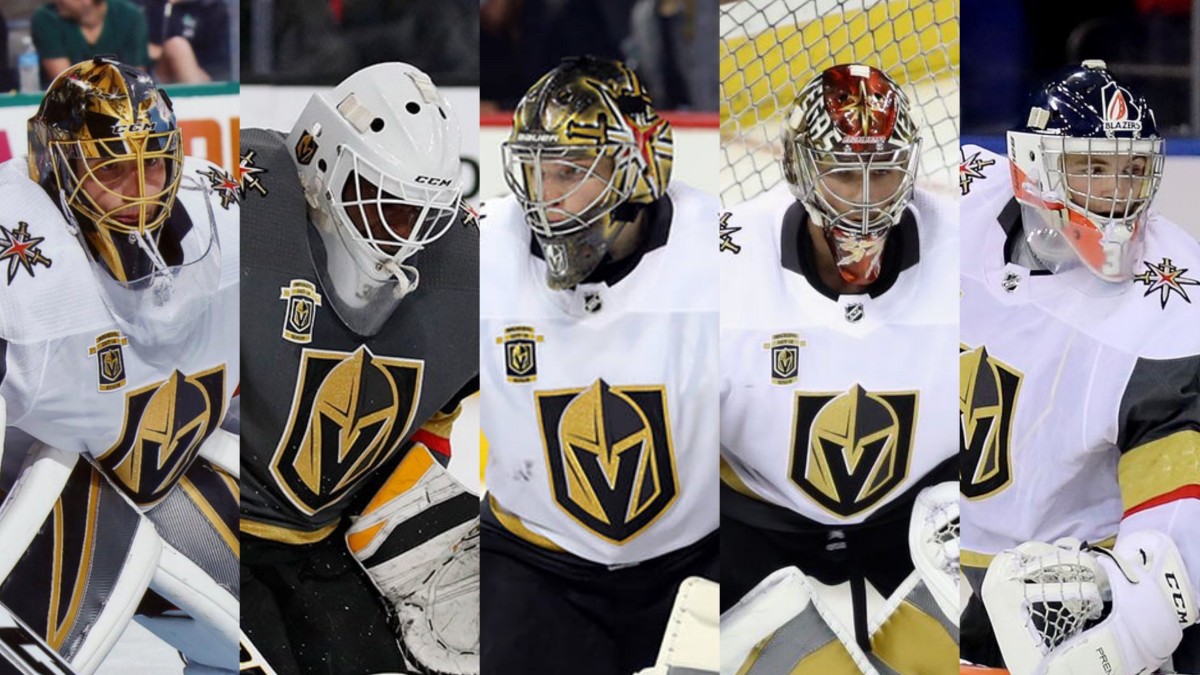 The Vegas Golden Knights got as far as they did in their inaugural season in large part due to goaltending. Starter Marc-Andre Fleury was unflappable on most nights. Although many will say that he did not have the best Final, it is impossible to place blame on the 33-year-old goaltender for the series as chances are they wouldn't have reached the third round without him.
It is also important to remember that Fleury was injured for 25 games. A concussion early in the season kept him out of action for two months. This gave way for young guys like Malcolm Subban, Oscar Dansk, and Maxime Lagace to step up. They did a remarkable job.
Subban played 22 games, winning 13 of them and posting a 2.68 GAA.
Dansk appeared in only four games but posted a 1.78 GAA and the teams first ever shutout.
Lagace played 16 games winning six. Lagace is largely credited with keeping Vegas above water when all three goalies above him went down.
18-year-old Dylan Ferguson also made an appearance after an emergency call-up. His claim to fame is the fact that he stopped a Connor McDavid shot.
All of those things are fun and added to the remarkable feat that was the Golden Knights; but what now? What happens to all these goalies now?
How many goalies are in the system?
With Fleury being the undisputed starter and playing the best hockey of his career; along with the confidence of the coach, it is safe to say that Fleury's job as Vegas' starter is not in question.
After starter, however, the list of goalies grows; and with it the complications of who is allowed to play where and for how much.
Fleury, Subban, Dansk, Lagace, Zach Fucale, and Ferguson.
Ferguson's role is not complicated for the time being. If he does not make the NHL club (he won't,) he is eligible to go back to his Western Hockey League team in British Columbia. Last season he played 59 games for the Kamloops Blazers, posting a 2.95 GAA; a good save percentage in an often high octane and goalie unfriendly league.
Fucale is also presumably easy to figure out. Unless he comes into camp and absolutely dominates, there is no spot for him in the big club. He will play for the AHL affiliate Chicago Wolves. There is a slight chance if he performs poorly that he is pushed down to the ECHL affiliate; Quad City Mallards.
Fucale was signed by the Golden Knights to a one-year deal on July 1st. At the NHL level, the contract carries a salary of $650,000. That is the league minimum, and in the AHL he will be making $75,000.
Max Lagace
Lagace carries with him an interesting story. Not regarded as an NHL goalie, undrafted, 25-years-old, and has made appearances on six pro teams. Ranging from the Golden Knights of the NHL to the Bakersfield Condors of the ECHL.
This season he was regarded as a savior. No NHL goalie has been praised for a 3.91 GAA and .867 SVP. If those were, let's say, Fleury's numbers; he would be out of a job. But for about a month Lagace was the starting goalie for the Golden Knights. His ability to win six games may well have been the biggest influence to Vegas' "never say never" attitude.
He earned himself a contract this offseason; signing a one year deal with Vegas. Although making the NHL league minimum of $650,000, he earned a $100,000 dollar raise at the AHL level making his minors salary $160,000 for this upcoming season.
Lagace did well for himself this year and beyond, but what happens this coming season is largely up to him. His numbers in the AHL this year were vastly improved from the 2016/17 campaign and with a growing confidence, he will most likely be a mainstay in the Chicago net.
Working on a contract year, it is impossible to gauge where he stands in the Vegas organization in the long term but he is well respected in Vegas and will be given an opportunity to play for another contract.
There is an outside chance he pushes for the backup role, but due to waiver restrictions and Lagace's ability to clear waivers unconditionally his best fit is in Chicago this season.
Dansk and Subban
This one is shaping out to be a fight to the death. Neither goalie is waiver exempt. Both are unlikely to clear waivers, both are on league minimum salaries, but have unique and powerful upside, both have little trade value because Vegas' hands are tied.
Dansk is more likely to be able to slide through waivers and reach the Chicago Wolves but after a few solid games in the NHL last season, there will be interest in the goaltender. Subban's name recognition and strong season last year will almost guarantee that a team scoops him up if placed on waivers. Of note, if this does happen, expect the Boston Bruins to give him a hard look on the waiver wire.
On July 6th, Dansk signed a two-year, two-way deal with Vegas that pays him $675,000 at the NHL level and $150,000 at the AHL level with a guarantee of $200,000. Dansk's upside is strong and he has a genuine shot at making an NHL roster.
Quite honestly, Dansk would benefit greatly from another year in the AHL but there is a good chance that can't happen in Vegas. Vegas signed this contract knowing full well he may not play it out in Vegas.
That brings us to Subban. Subban is entering the last year of his contract, making the league minimum with a base salary guarantee of $275,000. His credentials are the most impressive of the backups.
A first-round draft pick, a few appearances for team Canada at different tournaments and an impressive junior career, the 24-year old broke into the NHL this year and renewed the thought that Subban could very well be an NHL starter.
On face value, it is a no-brainer for Subban to be the backup but if Dansk outplays him in training camp, Vegas has to make a choice as to what to do with Subban. Subban's athletic ability is off the charts, and it reminds you of a young Marc-Andre Fleury or Jonathan Quick.
Most would say with confidence that Subban would not clear waivers. It is beginning to look clear that one of these two goalies won't start the season in Vegas; baring an injury to Fleury.
Fleury
The big kahuna of the Vegas Golden Knights, a celebrity as much as he is a hockey player, Fleury holds the key to much that is the Golden Knights. Entering his final year of a four-year, $23 million contract, with a modified No Trade Clause (NTC) and a full No Movement Clause (NMC), Fleury and Vegas have some choices to make.
He is eligible to sign a contract extension today if he wanted to, and he has expressed the desire to finish his career in Vegas. He is 33-years-old today and come late November he will be 34. What is the correct contract for a 34-year-old, three-time Stanley Cup Champion, the face of your franchise that just played the best season of his career, former first overall draft pick, and one of the most respected men in the league?
That's a tough one. Some would say lock him up long-term to a six-year deal that all but solidifies that Fleury won't play for any other team but Vegas the rest of his career. There would be a small contingent that would argue that they shouldn't sign him at all.
Realistically a three or four-year deal would make the most sense for Fleury. A $6 million dollar cap hit or somewhere around there. A NMC/NTC would make sense for him as well.
What happens with Fleury directly affects Subban and Dansk however. If Fleury is going to be the starter for the next three or four years, maybe longer; who is the future in net? Four years is probably too long to wait for Subban or Dansk. That could very well mean that the future is not in the system yet.
There is also risk in signing Fleury. Although his 2017/18 campaign was unbelievable and it is impossible to deny his love for the game, his ability to play remarkably well is still at an all-time high. However, signing him to a four-year deal brings him to 38-years-old. If he is still playing like he did this year at 38 then there is no issue in the contract, but that is a big ask.
It is also impossible to count Fleury out, however.
Overall the Vegas goalie situation is more complicated than it seems at face value. An added twist is that as it stands right now, they have no goalies signed past the end of next year. This could all work out very smoothly, and the present is incredibly bright for Vegas in net, however, the future holds more questions than answers.
Who do you think will be the future of the crease in Vegas? How long will Fleury play? Comment in the section below.