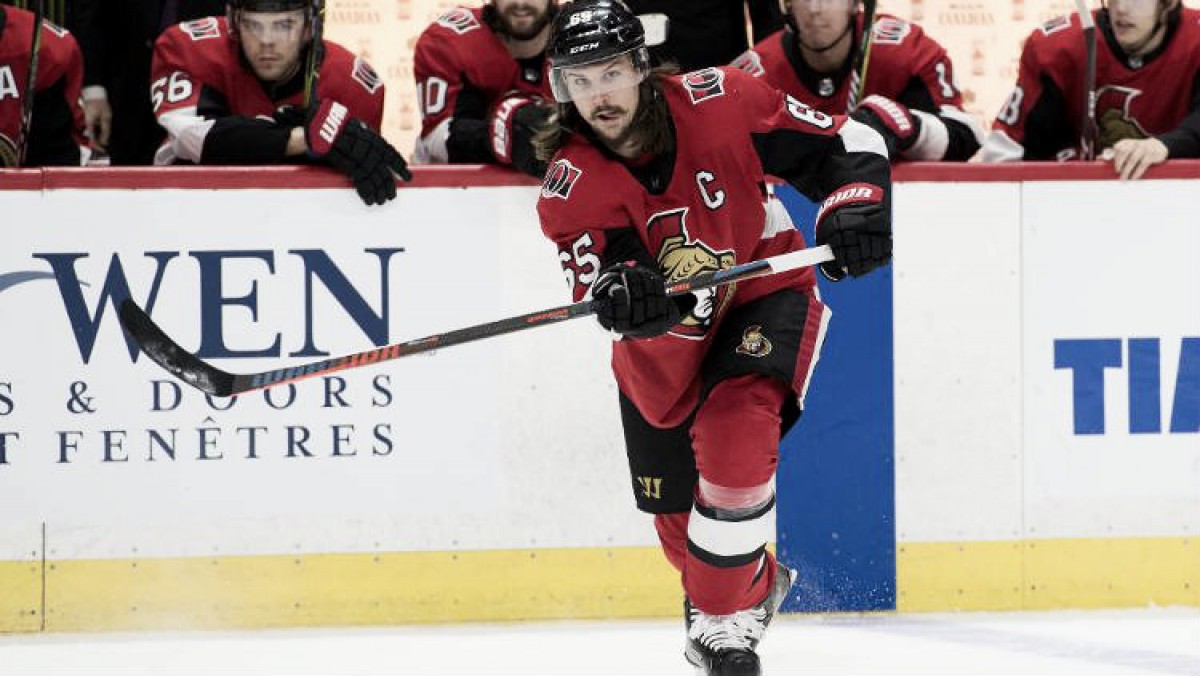 It's a foregone conclusion that most NHL fans are getting exhausted by all the Erik Karlsson trade rumors in the news lately.
Tampa Bay Lightning may be out of the equation
Last week the big talk was EK going to Tampa and having all of us wondering how GM Steve Yzerman was going to swing a deal for the prized blueliner and still stay under the salary cap. Especially since he just signed forward Nakita Kucherov to an eight-year $76 million deal.
The fact that the Lightning has more assets to pull a deal off by perhaps offering Mikhail Sergachev, Tyler Johnson and Brayden Point is puzzling why the Stars are back into the talks of acquiring Karlsson.
When you throw draft picks into the hopper Tampa would seem to have the upper hand in trade negotiations... they still may have a chance to win the EK sweepstakes.
And... don't forget that the Vegas Golden Knights may sneak in and get involved since they have lots of salary cap space to use.
What Dallas may need to give up
Ottawa may demand Dallas' 2017 third overall pick Miro Heiskanen and that could be something that the Stars may not want to do. He is a smooth two-way defenseman who could help the wounds of losing Karlsson.
Dallas GM Jim Nill has some deep thinking to do. Does he go after the already proven All-Star defenseman in Karlsson or keep his prized draft pick? Would he need to add draft picks or a valued forward to allow the trade to consummate?
It seems doubtful that Nill will give up Heiskanen since he may be the future of the franchise and is much younger than Karlsson with a bright future ahead of himself.
The Stars fell just three points short of qualifying for the playoffs and adding Karlsson can be nothing short of brilliant.
Ottawa needs to do something
This is not the same team who fell short by just one goal of reaching the Stanley Cup Finals just a year ago. This past season the Senators failed miserably.
They unloaded Mike Hoffman to the Florida Panthers after a scandalous alleged cyberbullying was conducted by Hoffman's fiance towards Karlsson's wife.
Goalie Craig Anderson also has made it clear that he may want to leave the circus in Ottawa.
Senators' owner Eugene Melnyk has criticized fans for not selling out home games and threatened to move the team.
It doesn't take a rocket scientist to see why Karlsson sees that his welcome has expired and he needs to move on to a team he can help to get to the Cup.
Will adding Karlsson make Dallas a better team?
Undoubtedly.
He is a premier offensive-minded defenseman who can add to the already explosive offense that Dallas possesses. The only question becomes can they upgrade their defensive deficiencies and can goalie Ben Bishop play well enough to keep them competitive?
A fresh start for Karlsson may inspire him to perform well enough to earn a contract in the 7-year $70 million range. That can put a smile on his face and allow him to concentrate on winning... because for Erik Karlsson that is what it is all about.
Where do you think Erik Karlsson will land? Does Dallas now have the advantage of acquiring the star defenseman? Let us know your thoughts in the comment section below.