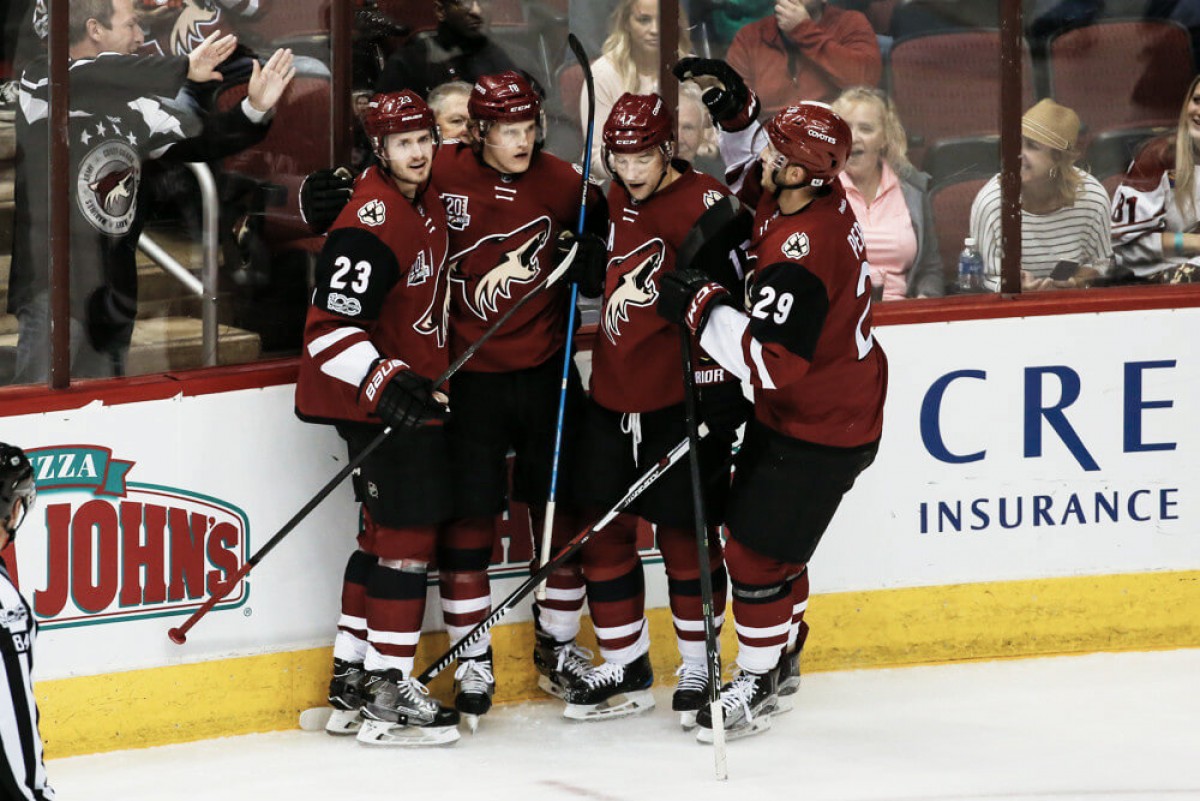 The Arizona Coyotes will thankfully have a much better schedule this upcoming season than they had last season. Although it can't be blamed for all of their lack of making the playoffs, it still was a factor.
According to second-year head coach, Rick Tocchet practice time was at a premium and that made it difficult to travel and yet get the ice time necessary to keep every player's skills sharp.
Still, the team recovered from a disastrous start and finished the season on an up note. They gathered a 20-14-7 record over the last 41 games and only hope they can continue to play that well when the new season begins.
Rivalries, trades prevail
It goes without saying that the Coyotes and Chicago Blackhawks have been rivals for some time. That is especially apparent when you factor in that the two teams have made some pretty intense trades over the last two summers.
Two seasons ago the Blackhawks sent Nicklas Hjarmalsson to the Coyotes in exchange for Connor Murphy and Laurent Dauphin. Richard Panik headed west to the desert in January of this year along with Dauphin for Anthony Duclair and Adam Clendening.
Then, just recently the two teams pulled off a major seven-player trade. The Coyotes collected young, speedy Vinnie Hinostroza and blueliner Jordan Oesterle in exchange for taking Marian Hossa's contract, Marcus Kruger, MacKenzie Erswistle, Jordan Maletta, and Andrew Campbell.
The key games for this next season will happen early when the Chicago club hosts the Coyotes on October 18, 2018. They will meet in Arizona near the end of the season on March 26, 2018. That game could have significance in the playoff race for both teams.
Vegas Golden Knights games are always entertaining
The pride of Las Vegas will come to Glendale, AZ to battle the Coyotes on November 21, 2018. Besides the obvious geographical rivalry, the Coyotes didn't fare too well against their sister desert opponent last season going 1-2-0-2, for just four points.
Obviously, both teams have changed their rosters and it will be intriguing to see if the Arizona club can muster some more wins against the upstart Vegas Golden Knights' team who exceeded everyone's expectations by going all the way to the Stanley Cup Finals.
The two teams will match up again near the end of the season, which could be decisive when they face each other on April 4, 2019, in Sin City.
The rivalry between these two teams will grow, but right now it looks like the Los Angeles Kings have a more intense competition with Vegas than any other team.
Don't miss this game
On December 20, 2018, the Montreal Canadiens invade Gila River Arena to take on the Coyotes whom they were involved with in another key trade engineered by President of Hockey Operations/GM John Chayka.
In a surprise move, the Coyotes sent fan favorite Max Domi to Montreal in exchange for forward Alex Galchenyuk. This will be the first meeting of the two star players who exchanged uniforms in June.
Expect Domi to receive some well-deserved cheers and perhaps a few tears as the realization finally will hit home that he is no longer an Arizona Coyote. Both players will attempt to show their former teams that they shouldn't have traded them.
The two teams meet again in Montreal on January 23, 2019.
Tavares as a Maple Leaf
Another crowd drawer will be the appearance of John Tavares in a Toronto Maple Leafs' uniform when they come to Arizona on January 16, 2019, to take on the Coyotes.
By then it should be noticed just how vital an acquisition J.T. will be for the Maple Leafs. Just imagining their offensive firepower on the power play will be something to tell your grandkids about years from now.
The Cup winning Washington Capitals make an appearance
Be sure to mark December 6, 2018, on your calendars as the Washington Capitals will attempt to show everyone in attendance in Arizona why they are Cup winners.
Just the thought of facing superstar Alex Ovechkin can intimidate any NHL team, so the Coyotes' defense and goaltending needs to step up for this key matchup.
Los Angeles Kings are tough games
These two teams do not like each other and until or if the Vegas rivalry kicks in the games against the Kings are very competitive affairs. The two teams split the four games last season.
This year they will play two games in December in L.A. on the 5th and the 27th. Then, the Kings and newly acquired Ilya Kovalchuk will travel to Glendale to visit the Coyotes on March 9, 2018, and again on April 9th.
Don't miss these exciting games
The Arizona Coyotes will have a different look this year. No Domi, but Galchenyuk. The addition of Hinostroza will surely be something to witness.
The job that Chayka has done to upgrade his roster is nothing short of genius. Now, all the puzzle pieces need to fit together to see if this team can get out of NOT making the playoffs since the 2011/12 season.
This could be the year!
In just 76 days we'll all find out what this team is made of.
Are you excited for the new season to begin and be able to see all the games highlighted above? Let us know in the comments section below.