'Wild Bill' William Karlsson has signed a one-year deal with the Vegas Golden Knights, worth $5.25 million dollars. This signing let Karlsson avoid an arbitration hearing, according to NHL Insider Elliotte Friedman.
Congratulations to Wild Bill. He finally gets another year to prove to Vegas fans that last season was not a dream. To Karlsson it may seem more like a dream come true to play in Vegas.
That arbitration meeting was scheduled for Saturday, August 11.
Wild Bill signs on
The young center who was acquired from the Columbus Blue Jackets at the beginning of last season, scored an NHL career-high in goals (43), which was good enough for third in the league.
Karlsson also finished the season with 73 points playing in all 82 regular season games.
Going in to last season, Karlsson had scored only 18 goals, in 183 NHL games played. He has never had more than approximately nine goals in one season.
He had never hit the 30-point threshold prior to last season.
"This is a fair deal and I'm glad it's done. Now we can focus on the season ahead," he told the Vegas Golden Knights website.
"I love playing in Vegas. I couldn't imagine playing anywhere else. I'm hoping we can work out a long-term deal and I will be here my whole career."
Karlsson will become a restricted free agent again next year, with arbitration eligibility.
In a report last Thursday, Vegas had offered Karlsson a contract of $3.5 million per season. However, he was able to get the 33% pay raise.
The Path to Vegas
Karlsson, 25, was selected by Vegas during their expansion draft at the beginning of last season.
He led the league with a +49 rating, scoring eight powerplay goals, four shorthanded goals and six game-winning goals. Karlsson was also the recipient of the Lady Byng award which is given to the player who demonstrates sportsmanship and gentlemanly conduct.
William was selected by the Anaheim Ducks in the second round (53rd overall) in the 2011 NHL Draft. He has a total of 128 points (61 goals, 67 assists) in 265 NHL games and 18 points (nine goals, nine assists) in 25 playoff games.
'Wild Bill', as he in commonly known, had 15 points (seven goals, eight assists) in 20 Stanley Cup Playoff games.
The Knights reached the Finals, where they lost to the Washington Capitals in five games.
"William had a great year for us," general manager George McPhee said.
"We are excited to now have him under contract for next season."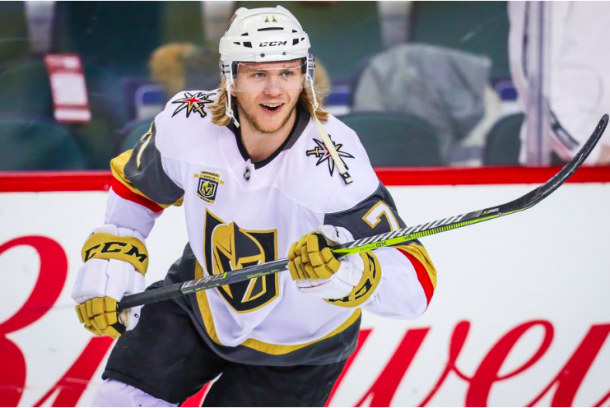 Karlsson is now the fourth highest-paid player on the Vegas roster. He sits behind Paul Stastny ($6.5M), Marc-Andre Fleury ($5.75M) and Tomas Tatar ($5.3M).
Do you think William Karlsson will pick up right where he left off from last year? Let us know in the comments below, or let us know on Twitter and give us a follow! (@VAVELNHL_ENG).