As if it wasn't obvious enough, Nashville Predators center Ryan Johansen and Anaheim Ducks star Ryan Kesler do not like each other. And the two continued their "beef" on Twitter as both players are gearing up for pre-season.
Ryan Johansen, Ryan Kesler Twitter feud
It is still questionable whether or not Kesler will suit up for the Ducks this season.
Their interaction on Twitter came with multiple subtweets to one another, without actually mentioning the other party.
Kesler got things underway when mentioning Johansen in his tweet, asking how the center's summer was going.
Johansen politely responded with this response.
So, this is a fun way to jump-start the month of August, isn't it?
How this all started
Let's flashback to the 2017 Western Conference Finals.
The pair were all fine and dandy, until one went after the other not only physically, but also, verbally. This is where things took a turn for the worse.
Johansen, who was skating in the path of Kesler, took a high shot to the face.
After the game, Kesler heard the comments made by the former Columbus Blue Jackets' star and pitched in his own two cents.
Johansen really told Kesler how he felt before a faceoff in that series in this video, posted on Twitter by Cristiano Simonetta.
Ironically enough, Johansen would miss the rest of the playoff series after he was injured in Game 4. The Preds would defeat the Ducks and advance to the Stanley Cup Finals to face off against the Pittsburgh Penguins, where the Pens would win back-to-back Stanley Cup championships.
"I'm just happy we were able to beat them. I wish I could have been in the line to shake their hands," Johansen said.
It gets better
Now, Kesler isn't the type to "let things go." So what happened in March of 2018 when the Ducks traveled to Nashville?
A fight.
Between Kesler and Johansen.
Last season, Ryan Kesler ended the season with 14 points (eight goals, six assists) in 44 games played. In those games, Kesler had two power-play goals and two game-winning goals. With a -4 rating and 44 minutes in penalties, Kesler is someone who looks to have a good year this upcoming season.
If he plays.
His counterpart, Ryan Johansen, played 79 games. Johansen was able to record 15 goals and 39 assists for 54 points, and a +13 rating. Johansen scored one power play goal and three game-winning goals in the 15 total that he scored.
Johansen will look to pick up right where he left off last season, in order to help the Nashville Predators reach the Western Conference Finals for the third year in a row.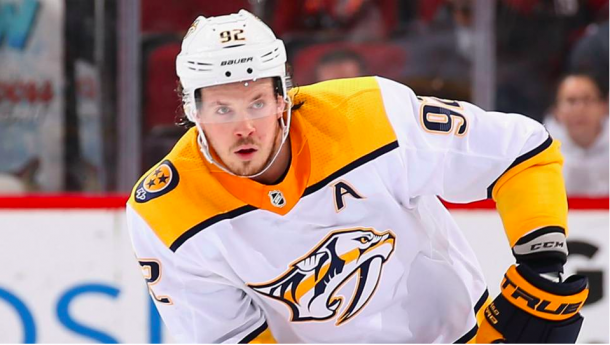 The Anaheim Ducks will host Nashville on November 12, 2018, and March 12, 2019, while traveling to Nashville on November 25, 2018.
Will Ryan Kesler play this season for the Anaheim Ducks? Will the pair continue their feud on the ice, or leave it for later? Let us know in the comments below, and be sure to give us a follow on Twitter by searching (@VAVELNHL_ENG).