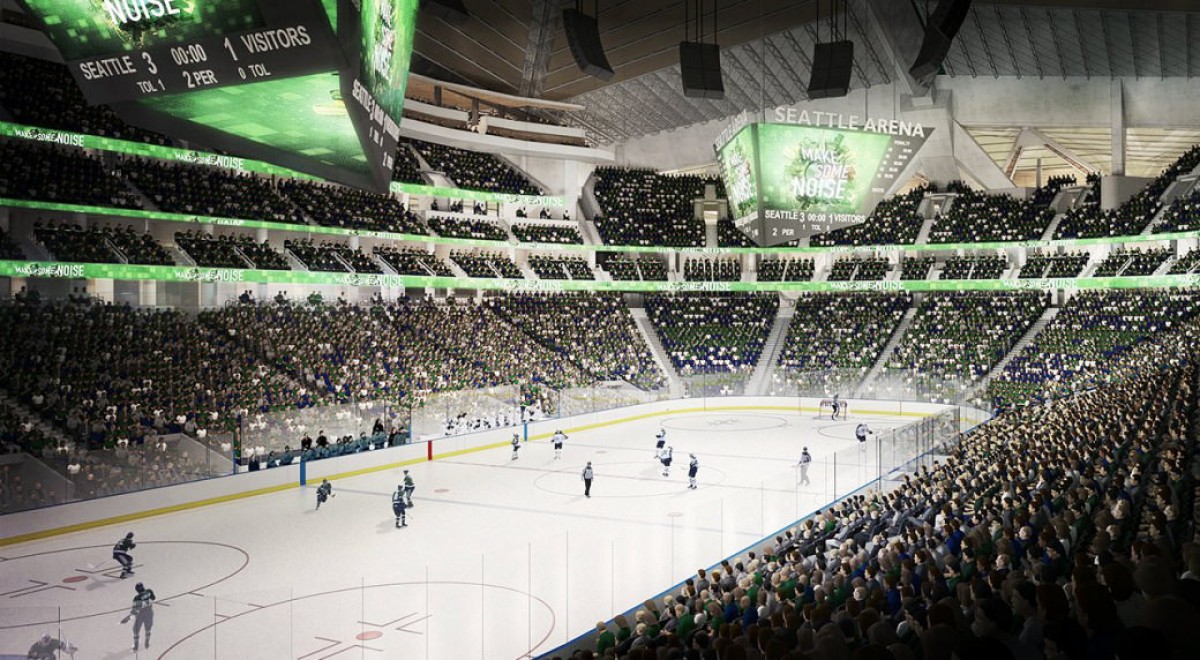 "We now know that in early October we're going to see the executive committee," Ted Leiweke the president and CEO of the prospective expansion team. "We believe that will be on October 2nd in New York City... We then go in front of the entire membership of the NHL to make our case, and we're going to be ready."
Adding the 32nd team will mean realignment
There are two popular choices the league can make, or perhaps more if they decide against these two directions.
Four divisions with four teams concept
Split the two 16 team conferences into four divisions with the top team in each division getting home ice advantage in the playoffs. The second place teams would make up the division champs opponents in the first round of a best of seven game series. The remaining rounds would be made up of the eight teams ranked according to regular season record.
This would mean moving some teams to different geographical locations to make travel less cumbersome.
Eastern Conference:
Metropolitan Division:
New York Rangers
New York Islanders
New Jersey Devils
Philadelphia Flyers
Northeast Division:
Pittsburgh Penguins
Columbus Blue Jackets
Boston Bruins
Buffalo Sabres
Central Division:
Detroit Red Wings
Toronto Maple Leafs
Montreal Canadiens
Ottawa Senators
Southeast Division:
Florida Panthers
Tampa Bay Lightning
Carolina Panthers
Washington Capitals
Western Conference:
Pacific Division:
Los Angeles Kings
Anaheim Ducks
San Jose Sharks
Vegas Golden Knights
Northwest Division:
Seattle expansion team
Calgary Flames
Edmonton Oilers
Vancouver Canucks
Southwest Division:
Nashville Predators
Dallas Stars
Arizona Coyotes
Colorado Avalanche
Midwest Division:
Chicago Blackhawks
St. Louis Blues
Minnesota Wild
Winnipeg Jets
The movement of the Nashville Predators to the Southwest Division seems a bit out of proportion since Nashville is definitely more geographically eastern than western, but some concessions must be made in order for the realignment to take place.
The other issue is to determine how many times each team plays each other in their division and outside of it.
That causes a problem if each team plays their division opponents 12 times and plays the other 12 non-divisional teams for another 36 times. Then, play the other 16 conference teams twice in a home-and-home series of two games. The problem lies with that being only totaling to 80 games. They could be made up with two games pitting division rivals, but who determines that?
Four divisions of eight teams concept
This option may make more sense, but again teams would be forced to move geographically to allow it to function.
Eastern Conference:
Adams Division:
Montreal Canadiens
Ottawa Senators
Toronto Maple Leafs
Boston Bruins
Buffalo Sabres
New York Islanders
New York Rangers
New Jersey Devils
Patrick Division:
Pittsburgh Penguins
Philadelphia Flyers
Columbus Blue Jackets
Washington Capitals
Nashville Predators
Carolina Hurricanes
Tampa Bay Lightning
Florida Panthers
Western Conference:
Smythe Division:
Edmonton Oilers
Calgary Flames
Vancouver Canucks
Seattle expansion team
San Jose Sharks
Vegas Golden Knights
Los Angeles Kings
Anaheim Ducks
Norris Division:
Winnipeg Jets
Minnesota Wild
Chicago Blackhawks
Detroit Red Wings
St. Louis Blues
Dallas Stars
Colorado Avalanche
Arizona Coyotes
The teams moving in this scenario would be the Red Wings and the Nashville Predators swapping conferences, and the Arizona Coyotes moving to the former central division. This makes sense if the volatile situation in Arizona ends in them needing to be moved to say... Houston who is also vying for an NHL team.
While this seems radical it makes sense geographically when you see Nashville's proximity to the two Florida teams in the East.
And you won't find too many Red Wings' fans or Blackhawks' fans upset that the rivalry between their two teams would be reunited.
The Coyotes would need to travel more, but they seem to be accustomed to that of late. They draw really well when they play both the Detroit and Chicago teams as many hockey fans in the desert are Midwest transplants.
Which plan will be implemented?
Good question.
The idea is to lessen the travel for all teams, but that may not happen. In any case, something must be done, and the rivalries will change. It will even affect the standings as teams will play each other different amount of times than they presently do.
Adding Seattle will certainly create a new rivalry for the Vancouver Canucks who are only 300 miles away. They welcome it.
It won't hurt the rivalries in the Adams Division as the New York teams, as well as the New Jersey team, would face each other numerous games. Even Toronto vs Montreal or Boston would make for some entertaining NHL hockey.
The Patrick Divison has the Flyers vs the Penguins or throw in the Capitals to really make it interesting.
So, if it were my decision (and boy am I glad it's not) I would go with the latter of the two choices purely due to the fact that rivalries will remain or increase and the geographics just makes sense.
Then again we will need to wait to see what direction the NHL goes with and they have plenty of time to weigh their decision.
It will certainly change the game, it always does, but then expansion does that too.
The biggest question to be answered before the Seattle team takes the ice in two seasons is will the Arizona Coyotes be moved to Houston? It makes perfect sense, and for that reason, if the four division, eight-team realignment gets adopted you can almost bet that the Coyotes will be moving to Houston.
The only thing which could change that prognostication is IF the team actually has a plan to build a new arena in the East Valley to allow the Desert Dogs to remain in Arizona.
Right now, it doesn't appear that will happen.
Goodbye Arizona, hello Houston!
What do you think will happen with realignment? Let us know in the comment section below, and make sure to give us a follow on Twitter (@VAVELNHL_ENG) for more updates!