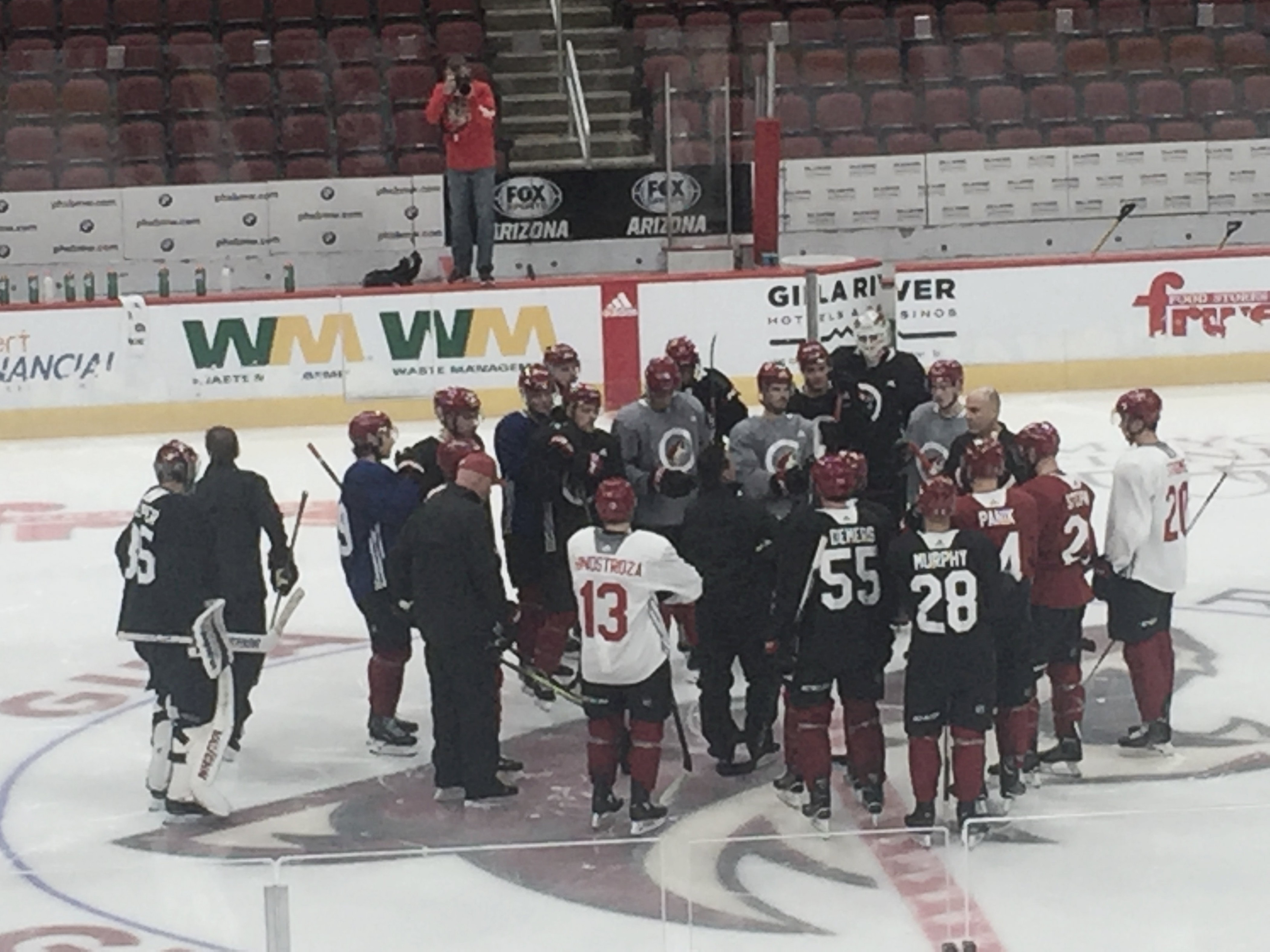 As the Arizona Coyotes' training camp began today, the outside temperature reached a scorching 111 degrees.
But, hey this is the desert.
All of the hockey fans in the Valley of the Sun know full well when the boys show up for NHL training camp cooler weather is on its way.
The team also invited three players on a PTO (professional tryout).
Matteo Gennaro who played for the Swift Current and Calgary of the WHL. Kelly Klima who comes from Chicoutimi of the QMJHL, and his twin brother Kevin Klima who played there as well.
The roster also features Oliver Ekman-Larsson's younger brother Kevin Ekman-Larsson who played 25 games for the AHL affiliate Tucson Roadrunners last season.
How many NHL teams can boast that they have two sets of brothers in camp? While OEL has a reserved spot on the roster (and was named the team captain yesterday) his brother as well as the Klima twins are not so fortunate... they still need to make the team.
Who impressed?
This was the first look at newly acquired players Alex Galchenyuk, Vinnie Hinostroza, Michael Grabner, and Jordan Oesterle all coming to the Coyotes via trades or free agency over the summer.
From the drills run by head coach Rick Tocchet, it was apparent to this writer that Hinostroza's speed (which will fit in nicely with the make-up of this team), puck handling ability and skill at breaking in alone on net will serve him well in his search for more playing time.
Galchenyuk looked polished, sturdy and ready to go. He is on a mission to prove to all those in Montreal that he can indeed handle the center-ice position. Nothing which was viewed today can dispute his goal to be the best center he can be. He is an outstanding skater and just needs to adjust to his new teammates and linemates to be successful.
From what was seen of Grabner, he appears to be a sharpshooter who knows how to find the net with regularity... something the Coyotes have lacked since Radim Vrbata was in a Coyotes' uniform donning number 17... which coincidentally is now being worn by Galchenyuk.
Oesterle looked exactly like what the Coyotes need to cement that last blue line spot or even fill in for Jakob Chychrun if he's not ready to start the season after knee surgery.
What about the young prospects?
The one young prospect who stood out in today's sessions was Pierre-Olivier Joseph. He was steady on the point, keeping the puck and either passing it with dexterity or shooting it on net.
He had a successful last season with Charlottetown of the QMJHL where he tallied 13 goals, 33 assists along with 59 penalty minutes (PIM). He was the Yotes 23rd overall selection in the 2017 draft and looks to have a bright future with the team.
He will more than likely be back with his team in the QMJHL, but it may not be long before fans will see him play for the Tucson Roadrunners of the AHL.
Speaking of the Roadrunners it was nice to see Lawson Crouse back in the Valley. I mean he's hard to miss in that 6'4", 220lb frame. I didn't see him miss a shot on net, and he looks to perhaps crack an opening roster spot playing on the fourth line.
The Coyotes' fifth overall pick of this year's draft, Barrett Hayton didn't especially catch much attention, and it would seem unless he blows away others in the rest of the camp and preseason he will be back in Sault Ste. Marie of the OHL next season.
Other observations
Noticed in today's sessions was that Clayton Keller and Hinostroza were getting to know each other as they chatted a few times. With Keller being from Chesterfield, Missouri, and Hinostroza hailing from nearby Chicago the two midwestern players seemed to click. Who knows they could play on the same line.
Hinostroza also is familiar with fellow former Chicago residents Christian Fischer, and Christian Dvorak as well as former teammates Niklas Hjalmarsson and Richard Panik.
Chemistry is important in the locker room and it seems that Hinostroza will fit right in.
Another key observation was the veteran Brad Richardson. After signing a two-year deal worth $2.5 million, he displayed his tough gritty play in scrimmages and hopes to show it wasn't a mistake to re-sign him. Along with Crouse and Nick Cousins, the Coyotes look to have a formidable fourth-line who can shut down the opposition and throw in some offense on occasion.
Year-two for head coach Rick Tocchet
Rick Tocchet seemed much more comfortable conducting training camp with this being his second season at the helm with the team. He definitely had the boys working hard and cheered them on with regularity.
One thing is certain, he will have some tough decisions to make when it comes time to cut the roster. The team plays their first preseason game next Tuesday against their division rival Los Angeles Kings at Gila River Arena.
More on day-two of training camp tomorrow
We'll see who impresses tomorrow as three more sessions are scheduled to evaluate which players have a shot to remain on the roster and whether this team actually has a shot at being much better this season... as in a playoff caliber team
All I know is... it was certainly much more comfortable in the arena than outside!
HOCKEY IN THE DESERT... NOTHING LIKE IT!
With training camp starting and the season just 20 days away, how excited are you to see NHL action again? Let us know in the comment section below and be sure to give us a follow on Twitter by searching (@VAVELNHL_ENG).