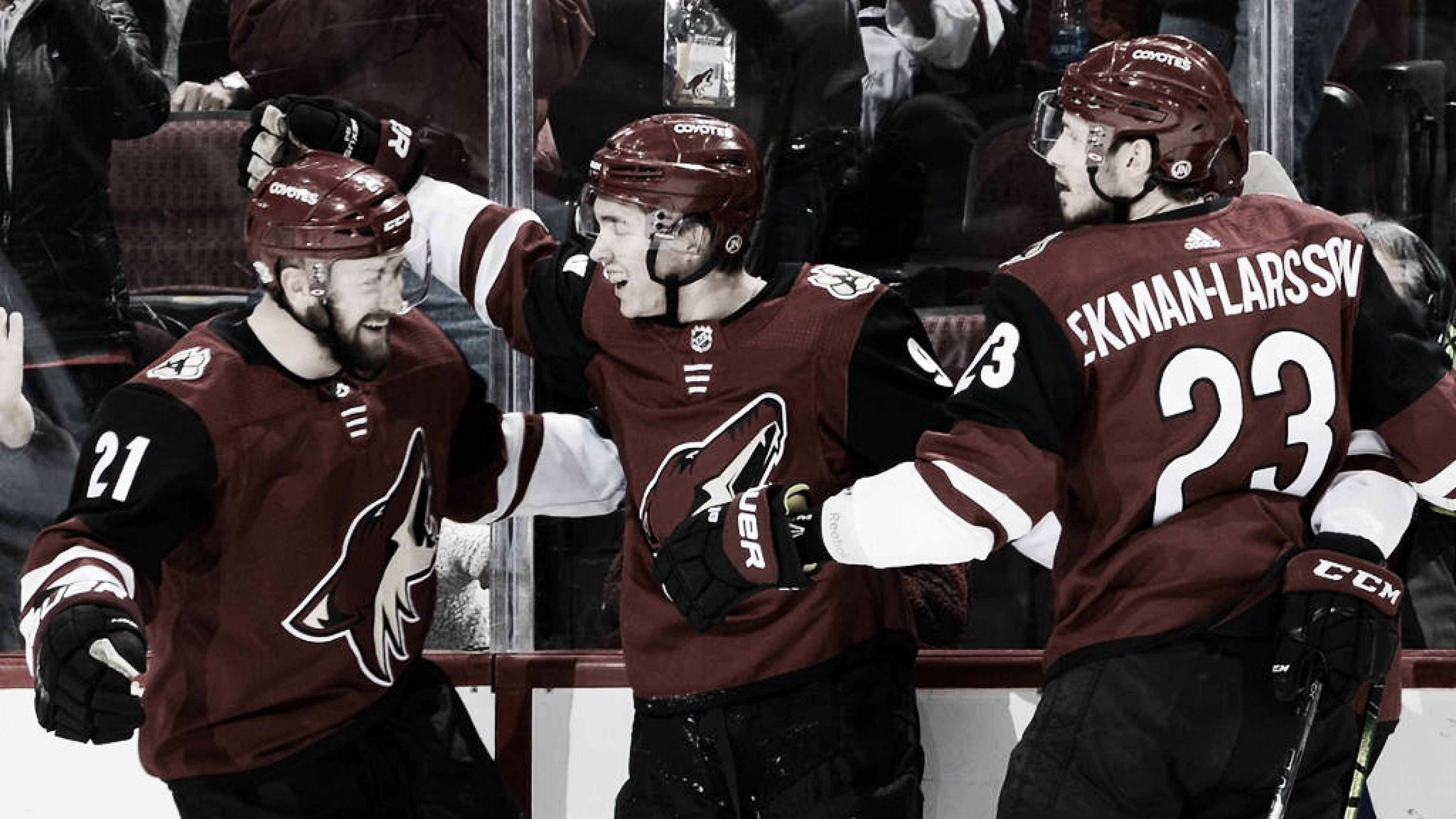 Can the Arizona Coyotes finally turn things around and be able to remember what it was like to compete in a playoff game?
They made some formidable changes including upgrading their forward group by adding Alex Galchenyuk, Vinnie Hinostroza, and Michael Grabner.
They still have a goldmine of prospects including their leading scorer last season, Clayton Keller. Add to that group players like Christian Fischer, Christian Dvorak, Brendan Perlini, Jakob Chychrun, Lawson Crouse, and Dylan Strome just to name a few.
The upstart Coyotes finished off last season with a 17-12-3 record from February on, and they hope to continue that surge especially with the addition of some quality players.
So, with that in mind here are 5 crazy (or who knows maybe not that crazy) 2018/19 season predictions.
Crazy prediction #1:
Clayton Keller absolutely smashes any chance of a sophomore jinx by continuing his impressive scoring ways collecting 30 goals and 80 points to put him in the upper crust of the NHL.
He proves that last season was not a fluke and that he can lead his team to the playoffs and beyond. His linemates of Derek Stepan and Richard Panik just know each other's moves so well that they can anticipate a pass before the defense can react.
Because of Keller's extensive playmaking skills, his linemate Stepan scores 24 goals and 70 points. The Coyotes' first line excels expectations and breaks down defenses with ease.
Keller's speed and knowledge of the game increase this season to the point that his hockey IQ is just as valuable as his other skills on the ice.
He will finish in the top 15 in scoring and become the jewel of the Coyotes' franchise.
Not bad for a hockey "nerd" as his head coach Rick Tocchet calls him.
Crazy prediction #2:
Antti Raanta will win the Vezina Trophy.
Hey, this one may not be so crazy after you consider the fact that Raanta finished last season on a tear after he finally gained his health back. Injuries plagued him early last season and he has vowed to leave camp in better shape.
He stated that is laying off lifting weights like he did last year and is concentrating on other skill improvement methods.
If Raanta can pick up where he left off last season, the Coyotes are in for a good run to make the playoffs. When you compare Raanta's stats to that of star goalie Marc-Andre Fleury he tied Fleury in GAA with a 2.24 and surpassed him in save percentage with a .930.
They both played at least 46 games and one must admit if you are even close to the 'Flower' in statistics you are doing well.
Crazy prediction #3
Dylan Strome will be sent back to the Tucson Roadrunners of the AHL for more seasoning. He just can't seem to get it together in the NHL. Once a player starts to lose his confidence it's difficult to regain it.
Strome collected three goals, five assists in his last 10 games with the team last season and it may have shown a ray of light that he can handle NHL play.
The team has been more than patient with him and may try to put him on the wing to see if that helps.
What it really boils down to is he has the talent but just isn't producing. Even Keller had a dry spell last season, but good players break out of it.
It's just an unknown as to whether he has what it takes to be in the NHL... at least not at this point.