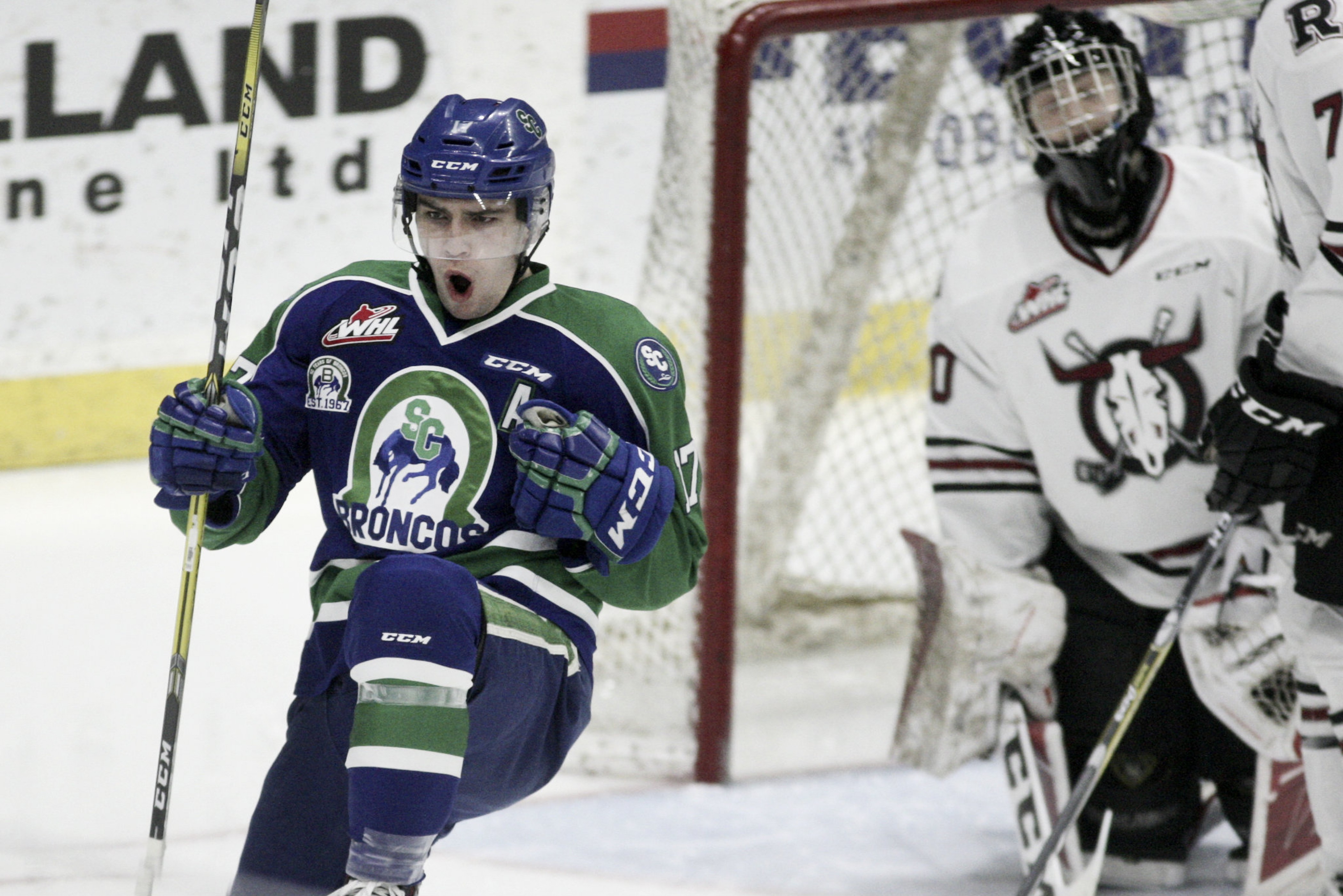 For forward Tyler Steenbergen training camp with the Arizona Coyotes meant moving up to the AHL level. And that's exactly where he'll be headed along with five other players assigned to the Tucson Roadrunner by GM John Chayka.
"He's a kid that scored 50-some-odd goals in the Western Hockey League, so his shot and his release is really good," said Tucson Roadrunners assistant coach Steve Potvin. "He definitely finds those spots where he can get that release off. He's a quick player that's not afraid of getting in the corners and being aggressive and coming out with the puck and taking it to the net."
Steenbergen has been a scoring machine
Over the last four seasons, Steenbergen has toiled for the Swift Current Broncos of the WHL and has had great success.
In 267 games he has tallied 123 goals, 126 assists for 249 points, or a 0.93 points per game clip. He hasn't slowed down in the playoffs either showing 21 goals, 21 assists in 44 games for a 0.95 point per game average.
Those statistics indicate a balanced game where he is scoring goals at a similar pace as setting up his teammates. That's a valuable attribute and one that head coach Rick Tocchet admires. Tocchet saw that skillset in Steenbergen and that is why he is headed to Tucson to begin his pro career.
During the 2016/17 season, Tyler blasted 51 goals into the net twine and that was in just 72 games. As most players want to do, he improved the next season by gathering 47 goals in just 56 games and went on to his best season showing 102 points.
He was slowed a bit by an injury, but those numbers are hard to ignore.
He now moves on to play for the AHL Tucson Roadrunners and needs to continue his excellent play in order to perhaps be called up to the Coyotes should the need arise.
U20 World Junior Championship
Steenbergen helped his Canada team win the Gold in the U20 World Junior Championship by scoring the winning goal against Sweden.
It again shows his potential to be a timely scorer, and get to the front of the net where he can be deadly.
Coyotes' training camp
With 62 total players to compete against, including another scoring ace by the name of Brayden Burke who out did Steenbergen playing for Moose Jaw of the WHL when he had 31 goals, 82 assists in 61 games.
Burke, for now, remains on the Coyotes' training camp roster.
Steenbergen signed his three-year entry-level contract with the Coyotes in March and is looking forward to advancing his NHL bound career.
Coming to the Coyotes' camp this season after being here last year made Steenbergen feel a bit more confident.
He will need that confidence to play at the pro level and he will also need to bulk up a bit to get stronger.
He stands 5'10", 187lbs and he knows that playing against bigger players will be a challenge but... hey it seems that Clayton Keller has mastered it.
The future looks bright
Like the other wealth of young prospects, Steenbergen looks to have a terrific shot at playing with the Coyotes sooner rather than later. He seems to have a good work ethic and really has a knack for scoring and playmaking... those are two qualities the Coyotes can use.
Remember this kid's name... he's going to a good player in the NHL someday.
What are your thoughts on the future of Tyler Steenbergen with the Arizona Coyotes? Does he see NHL action this season or maybe next season? Let us know in the comment section below, and make sure to follow us on Twitter (@VAVELNHL_ENG) for more updates!