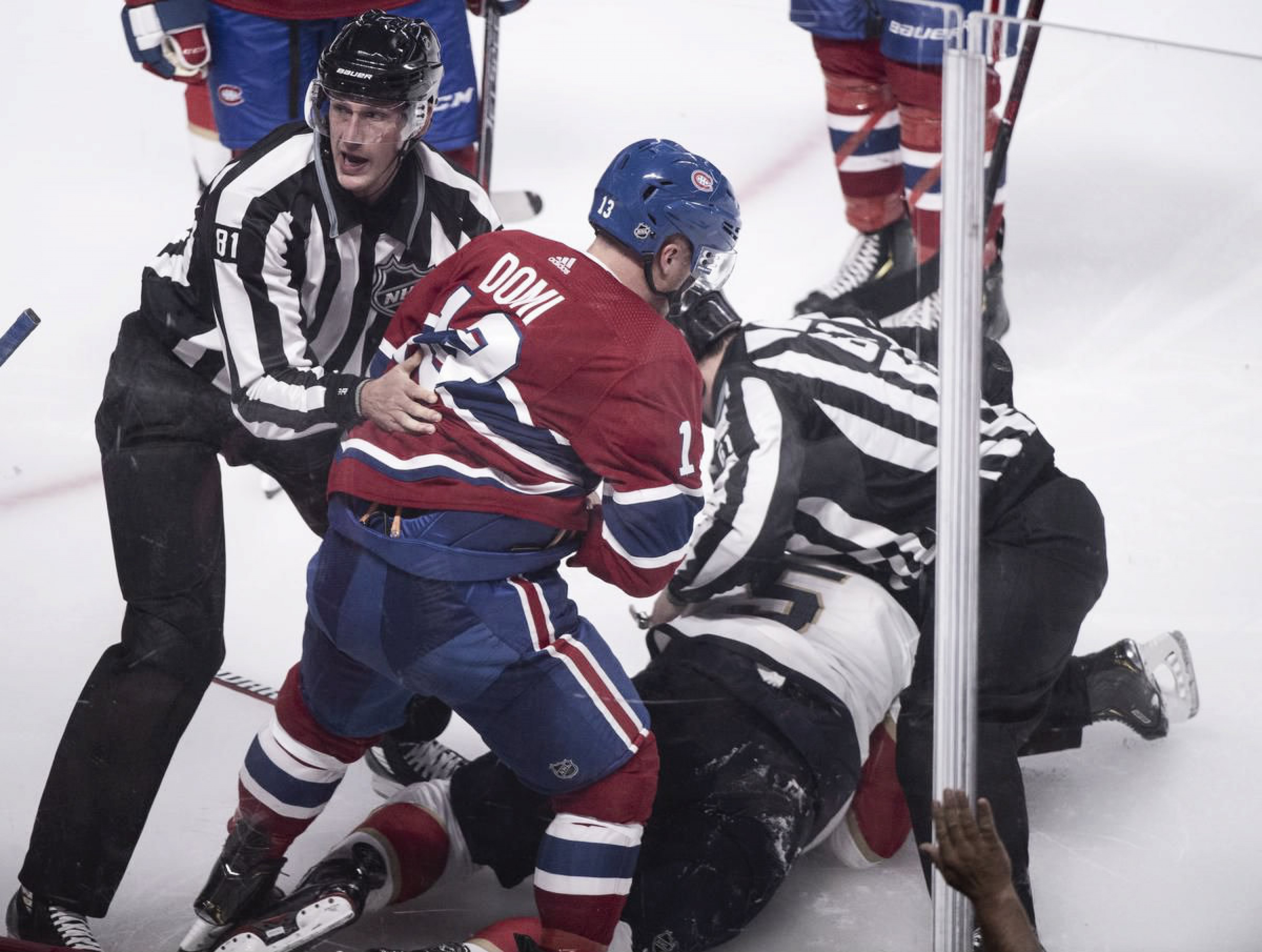 Max Domi, the volatile former forward of the Arizona Coyotes got a little out of sorts in his first Montreal Canadiens' game since he was traded from the Coyotes this June.
What happened?
At the 0:56 mark of the third period Domi was in the left corner retrieving the puck and Ekblad was in the slot area. As Ekblad saw Domi go after the puck he went to check him by hitting his stick against Domi's... a typical yet legal check.
Domi took exception to the tactic and acted as if he was slashed. The two started pushing and shoving with Domi the clear aggressor. Ekblad tried to just skate away and ignore Domi's invitation to drop the gloves.
Instead, Domi continued to goad Ekblad and then just as the officials were stepping in to break it up Domi landed a hard right after two lefts to Ekblad's face drawing blood.
The NHL reviewed the incident and came up with their findings.
This isn't the first time... nor will it likely be the last time that Domi was involved in a squirmish.
Domi broke his hand from fighting in 2016
Domi fought Calgary Flames' forward Garnet Hathway back in December of 2016 missing 23 games due to the injury which required surgery. After that, he seemed to realize that he needed to choose his fights carefully... not so much this time.
Why would he act this way?
Well, it could be he was trying to show his new team how tough he was when in reality he hurt his team and his preseason development by getting suspended in an exhibition game which has no consequences.
Poor judgment?
Perhaps.
Conversely, the player whom the Coyotes traded Domi for, Alex Galchenyuk scored two goals in his debut for the Arizona team against the Los Angeles Kings Tuesday night.
Can't you hear the comparisons already on which team 'won' the trade?
Plus, it just seems that if it weren't for bad luck the Canadiens would have no luck at all.
Domi can't help it... it's in his genes
When your father is Tie Domi who had a reputation as a tough guy, it just goes without saying that you would carry that psyche into your style of play or behavior.
Now, Max hasn't gotten nearly as carried away... yet. He does need to control his temper and Florida Panthers' goalie Roberto Luongo had some choice words about Domi's behavior.
Calling Domi out for sucker punching Ekblad, Luongo said, "I'm sure the league will look at it and we definitely won't forget about it. You don't do that. You respect your opponents and if your opponent doesn't want to engage in a fight, there's no reason to drop your glove and punch him square in the face. Bit of a gutless play. You don't do those types of things."
With that being said, the next time these two teams meet on December 28, 2018, in Florida one could gather that the Panthers won't be in the Christmas spirit... unless you are to consider what punishment they plan to give Domi as a gift.
Perhaps by then calmer tempers will prevail... especially Domi's.
Do you feel Max Domi's suspension was justified? Let us know in the comment section below and be sure to give us a follow on Twitter by searching (@VAVELNHL_ENG).