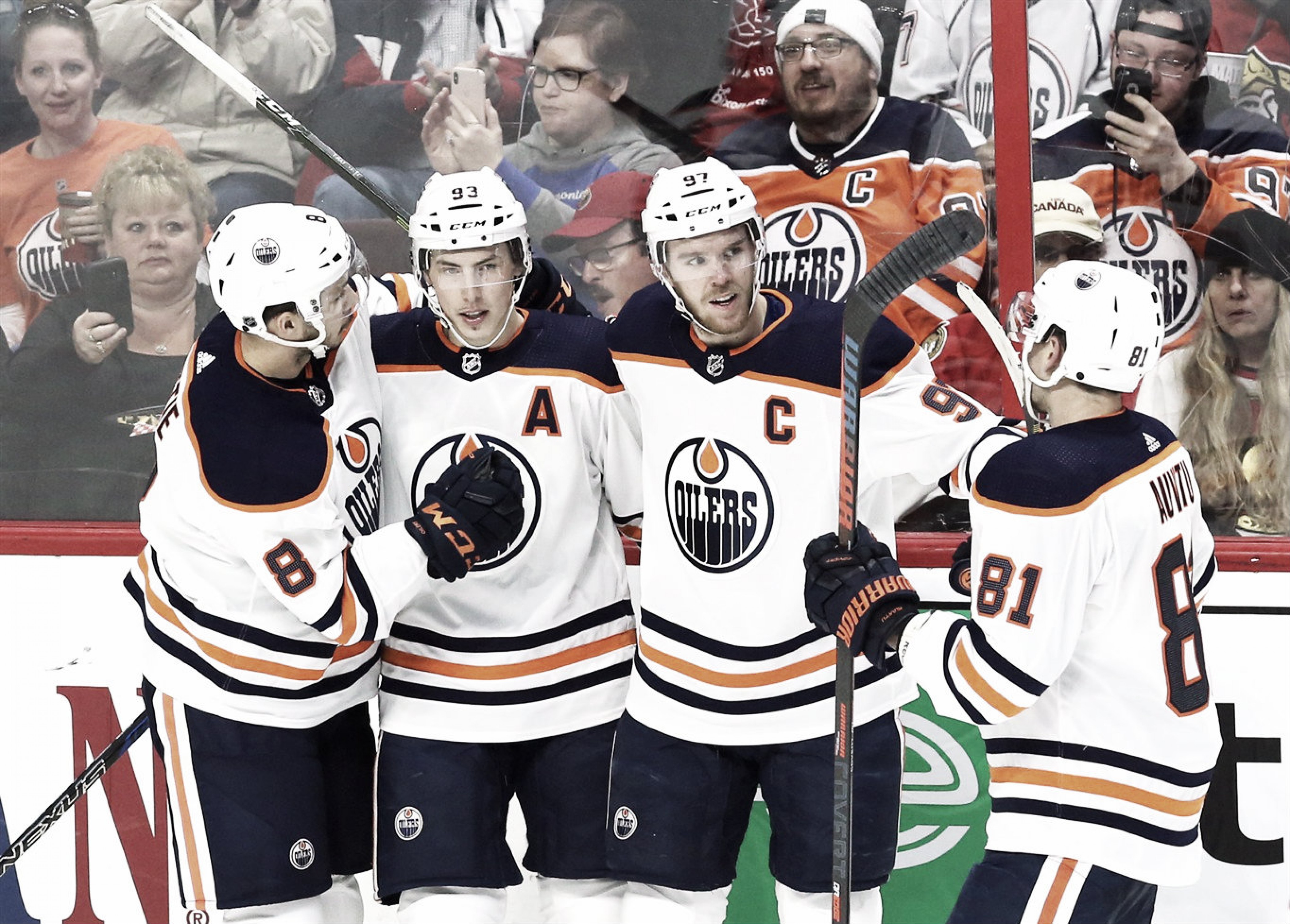 Many had high hopes for the Edmonton Oilers heading into last season, some analysts even picked them to be a Stanley Cup finalist in the Western Conference.
All in all, it was a very disappointing season for the Oilers, they got off to a slow start and never found a way to get back into the playoff race.
Heading into 2018/19 the Oilers still have one of the best players (Connor McDavid) in the world to lead the way, along with a few nice complimentary pieces in Leon Draisaitl and Ryan Nugent-Hopkins.
Perhaps this young group will be able to regroup for a nice bounce-back year and pick up from where they left off in 2016/17. With that in mind here are 5 crazy predictions for the 2018/19 season.
Crazy prediction #1:
Connor McDavid leads the NHL in both goals and points.
Historically, this is a very rare accomplishment in the NHL. The last player to do that was Alexander Ovechkin back in 2007/08. The "Great eight" scored 65 goals and led the NHL with 112 points that year.
With more skill and talent in the NHL than ever before, it is that much harder for good scorers to dominate in today's game. Let alone, defend their scoring title. But if anything, if you had pick one player to do that it would be Connor McDavid.
We all know that Connor McDavid can put up points.
Some people may see him as more of a playmaker than goal-scorer. However, some people may not realize is that McDavid had increased his goal totals from 31 to 41 last season.
He was also the fifth highest goal scorer in the NHL last season. So it wouldn't be out of the question for him to score 50 next year, which gives him a good shot to win the Maurice "Rocket" Richard trophy as well.
Crazy prediction #2:
Jesse Puljujarvi scores over 70 points for the Oilers next season.
Despite being one of the most hyped prospects entering the 2016 NHL draft, Jesse Puljujarvi has taken a little longer to develop than expected.
At the same time he is still very young (20), and is already heading into his third NHL season so there is plenty of upside there.
It looks like the young-Finn has been gradually adapting to the North American game. He was able to score 11 more goals than his rookie season, and also more than doubled his points.
If you ever see Puljujarvi play you can tell the skillset is there and his ceiling is high. Now it's just a matter of putting it all together at the NHL level.
70 points might be a bit lofty, but if he is able to get off to a hot start and spend some time on the wing of McDavid or Draisaitl, you never know what can happen.
Crazy prediction #3:
Evan Bouchard makes the team and finishes the year as a top-pairing defenseman.
Evan Bouchard was one of the top-defensive prospects heading into the 2018 NHL draft. To many's surprise, he fell to the Oilers tenth overall at the draft.
It's been no secret that the Oilers have been in the market for an upgrade on defense. Ideally, they would love to add a puck-moving defenseman who is capable of generating offense consistently from their backend.
Unfortunately, almost every team in the league could use one and they don't grow on trees. Even though it's still early, and Bouchard seems to fit a lot of those criteria.
Many people feel he is more NHL-ready than a lot of his draft cohorts. Bouchard's chances of grabbing a bottom-pair spot or the number seven spot are as good as anybody's.
Perhaps after getting his feet wet, Bouchard can garner momentum and gradually become a top-pairing defenseman for the Oilers by the end of the year.
Crazy prediction #4:
Kailer Yamamoto scores 30 goals for the Oilers this season.
Kailer Yamamoto is another high-end prospect in the Oilers' system, with a good chance to be a regular top-six forward for the team this year.
Many scouts see Yamamoto as an excellent complimentary offensive player for the Oilers' offense. Despite being undersized (5'8"), he can do it all; pass, score, get into the dirty areas and win puck battles.
He also managed to find the net 105 times for the Spokane Chiefs over the past four seasons. So simply put, asking a prospect of that caliber to score 30 goals at the NHL level may not be too unreasonable.
Crazy prediction #5:
The Edmonton Oilers win the Stanley Cup!
Yes, a lot of people may think this is crazy but it's hard to completely write off a team that is led by a 21-year-old superstar.
As we have seen last season, things in the West can change rather quickly. We saw teams like the Chicago Blackhawks plummet near the bottom of the standings.
Meanwhile, a team like the Vegas Golden Knights come out of nowhere and dominated the league. On top of that, the Golden Knights were able to make it the Stanley Cup finals without one legit superstar on their offense.
What do you think of these crazy predictions? Let us know in the comment section below, and make sure to give us a follow on Twitter (@VAVELNHL_ENG) for more updates!