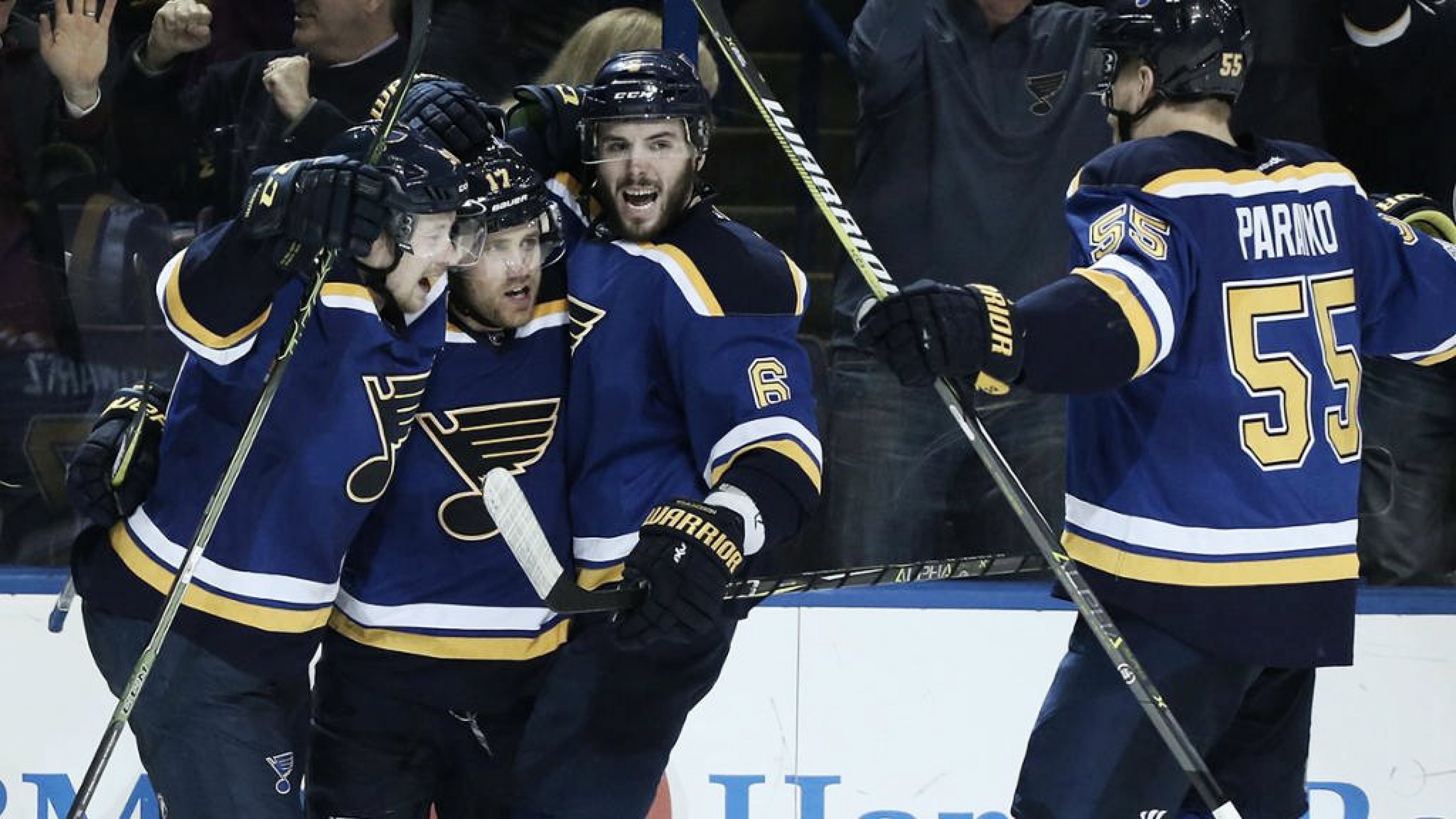 Any NHL team which loses the chance to play in the postseason, especially by one point, has got to be motivated to correct that flaw.
St. Louis Blues' GM Doug Armstrong didn't sit on his laurels and contemplate what he could have done better, he went right out and improved his team... significantly.
Not only did Armstrong pull off one of the summer's blockbuster trades in acquiring Ryan O'Reilly from the Buffalo Sabres for three centers and two draft picks, but also followed that up by signing free agents David Perron, Tyler Bozak, and Patrick Maroon.
That should eliminate the issue of the Blues being a low-scoring team last season. Factoring in the list of players added to the Blues' roster that means from last season's statistics they added 68 more goals. That will surely move them in the right direction.
Crazy prediction #1
Jake Allen will break out of his mediocre performances of the past and act like a #1 goalie collecting 34 wins and a save percentage of .924, while bringing down his goals against average to a more stellar 2.28.
With Carter Hutton moving on to the Sabres, Allen needs to grab that starting role and make it his. The team picked up an adequate backup goalie in Chad Johnson, so in effect, the two teams swapped goalies via the free agency route.
While many NHL experts applaud what Armstrong did for his forward lines, many question if their goaltending is enough to get them over the hump of making the playoffs this season.
If that is Allen's motivation to excel, he needs to show he can be an excellent goalie and come through in the clutch when needed.
He will.
And so will the St. Louis Blues.
Crazy prediction #2
Ryan O'Reilly will have his best season since 2013/14 when he accumulated 28 goals, 36 assists. He is a quality center who was stuck on a non-performing team.
The Sabres wanted to unload his huge contract and have moved on. The Blues will gladly take the 28-year-old, 6'1", 216lb center even if it meant that they had to cough up his bonus the day they signed him since it was past the deadline.
Adding O'Reilly cemented the Blues down the middle, which is the strength of any NHL team. He is a good two-way player who can score as well make plays for his linemates.
He is excited (and who wouldn't be leaving a team like Buffalo) to get going playing for his new team, and may just remember what playing in the postseason feels like. He hasn't been on a playoff team since the 2013/14 Colorado Avalanche and he's itching to show what he can do.
Crazy prediction #3
David Perron is back home where it all started for him back in 2007/08. Since that time he has bounced around with five teams and may have finally found his home where it all began for him.
He signed a four-year free agent contract with the Blues putting him right back where he started.
Kinda fitting, huh?
Perron was a member of the Vegas Golden Knights' magical 2017/18 season which took them to the Stanley Cup Finals.
Even though the Blues failed to protect Perron from the expansion draft conducted to supply the new expansion team with their first season roster, he has no qualms about going back to St. Louis.
Perron will even better his performance last season in Vegas where he totaled 16 goals, 50 assists in just 70 games. He didn't slow down in the playoffs either gathering one goal, eight assists in nine games.
He's the kind of player the Blues can use to show they are a better team than last season, and he will obtain 21 goals, 57 assists to pace the attack for his homecoming.
And, don't forget he knows what it feels like to be in the playoffs and almost win the Cup.
Crazy prediction #4
Patrick Maroon is also headed home to his birthplace playing for the St. Louis Blues. He signed a one-year $1.75 million contract and looks to add scoring depth and toughness to the forward line.
At 6'3", 225lbs Maroon's size will allow the Blues' forwards more room to operate and this prediction is that he will score 18 goals, and that will again help the previously weak offense the Blues have put out on the ice.
He has an accurate shot with a career 11.9 percent shooting ratio and when you give him the puck he knows what to do with it.
He too has had playoff experience tallying 27 points including 13 goals in 47 games. He's one of those players who comes in under the radar and before you know it he scores or sets up a teammate for a goal.
His addition will be well received and he will be offered a long-term deal after this season.
Crazy prediction #5
The St. Louis Blues have been a playoff team since the 2011/12 season until last season when they were inched out by the Avalanche on the last day of the season.
That isn't going to happen this season. Even though the Blues obtained a respectable point total of 94 points that only got them a fifth-place finish in the tough Central Division.
With the improvements which were monumental, the Blues will finish third behind the Nashville Predators and division champs Winnipeg Jets to more than qualify for the playoffs with 103 points.
No more weak offense, a better performance in net and an all-around turnaround of a season will catapult the Blues to familiar territory in the playoffs.
Not only will they make the playoffs they will get to the second round and perhaps challenge their arch rival Winnipeg Jets in the fight for the Western Conference crown.
Do you agree with the predictions made in this article? Where do you think the St. Louis Blues will finish this season? Let us know in the comment section below, and make sure to give us a follow on Twitter (@VAVELNHL_ENG) for more updates!