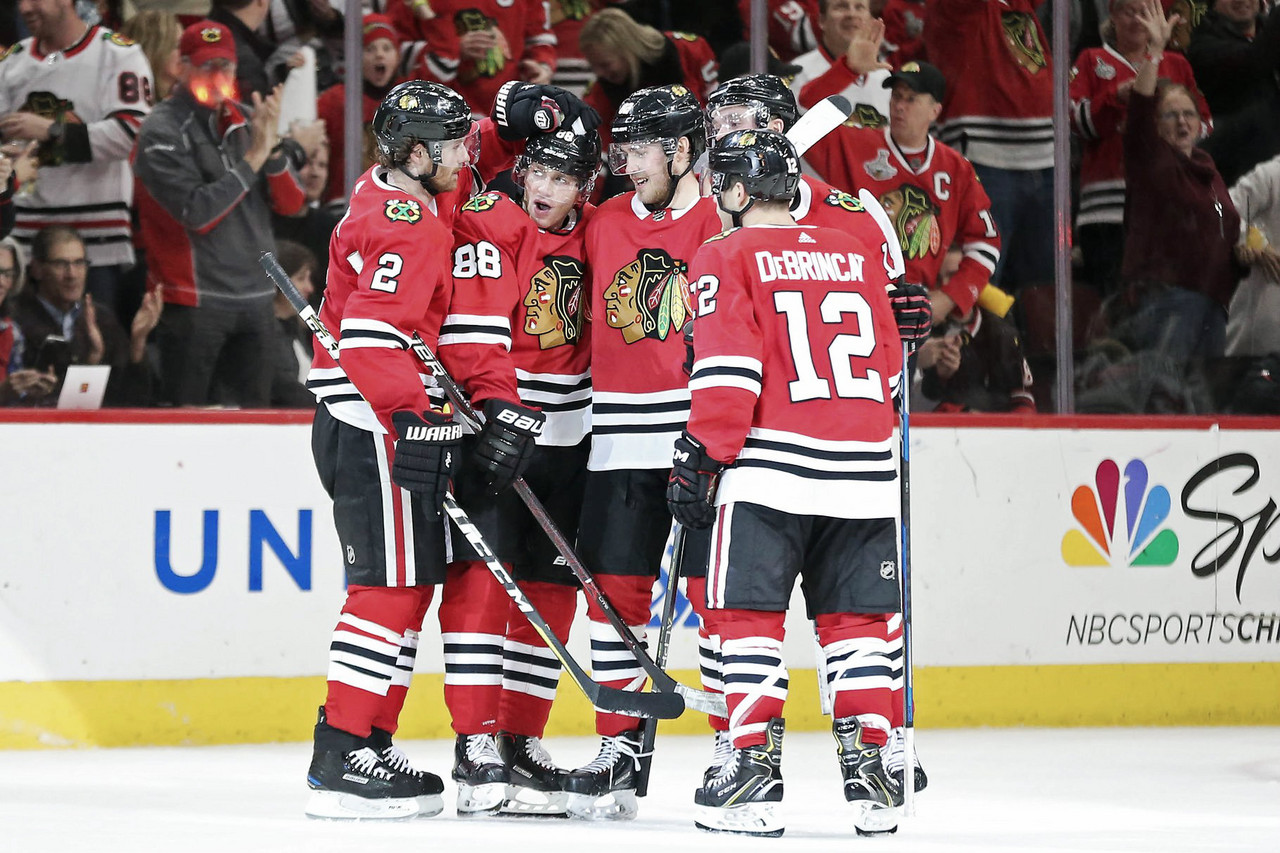 After not qualifying for the 2017/18 playoffs for the first time since the 2007/08 season, disappointment is a mild word for the results of last season for the Chicago Blackhawks.
This team has talent and a couple of Stanley Cups to prove it.
So, what happened?
Corey Crawford's injury certainly didn't help. Appearing in only 28 games sorta sealed the fate of the team.
He's still getting over concussions issues for this season and hopefully will be ready to play soon.
So, what crazy predictions can we make about this upcoming 2018/19 season for the Chicago Blackhawks?
Crazy prediction #1
Jonathan Toews will be traded
It's not an unheard practice for an NHL team to trade their captain. John Tavares was traded and so was Erik Karlsson.
The fact that Jonathan Toews is the Blackhawk captain has nothing... really to do with the fact that the Chicago club needs to study why they fell out of the elite teams last season.
Salary cap limitation.
There, I said it.
It WILL need to be addressed sooner or later, why not sooner?
If it comes down to do you trade Patrick Kane or Jonathan Toews, the answer becomes quite clear.
Toews is slowing down statistically and Kane has a bit, but not noticeably.
It can be said that for whatever reason Toews is not performing as in previous years and surely not enough to warrant his $10.5 million salary cap hit for four more seasons.
Just take a look at his numbers since the 2013/14 season. Goals down from 28 to 20 last season. Points down from 68 to 52. Shooting percentage down from 14.5 to 9.5.
If he were a normal working person instead of a professional athlete receiving his annual performance rating, he would be marked down and not get as good a raise... if any.
So, don't be surprised when we get near the trade deadline that Toews' name comes up. It's just a matter of economics. His contract is way overinflated.
Crazy prediction #2
​Alex Debrincat will challenge Patrick Kane for the team scoring lead
Alex Debrincat, the amazing young forward will continue his offensive firepower by scoring 35 goals and 75 points. He will challenge Kane for the team scoring title and show he is a future superstar in the NHL.
To emphasize his potential as a good scoring forward, he matched teammate Toews last season gathering 52 points on 28 goals and 24 assists while playing all 82 games.
He's that good.
And, when you take into consideration crazy prediction #1 above knowing that you can pay Debrincat $894,166 for the next two seasons of his entry-level contract, it makes the idea of trading Toews that much more palatable.
Crazy prediction #3
​Adam Boqvist will be on the NHL roster soon
Adam Boqvist will be called up from the London Knights after an impressive training camp with the team. He made it very difficult for head coach Joel Quenneville to send him down with his performance in camp.
Boqvist just turned 18 last month and his offensive prowess is well documented by eliteprospects.com: Offensively, Boqvist is electric; he has the toolbox of a top line forward. Slick puck handling ability paired with excellent vision and positional awareness makes him a dangerous threat every time he is on the ice.
He more than likely will tear it up playing in the OHL since he is accustomed to playing against older, more experienced players while playing in Sweden.
The 6'0", 181lb defenseman can change games, and if the Blackhawks need anything to gain back some respectability, it is a player with the ability to push the offense down the ice and get shots on goal.
He is one to watch, but the Blackhawks aren't going to waste too much time just watching him, they will put him in NHL games and see how he does.
He'll do fine.
Crazy prediction #4
Duncan Keith's performance will continue to slide
Duncan Keith's slide in production will continue and here is another example of poor salary cap management by the Blackhawks' powers to be.
Keith signed a 13-year (not a misprint) $72 million contract back in 2010/11. He just turned 35-years-old this past July and he still has four more years left on his hefty contract AFTER this season!
His production has been significantly reduced the past season when he went from 53 points to just 32. What's also notable is his +/- statistic which bulged to a whopping -29.
If his numbers continue in this trend the team will need to decide if they wish to continue paying him (just like Toews) an unjustified salary.
More importantly, the Blackhawks' management needs to learn from their mistakes of signing players to lengthy lucrative contracts.
They may need to eat Keith's contract or find some other way to save money.
Crazy prediction #5
​The Blackhawks won't make the playoffs... again
Some are thinking that the Blackhawks will amazingly snap out of it and become the team they once were... a Stanley Cup contender and winner.
Not the way this club is made up.
It's just not going to happen.
They've lost young defenseman Connor Murphy whom they acquired in a trade last summer for eight-12 weeks with a back injury.
With the continued uncertainty of Corey Crawford's health, the team has more holes than a slice of swiss cheese. And they haven't helped themselves by making some controversial trades the last couple of years.
Brandon Saad is a perfect example. That trade has displayed the way the team is going of late. Artemi Panarin collected 27 goals, 55 assists while his counterpart whom the 'Hawks traded for... Saad just totaled 18 goals, 17 assists.
Then, they followed that up by trading talented Vinnie Hinostroza along with Marian Hossa's salary (there's that salary cap monster again) and losing a serviceable defenseman like Jordan Oesterle.
They did get Marcus Kruger back... again and for some reason feel like getting back players they've traded away in the past will help them.
With all this said, the Chicago Blackhawks are knee-deep in a metamorphosis trying to determine what may work.
It won't work this season as they only gain 70 points and again flounder in last place in their division... but have about $7 million of cap space.
It's been so long since that's happened they probably don't know what to do with the money.
What is your take on the fate of the Chicago Blackhawks this season? Will they revive their former winning ways, or fail to make the playoffs like last season? Let us know in the comment section below, and make sure to give us a follow on Twitter (@VAVELNHL_ENG) for more updates!