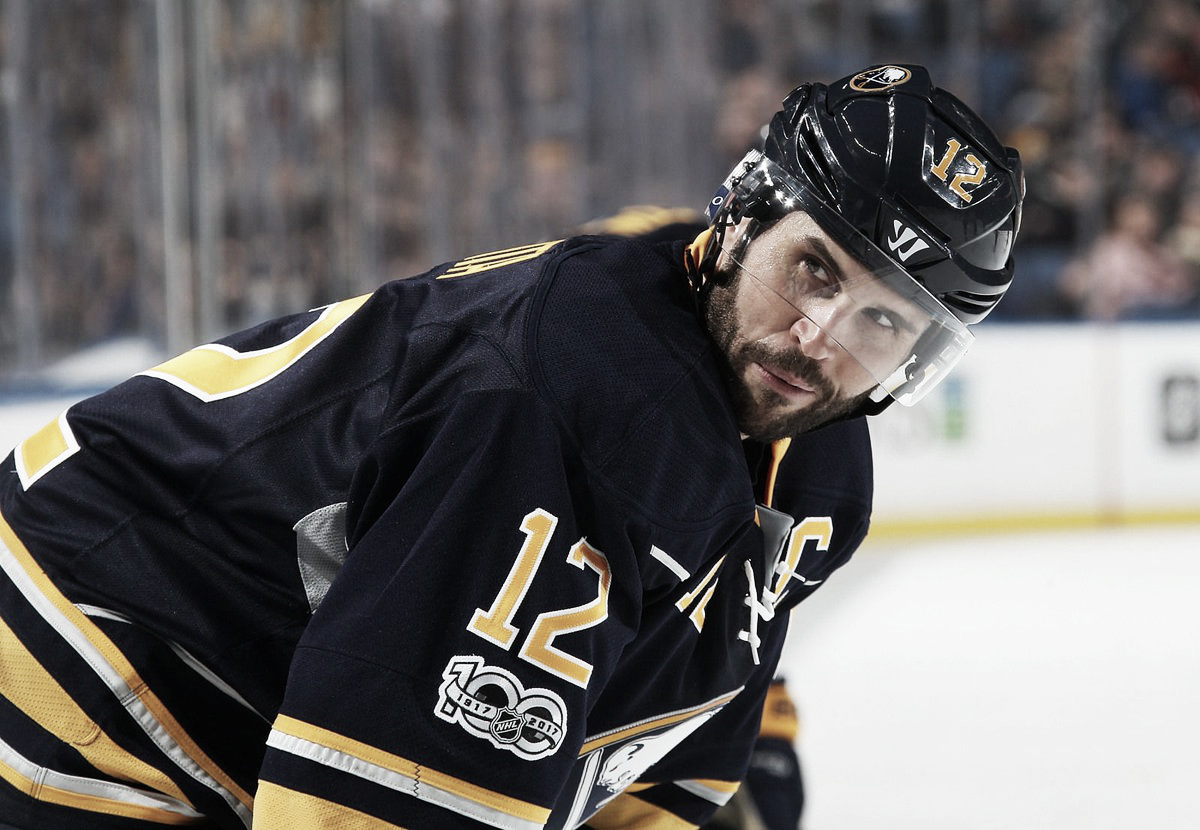 It was reported that on Monday, September 24th, the Buffalo Sabres were calling a press conference. At first, no one knew what it was about but then it came out that it would involve the most recent Sabres captain Brian Gionta. Immediately, everyone thought they would be naming a captain, but that turned out not to be true.
After 1,026 NHL games spanning 16 seasons with the New Jersey Devils, the Montreal Canadiens, and the Buffalo Sabres, Gionta called it quits and retired from the game of hockey.
He announced his retirement at Key Bank Center and he couldn't believe what hockey had turned out to be for the kid from Rochester, New York. "I went into it hoping I could play one NHL game and then from there it was play as long as you could and as long as you were having fun and your body would hold up, I would've never have thought that it lasted as long as it did, but I'm super appreciative of the people that supported me and gave me a chance."
Gionta's next steps
With his retirement, Gionta never thought he would play again this season and stated: "I'm at peace and feel great about the decision I've made."
He still lives in Rochester in the summers so the Buffalo Sabres offered him a small developmental role within the organization working with their AHL affiliate the Rochester Americans.
When asked about that he reminded everyone that his first focus would be his family but said, "We're from here and we live in Rochester in the summers and you hope to build the correct relationships, so maybe further down the road, you can still be part of the game and the Sabres have been great in allowing me to feel out this first stage of retirement, but also being a part of things."
It'll be nice to see Gionta spend some time with the prospects in Rochester after he stepped into a mentoring role when he previously played with Buffalo and really since he has been a captain. It's another move by the Sabres organization that will allow their prospects to grow and flourish, and it will bring another added piece to Buffalo's quest for a championship.
Gionta's storied career with the Devils
Brian Gionta was drafted 82nd overall by the New Jersey Devils in the 1998 draft, but he did not join them until the 2001/02 season as he played all four of his college years at Boston College where he won a championship during the 2000/01 season.
When Gionta joined the Devils during the 2001/02 season he was put on the famous "EGG" line playing the right wing with Patrik Elias and Scott Gomez. He was also part of the Devils' cup winning team in 2003 and during the lockout over the 2004/05 season, Gionta played with their AHL affiliate, the Albany River Rats.
Gionta was considered to be one of the most effective offensive players during his tenure with the Devils. During the 2006 season, he became the first player to score 40 goals since Elias and Alexander Mogilny both did so in 2001. He scored 48 goals in that season breaking Pat Verbeek's franchise record for goals in a season.
Gionta was named to the 2006 U.S. men's national team, played in 473 games for the Devils including 67 playoff games, and as of 2011, he held the franchise record for all-time power play goal-scoring in one season with 24.
Gionta's time before retirement
On July 1st, 2009, Gionta reunited with former teammate Scott Gomez when he signed a five-year, $25 million contract with the Montreal Canadiens.
Prior to the 2010/11 season, just his second with Montreal, Gionta became just the second American-born player to be named captain after Chris Chelios.
When asked at his retirement press conference about it, Gionta was very humbled, "The best things come when they're not planned and going to Montreal was one of the biggest blessings for myself and my family, to be out of your comfort zone, going to a French-speaking area where your kids are going to a different school and then to have them have the confidence in me that I was an English speaking guy and could be the captain of that team it was pretty special that they had that confidence in me and I loved my time there."
Gionta led the Canadiens back from the depths of the Eastern Conference during the lockout-shortened 2012/13 season where he scored 14 goals along with 12 assists to give Montreal their 23rd Northeast Division title. During that season, he scored the 20,000th goal in Montreal Canadiens history on March 5th, 2013. But, during game one of the opening round of the playoffs, he was forced out after he tore his bicep and had to get surgery.
Gionta's contract was up with the Canadiens and on July 1st, 2014 he signed a three-year contract with his hometown squad, the Buffalo Sabres, worth $4.25 million per season. On October 7th, 2014, Gionta was named the captain and for all three years, he was captain of a consistently struggling Sabres squad.
He only played one full season for the Sabres, never amassed more than 35 points, and he generally stayed on the third to fourth lines. On March 27th, 2017, he played in his 1000th NHL game when the Sabres took on the Florida Panthers.
After his contract expired with Buffalo, they let him go into free agency where he renamed unsigned until he was named to the 2018 US men's national team. He then signed a one-game professional tryout contract with the Rochester Americans where he registered one goal against the Toronto Marlies before shipping off to play for team USA.
When he returned, he signed a contract with the Boston Bruins for the remainder of the season which lasted 20 games. Over those 20 games, he scored two goals and added five assists for a total of seven points.
The Bruins would be the last time Brian Gionta suited up for an NHL team and took to the ice.
Final thoughts
Brian Gionta was a solid player throughout his entire NHL career, and he always seemed to find a role that fit him well. He only won one Stanley Cup early on in his career and he never had the luck to win another. Gionta was always well-liked and he excelled at the role of what a captain truly should be.
The fact that Buffalo is keeping Gionta in a small, organizational role with Rochester says a lot about what the NHL community thinks of him. The idea that Buffalo's prospects are going to get exposed to a man of his caliber should help them learn at a higher rate than most teams.
Brian Gionta had 595 points over his 16 NHL seasons including a Stanley Cup. He was a part of two USA junior teams at the World Junior Championships, three USA men's teams for the Ice Hockey World Championships, and two USA Olympic men's hockey teams.
When Gionta first won the Cup, he thought there would be many more to come, "It was a dream come true and not that you take it for granted, but it happened so early on that you wish you had cherished it a little more for what it was and how special it was because it's hard to do and now looking back and the chances we've had, conference finals and good teams that you've had that fell short, you realize how special it was to be able to win it."
Gionta will look back on his playing days with fond memories and teammates that he will always consider friends as starts a new chapter in his life and enjoying time with his family.
What do you think of Brian Gionta's retirement? Do you have an fond memories of Gionta? Tell me about it in the comments below!