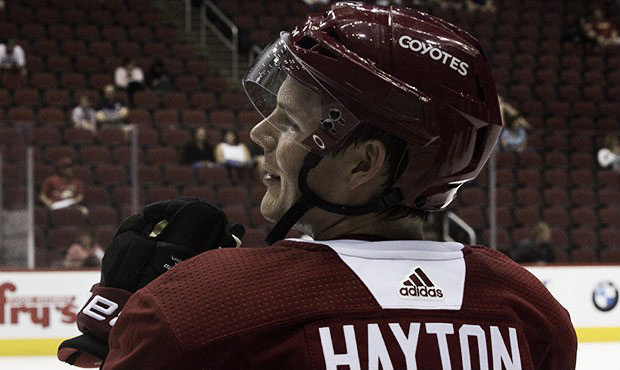 The Arizona Coyotes' GM and President of Hockey Operations John Chayka announced that their fifth overall draft choice Barrett Hayton would be starting the season on their NHL roster.
"Everything we thought and expected (about Hayton) has come true," Coyotes' general manager John Chayka told theScore's John Matisz. "He's one of those guys who you think will keep getting better and better every single day. He does a lot of good things, makes his teammates better, and came into camp and did a nice job. He's going to start off on our opening day roster and we're just going to take it day by day here."
Injuries are plaguing the Coyotes again
​The roster move may be seen as if Hayton has come along more quickly than expected, and that could be true. What's more likely though is that the team is hurting (literally) at the center position, and Hayton can step in and fill that void.
Both new acquired Alex Galchenyuk and third-year center Christian Dvorak are considered day-to-day with injuries.
Even with the influx of centers on the roster which include Derek Stepan, Brad Richardson, Nick Cousins, Laurent Dauphin, and Dylan Strome, the Coyotes have had to pull Clayton Keller and Vinnie Hinostroza off the wing to help at center ice. Both are adept at playing wing or center.
That gives the young 18-year-old Hayton a chance to show his new team what he can do against NHL competition. He has been held scoreless in two preseason games, but Chayka is still very impressed with his performance.
"He's a premium person, (a) premium player, playing a premium position," Chayka said. "He's a foundational piece for us. We think he's a complete 200-foot center."
Permanent move?
The team can allow Hayton to play nine NHL games before choosing to send him back to the OHL's Sault Ste. Marie Greyhounds. If he stays longer and that is yet undetermined, it could burn the first year of his three-year entry-level contract.
A similar situation occurred when Dylan Strome was brought up and he played nine games before being returned to the OHL for further seasoning.
Considering all the young prospects on the Coyotes' roster who will be completing their final year of the ELC, it seems logical Hayton to be headed back to the OHL.
Jakob Chychrun, Lawson Crouse, Christian Dvorak, and Christian Fischer are completing their final year of their ELC, and GM Chayka will need to open up his checkbook to sign all these talented players before next season.
Roster limit
The Coyotes currently have 26 players on their roster, but due to the injuries to Chychrun, Dvorak, and Galchenyuk (which doesn't count against their roster limit), they are at the maximum count of 23.
As the trio who are injured heal, then decisions will need to be made as to who gets cut from the roster. More than likely players like Mario Kempe, Dauphin, and Ilya Lyubushkin could be sent to the AHL affiliate Tucson Roadrunners.
The same could hold true for Hayton and he could either find himself back in the OHL for the entire season or headed down to Tucson. Considering how impressed Chayka is with the young Hayton he can be back on the NHL roster quickly and Tucson is just a two-hour ride away.
Whether Hayton is in Tucson or playing for the Coyotes in the NHL his future is bright, and it's got to be a thrill for the 18-year-old to lace up his skates for his very first NHL game Thursday night against the Dallas Stars.
Where do you think young Barrett Hayton will be playing? Do you think he can add to the success of the Arizona Coyotes? Let us know in the comment section below, and make sure to give us a follow on Twitter (@VAVELNHL_ENG) for more updates!