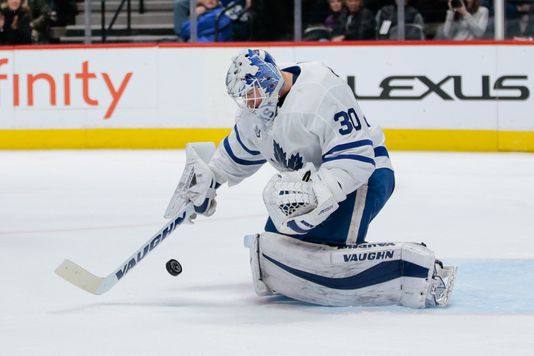 While the Philadelphia Flyers prepare for their 2018/19 season opener with the Vegas Golden Knights on Thursday night at the T-Mobile Arena on the Las Vegas Strip in Paradise, Nevada there's already a growing goalie controversy.
23-man roster reached
On Monday, when the Flyers placed both right winger Dale Weise and left winger Taylor Leier on waivers when only one needed to be to reach the 23-man roster limit, it was certainly a confusing move.
However, as expected, the Toronto Maple Leafs placed Curtis McElhinney (claimed by the Carolina Hurricanes) and Calvin Pickard (claimed by Philadelphia), both veteran net minders on waivers. The Leafs are going with Garret Sparks as the backup to No. 1 Frederik Andersen.
Veteran added to goalie mix
The selection of Calvin Pickard, a 26-year-old former 2010 second-round pick by the Colorado Avalanche, is a clear sign that the Flyers are not necessarily feeling too comfortable with their current state of affairs concerning their goaltending situation.
With Pickard, the Flyers now have six NHL goalies under contract: Brian Elliott, Michal Neuvirth, Alex Lyon, Carter Hart, Anthony Stolarz and Pickard. Additionally, his acquisition means their opening day roster will feature three goalies, meaning a corresponding move sending Stolarz to the Lehigh Valley Phantoms to back up Hart is forthcoming.
Necessary move
The Flyers current goaltending scenario is very unsettling. Last year, Elliott (2.66 goals-against average, .909 save percentage) proved when healthy he can be a solid goalie. Still there are questions about whether he has fully recovered from February's abdominal surgery and a minor hip procedure this past summer.
Flyers' general manager Ron Hextall confirmed that with Elliott coming off core-muscle and hip surgery and injuries to Neuvirth and Lyon, plus the fact that Stolarz "hasn't played essentially in a year," after undergoing two knee surgeries made the move necessary.
"It was one of those moves we felt made sense, to give us depth at a position that we're a little banged-up in," said Hextall.
Pickard will begin the season on non-roster status as Neuvirth was placed on injured reserve. Because of possible immigration problems, Pickard may not arrive in Vegas for Thursday's game. If he doesn't, Stolarz will serve as Elliott's backup and then he should be dealt to the Phantoms.
Pickard helped Marlies to Calder Cup

In 2017/18, Pickard appeared in one NHL game for the Leafs, allowing four goals in an overtime loss. However, he had a 21-9-1 record with the Toronto Marlies and helped them in defeating the Phantoms for the Calder Cup in the AHL last season, posting a 2.31 GAA and .918 save percentage.
"Pick is another quality, quality guy," said Leaf's coach Mike Babcock. "Unbelievable for Sparks last year helping him become a pro [in the AHL]. He's had good numbers in the National Hockey League. He'll do a good job, but he's a great teammate."
Previously, Pickard played for the Avalanche from 2014-2017. In his three seasons with the Colorado, he recorded a 28-44-6 record with a 2.77 GAA and .914 save percentage.
Pickard, who has one year left on a contract that pays him $800,000, provides the team with immediate goalie depth, but he isn't a long-term solution. This is simply a depth move and given Neuvirth's health issues he can't be trusted... it's a good one.
Flyers vs. Golden Knights
The Flyers and Elliott are set for their regular season-opener on Thursday night against the defending Western Conference Champions, Vegas Golden Knights.
#LetsGoFlyers
What do you think of the Philadelphia Flyers' goaltending situation? Let us know in the comment section below, and make sure to follow us on Twitter (@VAVELNHL_ENG) for more updates!