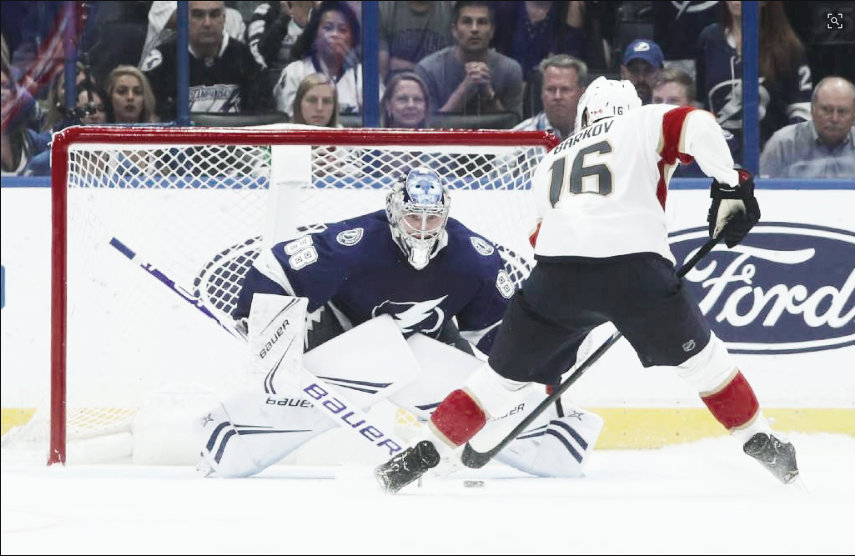 The Tampa Bay Lightning opened the 2018/19 season with the Battle of the Sunshine State, with their home opener game against the Florida Panthers.
It didn't take long for the Panthers to get on the board. Jacob MacDonald received a pass from behind the net by Vincent Trocheck and was able to wrist a shot past Bolts' goaltender Andrei Vasilevskiy.
After a slew of chances from the Lightning, they were not able to convert to tie the game.
Vasilevskiy had a busy period, facing 16 shots. The Panthers held the 1-0 lead into the first intermission.
Second period
Not many chances were being created by either team. The Lightning sure looked like the better team, generating shot after shot to move their total up.
Netminder Roberto Luongo was showered with boos in the middle of the period when he had to be attended to by the Panthers trainer for the second time in the game. Fans inside Amalie Arena were not pleased, to say the least. He had also gotten shaken up after taking a shot in the neck area from Steven Stamkos.
Playing in his 1,002 career NHL game, Luongo was helped off of the ice with support. The Panthers PR twitter confirmed after the second period that he would not return, and the injury was lower body.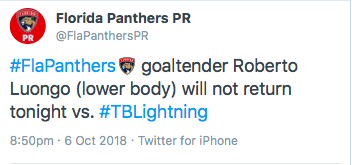 Florida would still hold the 1-0 lead as the second period would end.
Cirelli ties the game
Midway through the final frame, Vasilevskiy kept the score 1-0 with a remarkable save. That would soon force a 2-on1 situation with Anthony Cirelli making the noise tapping home a rebound shot to tie the game at 1-1.
In overtime, within the first minute, Vasilevskiy was ultimately the best player. Two key saves to keep the game tied at 1-1. At the other end, James Reimer saved the Panthers with his glove stop on Yanni Gourde.
The game had to be settled by a shootout, and Nikita Kucherov was the hero as his shot found the back of the net, to give the Bolts a 2-1 shootout win over their in-state rivals.
Vasilevskiy ended the game with 42 saves. Reimer had 15.
Next up for the Bolts is a game against the Vancouver Canucks, part of a five-game homestand. For the Panthers, they have their home opener against the Columbus Blue Jackets and they will also honor their 1993-94 team as part of their 25th-year celebration.