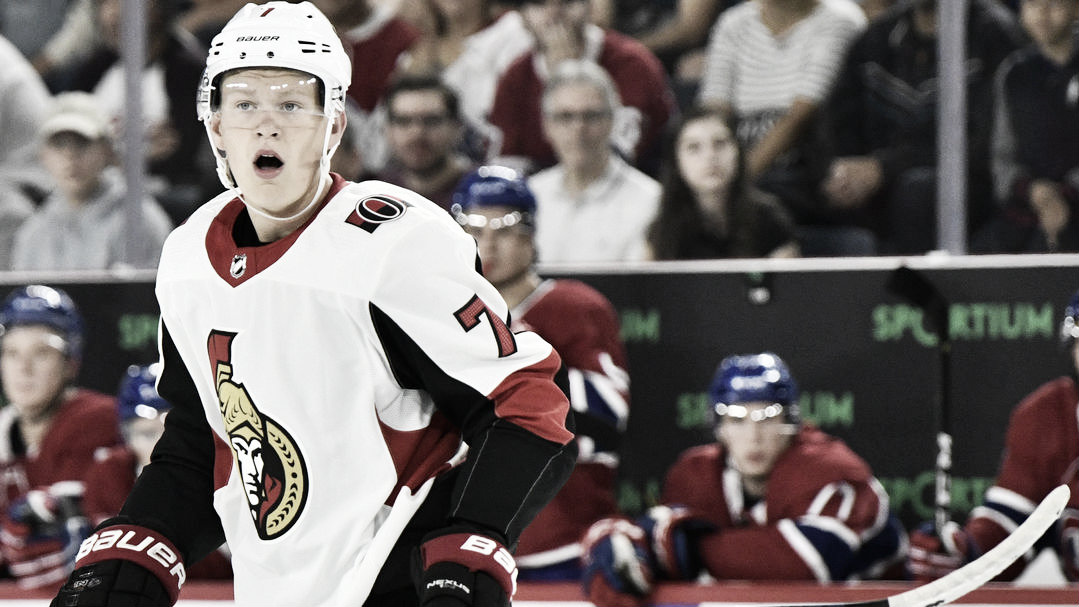 With the new NHL season in full gear, a few NHL rookies have made a nice early impression. Even though it is a small sample size, some players have already made a significant impact on their team.
Here is an early look at some rookies in the Eastern Conference that have been off to a very good start so far.
Maxime Lajoie - Ottawa Senators
Maxime Lajoie has been an early surprise for the Ottawa Senators this season. The 2016 fifth-round pick had a strong camp and carried that momentum into the first handful of games in the season.
He already has three goals and six points in his first five NHL games and has been one of the Senators best offensive weapons so far.
He has also earned the trust of his coach early on, playing at least 18:33 or more in each of his first five games. We also saw him earn a season-high of 23:19 of ice time against the Philadelphia Flyers on October 10th.
It remains to be seen whether the rookie can stay consistent all year long, but the early signs are encouraging and Senators might have found a gem in Lajoie.
Brady Tkachuk - Ottawa Senators
Brady Tkachuk was one of the more hyped rookies heading into the new NHL season, and it's fair to say that he has lived up to expectations so far.
Despite missing the first two games of the season, Tkachuk made an immediate impact in his first three NHL games. He has two goals and three assists and has given the Senators excellent all-around play.
His combination of skill and size makes him a dangerous offensive player everytime he is on the ice and has been one of the Senators most exciting players to watch.
After parting ways with Erik Karlsson, the Senators are in the midst of a heavy rebuild. But they haven't been as bad as many analysts expected them to be early on and Tkachuk has been a huge reason for that.
Andrei Svechnikov - Carolina Hurricanes​
Andrei Svechnikov was one of the most highly touted prospects heading into the 2018 NHL draft. He was taken second overall by the Carolina Hurricanes and as many expected, the 18-year-old made the Hurricanes right out of camp and hasn't disappointed so far.
He had two goals and four points in his first four NHL games and looks to be one of the Hurricanes' most dangerous offensive weapons.
His early play suggests that his offensive skill set is smoothly translating to the NHL level. It's still too early to mark him as a bonafide franchise player but a player like Svechnikov gives everyone in Carolina some hope.
Dennis Cholowski - Detroit Red Wings
Not many people may have heard of Dennis Cholowski but he has quietly made a nice impact for the Detroit Red Wings.
The 20-year-old defenseman had three points in his first three NHL games and averaged over 22 minutes so far. He is also seeing time on the team's top defensive pair and has been given plenty of playing time to learn on the fly.
All in all, it has been impressive to see the rookie defenseman come in and make an immediate impact right away.
Not many people expect the Red Wings to be any good this year, but if they want to speed up the rebuild they will need a player like Dennis Cholowski to continue to improve and be a positive impact the next several years.
What do you think of these rookies so far? Let us know in the comment section below, and make sure to give us a follow on Twitter (@VAVELNHL_ENG) for more updates!