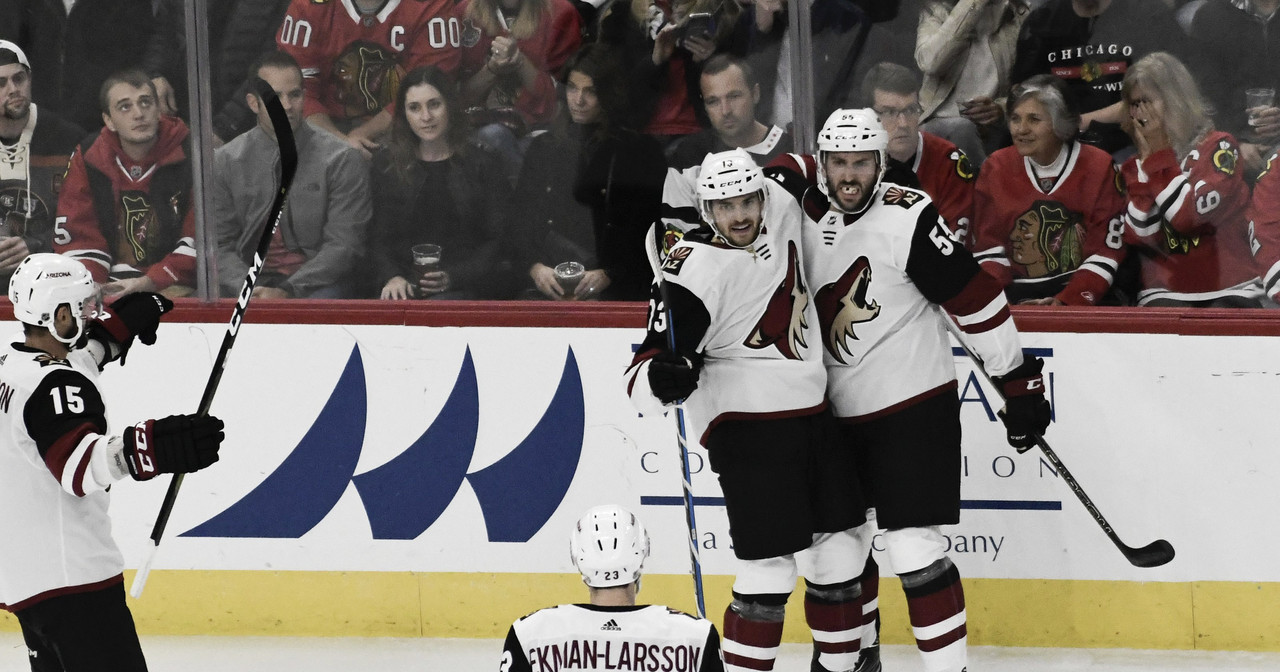 The Arizona Coyotes and the scoreboard got reintroduced last night as the team played solid defense and actually scored four goals enroute to their second win of the season.
Lawson Crouse gets first 5-on-5 goal of season
That seems like a crazy statistic, but it's true. Not only did Lawson Crouse score his first but it was also the first time this new season that the Coyotes managed a 5-on-5 tally... and we're six games in.
It was a pretty goal (as most one-timers are) with who else... Clayton Keller leading the way down the left wing. He spotted a streaking (well as fast as a 220lb frame can streak) Crouse breaking down the middle and planted a perfect lead pass on Lawson's tape.
He knew what to do with it, even though it was on his off wing. The big guy blistered a bullet by the beleaguered Blackhawks' goalie at the 11:43 mark of the initial period.
It's always a good thing to score first, and especially good to do it on the road. That goal got the team's offense going, and as predicted it was just a matter of time before more goals followed.
It was indeed a pleasure to see Crouse play so well and head coach Rick Tocchet put him on the top line with Keller, and Derek Stepan to show him he needed to produce... and he did.
Hawks come back momentarily
The Chicago crew tied the game at the 6:34 mark of the middle stanza when Erik Gustafsson got his first of the year from a perfect lead pass from captain Jonathan Toews.
But what good teams do is take the goal right back, and the Arizona club only took 2:03 to manage to take the lead again.
This time it was Vinnie Hinostroza who took a fake slap shot pass from Coyotes' captain Oliver Ekman-Larsson on the right wing to score his first of the season and first as an Arizona Coyote.
All of a sudden the Coyotes experienced what it felt like to have some momentum and took their one-goal lead into the final period of play.
Clayton Keller joins the scoring club
Everyone knew Keller would get going, and he is a streaky scorer. Last season he went a number of games without scoring, but it's only for a short period of time.
This goal was a perfect example of Keller's instincts to anticipate a play. Former Pittsburgh Penguin forward Chris Kunitz committed a costly turnover by passing blindly towards the middle and Keller was on the hunt.
He grabbed that errant pass and took it in on Crawford. The craftiness of Keller's stickwork is a thing of beauty as he got one by the rusty Crawford using the five-hole.
The look on opposing head coach Joel Quenneville's face was the story of this game. Lack of execution by the Blackhawks.
Watch as Keller uses his skills to not only steal the pass but goes in alone on Crawford who didn't have a prayer.
That pretty much decided the game, but Quenneville still had a trick up his sleeve. In an unprecedented move, he pulled Crawford with 5:11 remaining in the contest to see if it would spark something into his team.
It failed, as the spark plug Hinostroza scored into an empty net for this second of the game. He had only seven goals all of last season and is using his increased ice time to show what he can do.
Final thoughts
This was an enjoyable game to watch as is any game between these two teams. For one reason there is a large group of former Blackhawks now playing for the Coyotes.
For this game, Hinostroza was the one former Chicago player who stood out, and that spelled W-I-N.
It's now onto Winnipeg for a Saturday afternoon matinee with the Jets which should be a good game with two teams who can motor down the ice and the way the Coyotes are playing now they need to continue with all the speed and finesse to overcome a quality team.
What were your thoughts of the game the Arizona Coyotes played against the Chicago Blackhawks? Let us know in the comment section below, and make sure to follow us on Twitter (@VAVELNHL_ENG) for more updates.