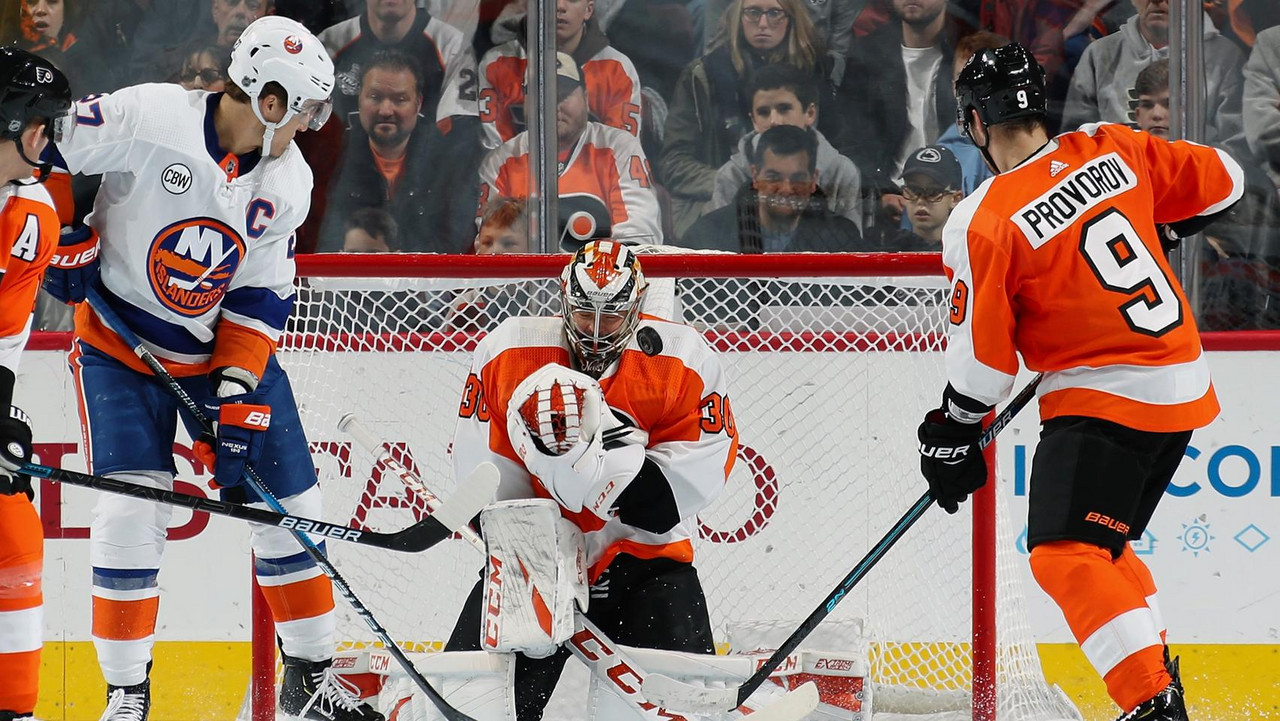 Philadelphia Flyers, who were looking for their first win in three games, goalie Michal Neuvirth made his season debut when they hosted the New York Islanders (3-4-1) at the Wells Fargo Center in another Saturday afternoon matchup.
In 11 prior games against the Islanders, Neuvirth was 7-2-1 with a 1.76 goals-against average and .933 save percentage.
Neuvirth, the 30-year-old injury prone Flyers backup goalie, has been out since sustaining a lower-body injury during the preseason. As part of a conditioning stint with Lehigh Valley Phantoms of the American Hockey League, he made 31 saves in a 7-3 win against Hartford on Wednesday.
Prior to his return Neuvirth said, "I feel like my game is where it needs to be right now'' after practice. But when asked if he thought he could provide a spark for a 4-6 team that seems fragile he said, "this is a team sport. We need everybody to play good tomorrow to get a win.''
Hakstol seeking spark plug
Equally, Flyers coach Dave Hakstol added that "we don't need a goaltender to go in and necessarily be the spark. That's not what we're asking. We're asking everyone to go out and do their job. Somebody's got to be the spark. Somebody's got to be the spark to push us in the right direction.
Flyers had high hopes
With the offensive firepower that the Philadelphia Flyers possess with captain Claude Giroux, Jakub Vareck, Wayne Simmonds and Sean Couturier the Islanders needed to limit the Flyers chances and they did.
Coming into today's game Giroux had 49 points (17 goals, 32 assists) in 45 games against the Islanders, his most against any NHL team, unfortunately even Claude couldn't jumpstart his dying team as the fell to the Islanders 6-1 and are now 4-7-0 after their first eleven games.
First period frustration continues
Leo Komarov, formerly with the Toronto Maple Leafs, set up shop in front of the net and deflected Adam Pelech's slapper past Neuvirth for his second goal of the season to open the scoring at 11:38.
At 13:20, Jordan Eberle fed a streaking Anthony Beauvillier in the slot with a great pass, and he snapped the puck home to give the Islanders a 2-0 lead.
"Feels good to get on the board," said Beauvillier, who scored 21 goals last season but had been without a point this season until Saturday
After the first 20 minutes, the Flyers trailed the Islanders, who had lost four of five games, by a score of 2-0 marking the 10th time in 11 games this season they have surrendered the first goal. They did this despite being afforded two power plays.
Second period recap

Brock Nelson, who scored twice, made it 3-0 for the Islanders at 4:58 of the second period, finishing a 2-on-1 rush with Josh Bailey. He now has four goals during a three-game goal streak.
Then at 6:28 of the second, Jori Lehtera picked up a loose puck in traffic, worked his way to the front of the net and beat goalie Robin Lehner low for his first of the season and get the Flyers on the board and make it 3-1.
All Islanders in third period

Adam Pelech collected a pass in the high slot and ripped a wrister that found the back of the net for his first of the year at 8:17, giving the Islanders a commanding 4-1 lead.
At 8:58, Nelson streaked in along the boards, cut toward the net, waited and snapped the puck top shelf past Neuvirth, who stopped on 16 of 22 shots, for his second goal of the game and making 5-1.
Then Anders Lee, who had three assists, recorded his third of the year at 11:09 to close out the scoring.
"You could tell we had our legs today," Lee said. "We knew we had to get off to a good start. Obviously a tough road trip here. With a one o'clock game we wanted to get into this pretty quick. I think our first period was pretty good and to put two in and to play from there was huge. From top to bottom we had a full team effort."
Captain says team is pressing

"I think when you want it too much you press a little harder, you get away from what you're supposed to be doing," said Giroux. "You're just pressing, and I feel like we're pressing right now. We're tired of losing so we're trying to do everything we can to make something happen. But sometimes it's not always the right thing."
Hakstol needs Mucinex

"We've got too much going on in between our ears right now,'' said coach Hakstol. "And I see that in our game. That's my job to clear some of that out so they can go out and play the game with a clear head. It's really hard to play the game when you have too much going on.''
Go West or go bust

Following the game, the Flyers boarded their plane and took a flight out west, launching a four-game, eight-day trip that begins Tuesday night in Anaheim, offering Hakstol another opportunity to rid those demons plaguing his team, to clear some heads.
It was during a similar west coast trip last season in early December in which the Flyers emerged from a similar hole, reversing the effects of a 10-game winless streak with six in a row. That launched them into an exhausting run to the playoffs where they finished in third place and created great expectations for the start of this season.
"When you go on the road for a long time with your teammates, you get a little closer," Giroux said. "That's what we need right now, we need to get closer as a team. We need to go out there and play for each other. This road trip is going to be very important for the season."
"Everyone's got to take a deep breath, look in the mirror and see what you have to do to get better,'' said Flyers Scott Laughton. "That's what's going to get us out of this.''
Honestly, there may be no more lost team in the NHL right now than the Philadelphia.
What do you think of the Philadelphia Flyers chances this season? Let us know in the comment section below, and make sure to give us a follow on Twitter (@VAVELNHL_ENG) for more updates!