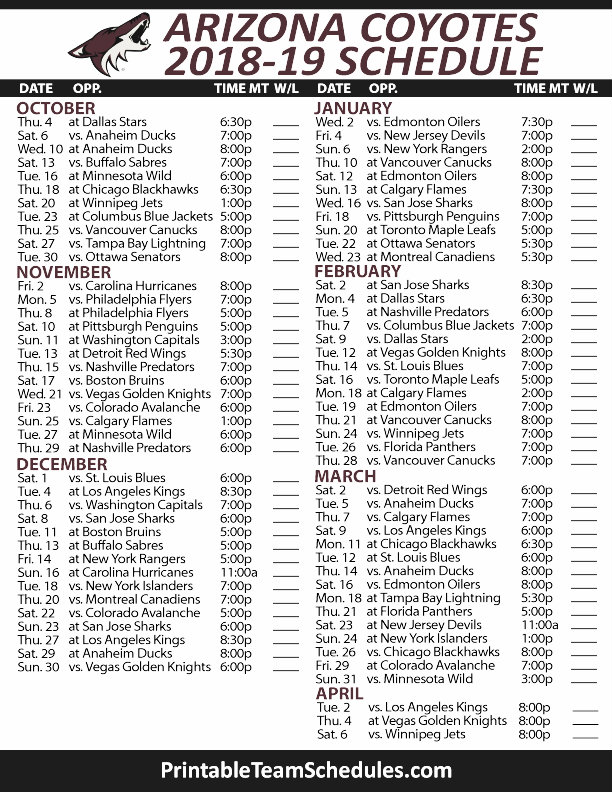 Most loyal Arizona Coyotes' fans wanted just one thing when the new 2018/19 season began... a good start.
They are receiving their wish as the Coyotes have stormed back from a slow 2-5 start to win their last three games in a row to pull even at 5-5.
Here's 10 things we noticed about that game span.
1. Oliver Ekman-Larsson is the new captain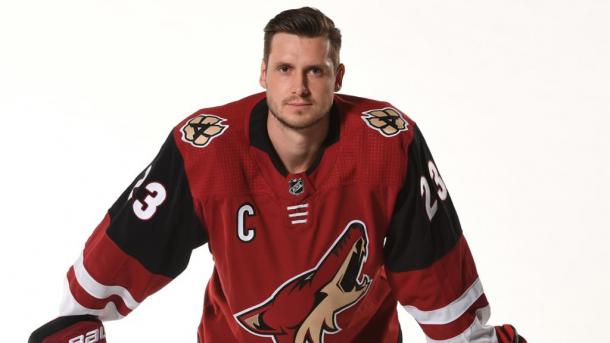 Anytime a player must replace a legend as the team captain (Shane Doan) it must be a task to be termed as overwhelming, but OEL has handled it with dignity and leadership.
Just as we thought he would.
Seeing him wearing the 'C' on his chest helps the younger players (OEL is only 27) realize that they have a new leader and have fallen right in place behind him.
He leads by example and certainly deserves the honor bestowed upon him by the team management.
He has a more than a few years to evaluate his new job, but so far he seems to have accepted it and the team is rallying behind him.
2. Antti Raanta excelling in net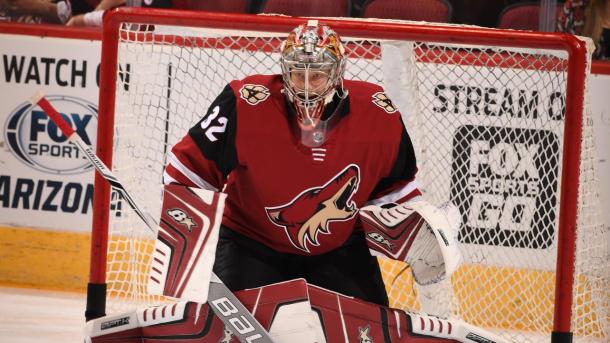 Raanta has been lights out this season. His goals against average of 2.13 and save percentage of .921 says it all.
What helps is having a skilled backup goalie in Darcy Kuemper. His GAA of 1.34 is first in the NHL for goalies who have played at least three games. And, he is second in SV% with a stellar .957.
If Raanta can stay healthy (yet to be determined) he stands a good shot at helping his team into the playoffs for the first time since the 2011/12 season.
It also helps that the team defense is much improved this season. Forwards are back-checking and defensemen are doing their job by clearing out the front of the net and forcing the play up ice.
Those can be winning combinations as long as the consistency remains intact.
All in all, Raanta has looked exceptional.
3. Clayton Keller is the real deal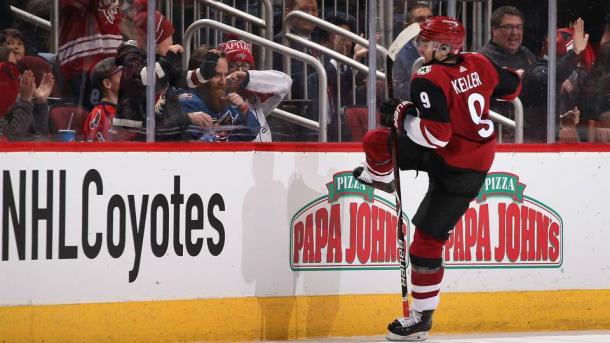 Keller, after a slow start now has five goals, two assists and six of those points have come in the last five games.
Admit it... he's a streaky scorer.
That still makes him a scorer.
His wrist shot is a thing of beauty to witness. He exerts all the power and energy out his 5'10", 170lb frame and is becoming more and more similar to his idol, Patrick Kane.
To have him quarterback the power play is exactly his forte and he exhibits all the talent needed to become an NHL superstar.
Lately, he has been lining up with newly acquired center Alex Galchenyuk and the results have been very positive. Yet, you can line up Keller with just about any player and he will be fine.
He is a student of the game and his head coach Rick Tocchet calls him a "hockey geek" who absorbs information, watches videos endlessly to better improve his game.
Obviously... it's working.
4. Christian Fischer is showing his potential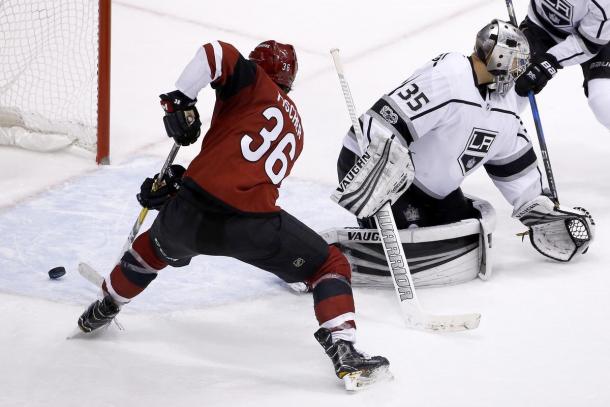 He showed everyone he can be a scorer who pounds the net and knows how to put the puck in the net.
His hat trick against the Columbus Blue Jackets on October 23rd displayed his potential to be a 20+ goal scorer in the NHL. He had 15 goals last season and is on his way to crush that total if he continues his level of play this season.
His big body (6'2", 214lbs) can certainly get him an important position in front of the opposing goalie, and of course, he's there in excellent position for a rebound.
His style of play is very similar to that of departed captain Shane Doan, and that's quite a compliment.
5. Team defense is BEST in the NHL
That's correct, it is NOT a mistype. The Arizona Coyotes have given up just 20 goals in their first 10 games and when one compares that to the disastrous start last season, it's like night and day.
Last year the team relinquished 44 goals in their first 10 games. Talk about improvement, that's improvement with a capital "I".
Now when their power play starts to get in gear (it's now just 29th with a meager 10.3 percent success rate) the team may really have something special.
Right now, the defense has led the way, and it showed in their monstrous 7-1 thrashing of the Eastern Conference-leading Tampa Bay Lightning last night in Glendale, AZ.
Defense does win Stanley Cups and the Arizona Coyotes' young, talented team is starting to get the picture that it really does work.
6. Short-handed goals are flying in
Why is that? A lot could be due to the excellent addition of Michael Grabner who had two shorties in the lopsided win over Tampa Bay.
More importantly, when he teams up with the crafty veteran Brad Richardson good things happen. They force the play with Richardson's endless tight checking and Grabner's rocket speed.
Between the two you have a match made in hockey heaven, and they both have two short-handed goals in just 10 games. Add in that Lawson Crouse also has a short-handed goal on an empty-netter and the team has five short-handed goals this young season.
Don't think that opposing NHL teams haven't noticed and need to be aware that the Coyotes have a new weapon and are adept at using it.
Nothing tends to defuse a team's momentum on the power play than a short-handed goal. It deflates the man-advantage a team thought to possess and instantly tends to depress the fortunes of the power play unit.
7. Vinnie Hinostroza factor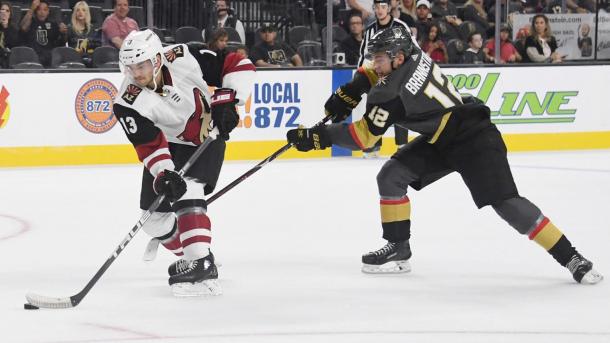 When the crafty President of Hockey Operations/GM John Chayka traded for Vinnie Hinostroza it was a key factor that not only continued to add speed and scoring potential to the team; it was a positive for Vinnie who yearned for more playing time he never received in Chicago.
After being held scoreless in his first four games, Vinnie has three goals, three assists in his last six games. Not bad for a kid who wasn't given but 99 games of action over the last two seasons while with his former team, the Chicago Blackhawks.
Hinostroza adds needed depth to the top nine forward group, and he is on his way to show his former team that they gave up on him too soon.
You will be hearing the V-I-N-N-I-E chants for a while, so get used to it.
8. Brad Richardson's rejuvenation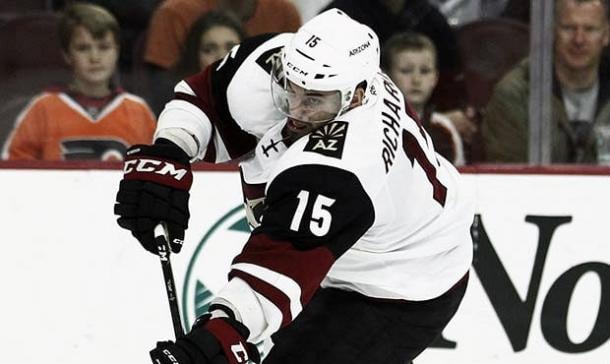 Every Coyotes' fan (yours truly included) had written off Richardson to NOT sign a contract with the team since he was a restricted free agent. BUT (there's always a but...) he did sign and he fills an important role on the fourth line that he alone fills with agility and results.
There's not one player on this team who kills penalties better than Richie, except maybe the newly acquired Grabner who will be attempting to take that title away from him.
His devastating leg injury he sustained back in 2016/17 kept him out of all but 16 games, but like the formidable veteran player he is... he is back and looking better than ever.
Whatever youth serum Richardson is using, he needs to continue that process and even at the ripe age of 33, he may really help this team in its quest to improve to a playoff contender this season.
9. Steady play of Derek Stepan
For a while there, it appeared as if Stepan was going to have 50 shots on goal before getting one behind the red goal line. That ended last night when he bagged a beauty to score his first goal of the new season.
He's the type of center-iceman the team needed to stabilize the younger players even though he is just 28-years-old himself. He's steady in the faceoff circle (51.6%) and an excellent playmaker.
He was teamed with Clayton Keller and they had some chemistry, but now he is on a line with two young gunners in Brendan Perlini and Christian Fischer.
He assisted on all three of Fischer's goals when the Coyotes defeated the Blue Jackets recently.
He made it easy for Fischer to score with passes that were threaded with care and technique.
He also is a quite the leader on and off the ice as he is an alternate captain helping OEL guide and mold the young pups.
10. The jury is still out on Dylan Strome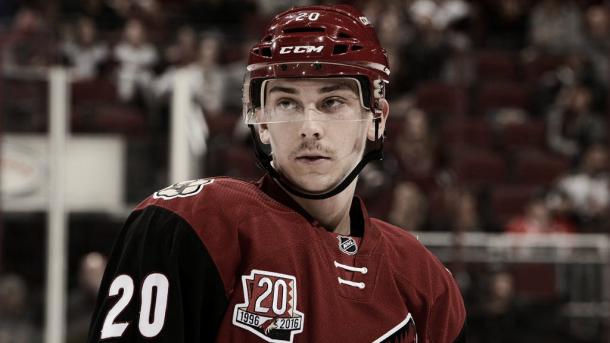 Even with two goals in 10 games, the expectations of Strome seem to be higher than his ability or determination to perform so far this season.
There are games like in the pounding of the Lightning last night where he disappears... oh yeah that's cause he was a healthy scratch!
It seems to be the story of IF now not WHEN Strome will start to play like a third overall draft pick back in 2015.
The team has given him every opportunity to play in the NHL and it's a head scratcher as to why he excelled in juniors and even in the AHL but has really failed to gain any momentum at the NHL level.
If this persists it seems inevitable that he will be either sent back down to the Tucson Roadrunners of the AHL or be traded. He had started out this season looking excellent in the faceoff circle helping his team win draws, but it will take more than that to keep him in a roster spot when someone like Josh Archibald got the start and he didn't last night.
Potential is one thing, and at some point, performance needs to kick in and he just hasn't seemed to get there... he's trying but is not quite there yet.
Final thoughts
The Arizona Coyotes must feel like they are going places especially after winning three straight games and not really being out of too many games this season.
Things are beginning to gel, and you can see the confidence on the player's faces. Winning is contagious (the good kind) and if they can continue their winning ways on this homestand where they are yet to lose (2-0), then we shall see what this team is really made of.
For now... winning is a joyous and wondrous thing.
Enjoy it.
Bask in it.
It's been a l-o-n-g wait.
What are your thoughts on the Arizona Coyotes' first 10 games? Do you feel confident that they are on their way? Let us know in the comment section below, and make sure to give us a follow on Twitter (@VAVELNHL_ENG) for more updates!