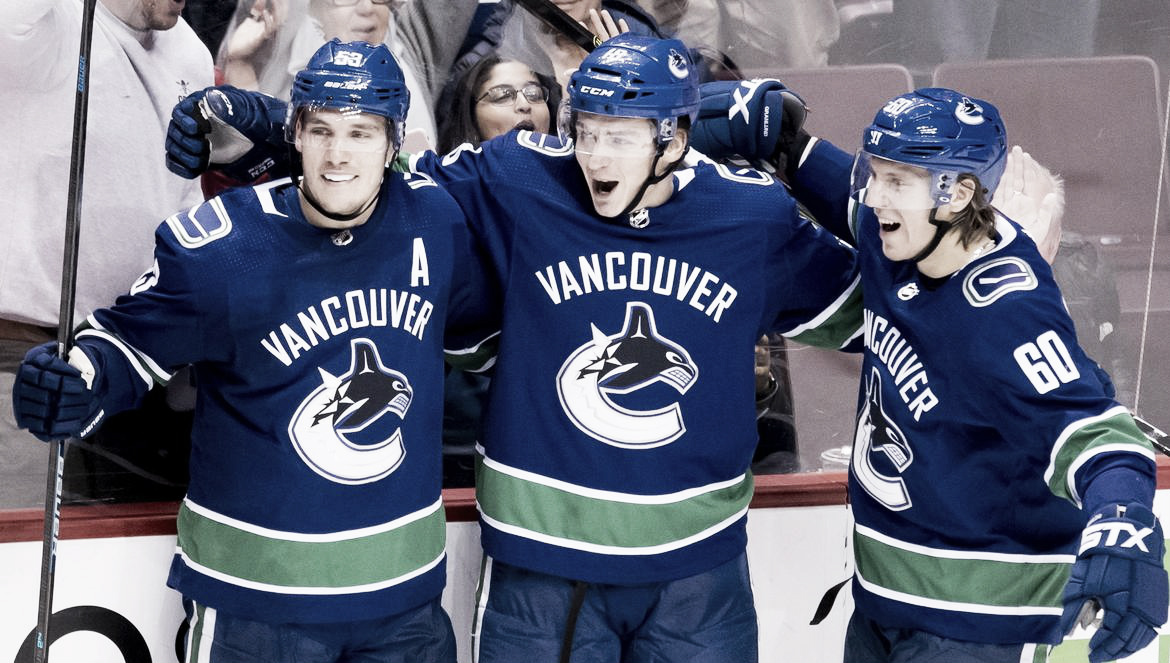 The 2018/19 NHL regular season is roughly a month old, and much like every year, several teams have gotten starts that may have taken fans by surprise.
Some teams that underachieved or were just plain bad last year have raised eyebrows in the first 15 games or so, but whether they've turned a corner remains to be seen.
After all, it's an 82-game season. As the old sports cliché goes, what matters isn't how you start, but how you finish.
It goes without saying that where teams end up affects everything from positioning in the Stanley Cup Playoffs to the selection order at the NHL Entry Draft.
Nonetheless, the following teams have looked better than expected out the gate. They are ranked by the strength of their turnarounds to date.
Vancouver Canucks
After finishing 26th overall last year and second-to-last in the NHL in 2016/17, the Vancouver Canucks' improvement has been among the league's better stories so far. The Canucks are currently leading the Pacific Division with a 9-6 win-loss record, good for 18 points.
Perhaps a few years of finishing low and drafting high have paid off, along with Henrik Sedin and Daniel Sedin retiring and clearing a combined $14-million salary cap hit off the Canucks' books.
Vancouver's decent start has been led largely by rookie Elias Pettersson's 15 points (nine goals, six assists), along with veteran forward Bo Horvat's 11 points (seven, four).
Brock Boeser and Jake Virtanen have also had productive starts, but Vancouver has seen contributions from throughout the lineup.
Goaltending has been an Achilles' heel for the Canucks, however. Anders Nilsson's numbers look the best so far, as the veteran backup has a 3-3 record, .912 save percentage and a 2.67 goals-against average in six games.
In three more games played, Jacob Markstrom has posted a 6-3 record, .899 save percentage and a 3.27 goals-against average.
The Canucks beat the Colorado Avalanche 7-6 in overtime in their last game on Nov. 3, so if that keeps up, fans can expect numerous exciting, high-scoring affairs this year.
But this pace could be an anomaly, as those results aren't likely to bring playoff success for a team that's missed the postseason in four of the last five years.
Arizona Coyotes
The Arizona Coyotes were one of the NHL's most frequent cellar-dwellers in recent years, but general manager John Chayka's analytics focus may finally be paying dividends.
Although the Coyotes' 7-5 record and current fifth spot in the Pacific may not be worth writing home about, any time the team spends away from the bottom of the league is worth celebrating after many disappointing years in the desert.
Third-year centerman turned winger Clayton Keller has led the way so far with nine points (five, four). The Coyotes have also gotten good numbers from Alex Goligoski and stud defenceman Oliver Ekman-Larsson, who have seven points each.
Antti Raanta and Darcy Kuemper have been great in net, as well.
Reserving judgment on this year's Coyotes until after the season might be best, though. They'll need to keep up these efforts to make the playoffs for the first time since 2012.
New York Islanders
The New York Islanders may have lost franchise player John Tavares to the Toronto Maple Leafs for nothing in free agency over the summer, but they added strong front office names with longtime coach Barry Trotz joining the fold and Lou Lamoriello coming on as general manager.
Bringing in depth forwards like Leo Komarov and toughness from Matt Martin, who's in his second stint as an Islander, has likely helped New York's performance.
The Islanders have been paced by Josh Bailey, who has stepped up well in Tavares' absence with 15 points (three, 12). Anders Lee and Matt Barzal have also been good, with 13 and 12 points, respectively.
Picking up Valtteri Filppula from a Metropolitan Division rival, the Philadelphia Flyers, was a good move for the Islanders. Filppula has been a nice piece of the team's forward depth with seven points (four, three) in 12 games.
Thomas Greiss and Robin Lehner have experience as solid backup goalies, too. But they've been outstanding so far, with Greiss (4-2) sporting a 1.85 goals-against average and a .944 save percentage.
Lehner (4-2-1) has a .928 save percentage and 2.45 goals-against average in seven games.
Much like every team that's started well, the Islanders could be playing over their heads. But perhaps they're becoming a playoff contender after missing the big dance for eight of the last 11 seasons.
Montreal Canadiens
Many fans likely thought the Montreal Canadiens would have another low-scoring campaign with victories being few and far between, but the Original Six franchise has frequently bounced back from dismal seasons. After 13 games, this year is no different.
The Canadiens may not be atop the Atlantic Division right now, but if superstar netminder Carey Price is even half of his former self on a consistent basis, Montreal stands a good chance of at least reaching the playoffs again.
The Canadiens (7-4-2) are fourth in the Atlantic and in the top Eastern Conference wild card spot thanks in part to Max Domi's point-per-game numbers after being traded by Arizona over the summer.
Tomas Tatar and Brendan Gallagher have looked good offensively so far. Despite scoring just one goal thus far, defender Jeff Petry's nine assists have him ranked high on the Canadiens' stat sheet.
Price has been decent with a 5-3 record, .907 save percentage and 2.59 goals-against average, but backup Antti Niemi has left more to be desired with a 2-1 record, 3.26 goals-against average and .898 save percentage.
If Montreal keeps seeing good efforts up front, however, they'll be well positioned for a strong season.
Colorado Avalanche
​
Some may have thought Colorado would take a step back after a surprise comeback last year from their lousy 22-win campaign in 2016/17, but so far, they're at least in the conversation for a Western Conference wild card spot.
The Avalanche (7-4-3) have been spectacular up front with some help from Mikko Rantanen's heroics, which include 24 points (five, 19) in 14 games.
Former first-overall pick Nathan MacKinnon has been stellar with 21 points (11, 10), while Gabriel Landeskog, Tyson Barrie and Alex Kerfoot have added 18, 11 and 10 points, respectively.
Semyon Varlamov has also done well between the pipes with a 4-3-2 record, a 2.12 goals-against average and a .936 save percentage.
This pace could put Colorado in the playoffs for consecutive seasons for the first time since 1996, when they won the Stanley Cup after moving to Denver from Quebec City and made the postseason for 10 straight years.
Honourable mentions
It wouldn't be fair to leave out teams who have impressed early on but didn't make the top five. They are as follows.
Edmonton Oilers: 8-4-1, 17 points, second in the Pacific
Calgary Flames: 8-5-1, 17 points, third in the Pacific
Dallas Stars: 8-5-0, 16 points, fifth in the ​Central Division
Ottawa Senators: 5-6-2, 12 points, sixth in the Atlantic
What do you think? Are these teams' early records positive? Will they sustain these efforts or decline later this season? Would you have ranked the teams differently? Let us know in the comments section below!