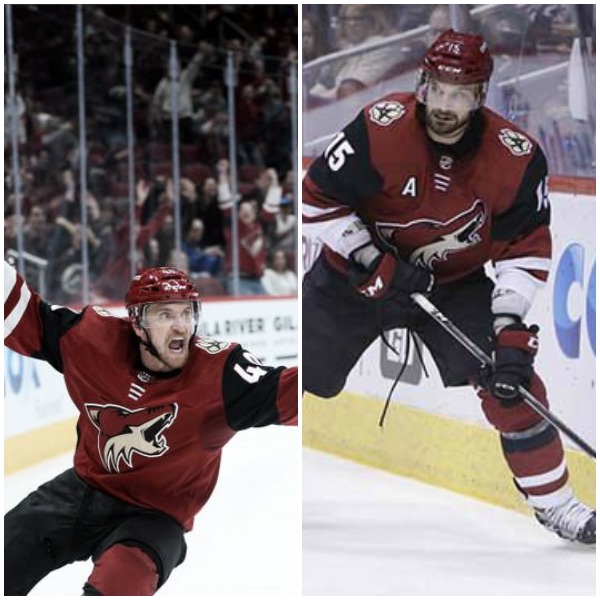 When your special teams unit performs well, good things happen. And this new 2018/19 season the combination of Michael Grabner and Brad Richardson have combined for six of the team's nine short-handed goals.
When you consider the entire team has nine shorties in 16 games played that statistic reaches out and grabs like a player on a clean breakaway when he gets hauled down from behind.
Grabner has four goals on the season and three are of the shorthanded variety, while Richardson has five goals with three shorties.
The opposing teams need to take notice, these guys are brutal on the penalty kill!
The Coyotes lead the NHL in the penalty kill at a stunning 91.49% and have two more short-handed goals than power play goals... an oddity to say the least.
Brad Richardson has always been a threat to score short-handed goals
In his 14-year NHL career Richardson has scored 14 short-handed goals, so he's already two ahead of his one per season average.
The reason he tallies so many is that he has been a member of the penalty-killing unit for a while. He is a tenacious fore-checker and plays a physical style which nets turnovers and either frees up a teammate or himself to go down and lift his team when they are down a man.
This is an example of the connection that Grabner and Richardson enjoy. With Grabner's speed up the wing, he drew attention and that left Richie open down the middle. Graber's pass couldn't have been on target any better and all Richardson had to do was direct it into the net.
Richardson short-handed goal #2
This short-handed goal really put the nail in the coffin for the Vancouver Canucks. With the game tied 1-1, Richardson again led the rush up the ice a man short and directed a nice pass to who else... Grabner whose shot was blocked.
But as the Coyotes' defense has done so often Kevin Connauton was in the right spot at the right time and sent a backhander towards the net. Richardson parked on the right of the crease and was able to hit the twine for this second shortie of the year.
#15's third short-handed goal... a thing of beauty
Again the Coyotes' defenseman Alex Goligoski had the original shot on net which was stopped, but he also retrieved the rebound forcing a turnover and getting it to Richardson who decided to try his backhand out his bag of tricks this time to score.
This began a three-goal barrage against the Carolina Hurricanes and led to an eventual 4-3 overtime victory when Grabner scored the winning goal.
This duo of Grabner and Richardson is something to watch. It reminds this writer of the connection that Max Domi and Anthony Duclair had in their first season with the team.
Whenever two players can anticipate each other's moves, goals get scored and that's exactly what is going on here.
Michael Grabner was an excellent addition to the penalty kill unit
When the Coyotes signed Grabner to a three-year contract this summer, everyone knew that he could score. What many didn't know is that he has 18 career short-handed goals in 10 NHL seasons, including six during the 2010/11 season while with the New York Islanders.
His display of shorties is just as if not more impressive than Richardson's since he uses his speed to create turnovers and drives his opponents crazy when he races up the ice on a breakaway.
In this rout of the Tampa Bay Lightning Grabner netted not one, but TWO short-handed goals to decimate any chance the Lightning had of ever striking in this game.
Richardson to Grabner equals another short-handed goal to give the Coyotes a commanding 5-0 lead over Tampa Bay. The speed that they got up the ice is the ingredient necessary to make plays like this. They catch the opponents' offense off guard since they are concentrating on scoring themselves.
The second short-handed goal of the night by Grabner was another example of an excellent poke-check to cause a turnover and then he was off to the races again. He had his buddy Richardson on his right wing speeding to the net and looked his way to camouflage as if to pass the puck.
He didn't... instead he fooled everyone (perhaps even Richardson) by taking a slick backhand shot to seal the deal.
Whatever magic the Coyotes are using to get goals works just fine in winning games
It doesn't really matter if you score a power play goal or a five-on-five goal but scoring when your down a man is something special. It seems the Coyotes have thus far mastered that art and if it wins games... who cares?
One factor which may be on their opponents' minds when they have a power play opportunity may be to watch so they don't give up a short-handed goal against the best team in the league performing while down a man.
That could be why they are so successful on the penalty kill. The team's speed is certainly a factor and if they can catch a team flat-footed while they're on the power play they better be ready to be embarrassed by the productive penalty kill of the Desert Dogs.
They're out to getcha... better be ready!
Are you amazed at the way the Arizona Coyotes are scoring so many short-handed goals? Do you think they can keep it up? Let us know in the comment section below, and make sure to give us a follow on Twitter (@VAVELNHL_ENG) for more updates!