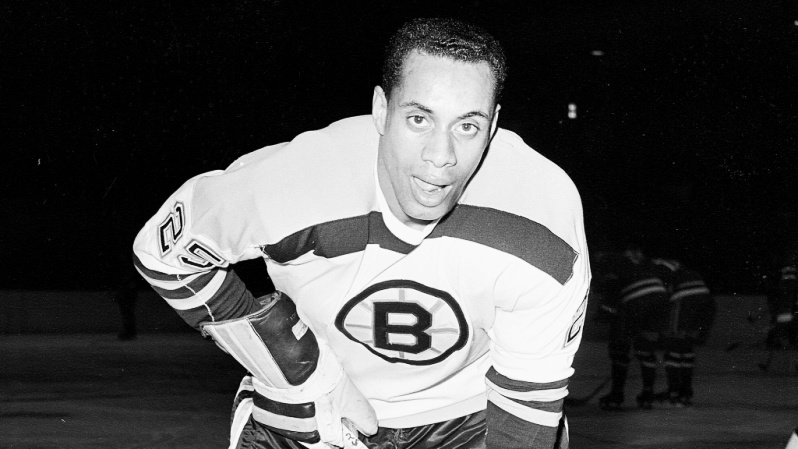 The 2018 Hockey Hall of Fame induction class included someone who had a large impact on the sport and joined the game's shrine six- decades after making his biggest mark.
In a move many say is correcting a historic wrong, Willie O'Ree was added to the hall of fame on Nov. 12, 2018, before a packed crowd at the hall's Allen Lambert Galleria.
He was added to the hall in the builder category alongside NHL commissioner Gary Bettman, former star goaltender Martin Brodeur, Olympic women's hockey medalist Jayna Hefford, forward Martin St. Louis and Russian phenom Aleksander Yakushev rounding out this year's class in the player category.
O'Ree's induction is way overdue, not just due to his affect on the game 60-years ago, but also because of his contributions in the years since.
His accomplishments
O'Ree, 83, grew up in the Canadian province of New Brunswick. He hails from Fredericton, the province's capital city and a place where he's still a household name.
O'Ree's family was among two black families in the area. He was one of 13 children.
O'Ree played youth hockey and a few junior years in his hometown before joining the Quebec Frontenacs in 1954.
Four years later, after another few seasons in the minors, O'Ree broke the NHL's color barrier when he was called up to the Boston Bruins to replace an injured player midway through his second campaign with the Quebec Aces.
He played two games that year before suiting up for another 43 contests with Boston in 1960/61. In total, O'Ree put up 14 points (four goals, 10 assists) in 45 NHL contests.
O'Ree was also blind in his right eye from being hit with a puck in 1955/56, when he skated with the Kitchener-Waterloo Canucks. Word got out eventually about his condition, but he kept it under wraps at first.
Most of O'Ree's 25-year professional career was spent in the minors, but he's often been considered the Jackie Robinson of hockey for doing something no black player had done before him. In total, he played more than 1,000 games.
It wasn't until 1974 that the NHL saw another black player when the Washington Capitals drafted Mike Marson, a Canadian player, in the second round. Marson played six seasons with the Capitals and Los Angeles Kings.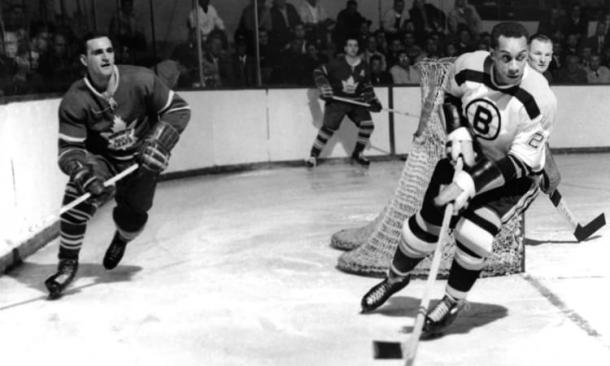 O'Ree's legacy
Since O'Ree's NHL debut in 1958, 230 black players have appeared in the league. There are currently 31 active players, with Anthony Duclair, Josh Ho-Sang, Seth Jones, Darnell Nurse, Wayne Simmonds and P.K. Subban among the biggest names.
O'Ree worked in security in San Diego after retiring from hockey in 1979, but he joined the NHL front office as a youth development director and diversity ambassador in 1998.
In his current role directing the NHL and USA Hockey's non-profit task force for minority youth, O'Ree has promoted equality and helped give athletes an opportunity to play who might not get a chance otherwise.
Minorities or not, the simple fact O'Ree tirelessly calls for giving underprivileged kids a shot is worth praising. He frequently gives talks at schools and youth prisons in addition to his advocacy work.
O'Ree won the NHL's Lester Patrick Trophy in 2003 for his diversity efforts. He has received several other accolades since his playing days and even got a new arena in his hometown named after him in 2008.
Earlier this year, the NHL unveiled the Willie O'Ree Community Hero Award for an individual or group that embodies local efforts through hockey. The award was presented posthumously at the league's awards banquet to Darcy Haugan, the late head coach of the Humboldt Broncos junior A team that lost 16 members in a bus crash in April in Saskatchewan.
Many would argue O'Ree's stats make his worthiness for hockey's shrine debatable. He may not be considered great on paper, but not everyone gets to have a cup of coffee in the NHL, let alone a long career.
The former winger pushed back against the social norms of his era and had a long pro career despite a serious injury that would have likely shortened his time on the ice if it wasn't kept hush-hush.
O'Ree also endured racial slurs during his NHL days, although he has said they were mostly limited to a couple cities.
"Racial remarks from fans were much worse in the U.S. cities than in Toronto or Montreal," O'Ree said in an NHL.com article from 2007. "I particularly remember a few incidents in Chicago. The fans would yell, 'Go back to the South,' and, 'How come you're not picking cotton?' Things like that.
"It didn't bother me. Hell, I'd been called names most of my life. I just wanted to be a hockey player, and if they couldn't accept that fact, that was their problem, not mine."
Hot take: Racism didn't exclude
O'Ree wasn't necessarily a trailblazer because of systemic racism. The list of black hockey players throughout the NHL's century-long history shows several from major Canadian and U.S. centers, but also a few from Europe and many who – like O'Ree – came from small-town Canada.
It's already rare for athletes from rural areas to reach the pros. For example, O'Ree is among a select few people from his home province to crack the big leagues, and New Brunswick doesn't have a large black population either.
O'Ree and other black athletes are perhaps more likely to face a demographic disadvantage than be victims of discrimination simply by being born and raised in areas with fewer visible minorities than other communities. Needless to say, places with smaller populations also stand a higher chance of flying under scouts' radars when they're searching for prospects.
Even if there was prejudice behind keeping O'Ree out of the Hockey Hall of Fame for decades, the snub may have simply been an oversight.
Road to the hall
What makes O'Ree's hall of fame induction extra special is the grassroots movement from his hometown that spearheaded it in recent months.
Longtime sports writers at The Daily Gleaner, the newspaper in O'Ree's home city, began calling for his addition to the hall in February amid petitions and messages of support from politicians, sportscasters, media and sports governing bodies endorsing a hockey hall nomination from the public.
The cause was even backed by Karl Subban, the father of NHL'ers P.K., Malcolm Subban and Jordan Subban.
The campaign was started by Fredericton residents Brenda and David Sansom, who also led an effort to have Willie O'Ree Place, a new sports complex in the city, named after O'Ree a decade ago. O'Ree thanked the Sansoms in his speech at the hall of fame induction ceremony.
Prominent black NHL'ers Joel Ward and Simmonds lobbied for years to have O'Ree included in the hall as well, along with retired player Anson Carter.
What do you think? Did Willie O'Ree deserve a Hockey Hall of Fame induction? Why or why not? Have your say in the comments section below! Let us know in the comment section below, and make sure to give us a follow on Twitter (@VAVELNHL_ENG) for more updates!