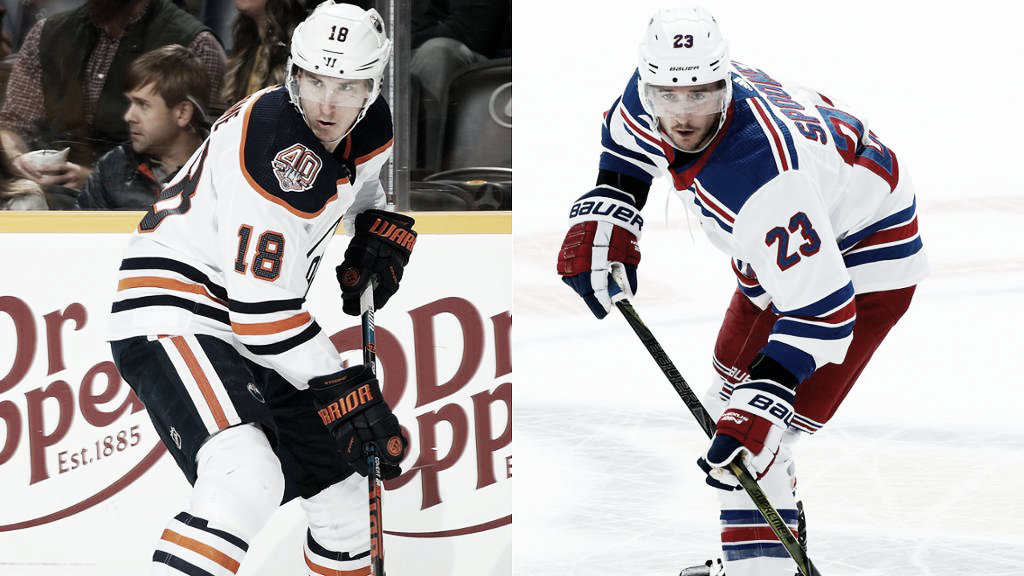 2018/19 has been an up-and-down season for the Edmonton Oilers, to say the least, and expectations are higher than ever. Missing the playoffs might be mean the end of Peter Chiarelli and Todd McLellan's time in Edmonton.
As a result, we saw the team become active on the trade market Friday, sending forward Ryan Strome to the New York Rangers in exchange for Ryan Spooner.
With both players struggling this season, this move might be beneficial for both players as they are given an opportunity for a fresh start.
Ryan Strome
Many fans had high hopes for Ryan Strome when he was acquired in the summer of 2017 for Jordan Eberle. The trade made sense at the time, as the Oilers were able to shed some salary and were getting a younger player with upside at the center ice position.
But Strome has struggled to be a positive impact for the Oilers during his time in Edmonton. Despite being given plenty of ice-time to produce, he was only able to score 13 goals and 34 points in 82 games last season.
His struggles continued early this season when he only managed to find the net once in his first 18 games tallying just two points.
In retrospect, the Oilers seem to have lost the Strome-Eberle deal.
For whatever reason, Strome was unable to be a productive player for the Oilers and was a far cry from the 50-point player he was for the New York Islanders not too long ago.
Ryan Spooner
Ryan Spooner was originally a second-round pick of the Boston Bruins back in 2010, and he gradually worked his way into becoming a full-time NHL player with the organization.
Spooner had a few productive seasons for the Bruins and provided decent secondary scoring for the team. Including a 49-point season for the Bruins back in 2015/16.
He was the part of the package deal that sent Rick Nash to the Boston Bruins late last season.
Despite having an impressive end (16 points in 20 games) to the 2017/18 season, Spooner got off to a slow start this year (one goal in 16 games) and hasn't been able to generate much offense for his team.
Trade overview
On paper, this looks like a lateral deal for both sides.
With the Rangers retaining $900,000 of Spooner's contract, both players will come at a $3.1 million cap hit - meaning neither team's salary cap will change.
It is still too early to say who won this trade, but it looks like the Oilers believe they can get more out of Spooner than Strome in their lineup.
Spooner has above-average speed and might be a better complementary player to play with the Oilers' big guns (Connor McDavid, Leon Draisaitl, and Ryan Nugent-Hopkins) than Strome.
On the other hand, it seems like the Rangers believe they are able to help Strome turn his game around and make him into a successful reclamation project.
At the same time, some people feel that Strome's game is perhaps more suited for the Eastern Conference style of play, and expect him to put up better numbers than he did in Edmonton.
What do you think about this trade? Let us know in the comment section below, and make sure to give us a follow on Twitter (@VAVELNHL_ENG) for more updates!