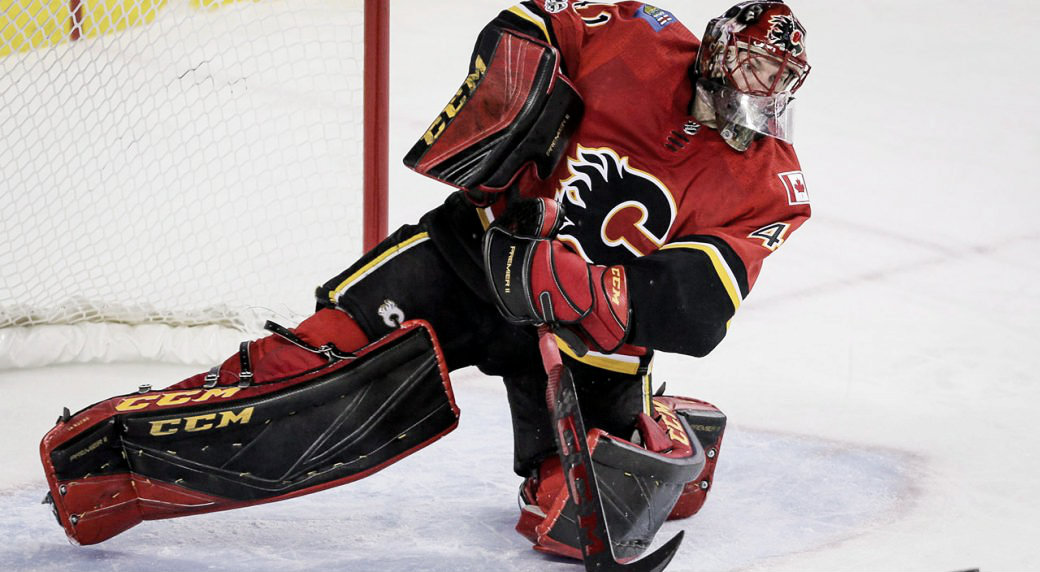 David Rittich has a 7-1 record with the Calgary Flames and Mike Smith has fallen to 5-7-1 prompting a change in net.
The Flames have won seven of their last 10 games with Rittich winning his last five starts while Smith has floundered with three losses in his last five starts.
Has Mike Smith seen his better days in net?
There really haven't been too many 'better' days for the aging goalie. He really has only had one significantly productive season and that was way back in the 2011/12 season when he led his then Arizona Coyotes team to the Western Conference Finals.
That performance earned him a HUGE contract and he really hasn't been back to that level of play since.
That brings about rumblings of whether he is on his way out of Calgary. He is in the last year of that contract which he signed for a six-year term at $34 million.
The question now becomes with the team playing so well and Smith not performing up to standards, do you try to trade him or eat his overpriced contract?
A buyout would cost the Flames a pretty penny, with at age 36 Smith's buyout will be 2/3 of the remaining salary due ($5,000,000). This will result in a total buyout of $3,333,333 with a base salary of $1,666,667 over each of the next two years.
A trade may be a better route but considering his downward trending play what team in their right mind would consider doing that?
When a backup goalie comes in and plays well, the team is unlikely to change the starting lineup, and right now Rittich is getting it done... Smith is not.
Here are some viewpoints around the NHL on the predicament the Flames find themselves in with Smith's play degrading of late.
When you evaluate Smith's stats, he really isn't that impressive
Through 13 games, Smith has a league-high seven losses with a save percentage of just .876. That's simply not going to get the job done. When one considers that the Flames have assembled a very strong roster around him his performance has been more than disappointing. Fortunately, moving on from Smith shouldn't be difficult since he'll be a free agent after the 2018/19 season.
But... can the Flames wait that long? Rittich should get most of the starts now since he is the better goalie. Relegating Smith to the backup role at his excessive salary doesn't seem to make good business sense, but it is what it is.
In this writer's observations, Smith is a quagmire who can look like the next Vezina Trophy winner one night, and then look like a minor league goalie as he did in the 9-1 thrashing he took against the Montreal Canadiens recently. He gave up six goals on 21 shots with a horrible save percentage of .714.
That was just one game, but looking at his career statistics shows he was grossly overpaid by then-GM Don Maloney of the Coyotes.
His career numbers don't really impress anyone who follows the NHL. He has appeared in 542 games, with a 225-227-67 record. He has a decent if not stunning save percentage of .912, and a GAA of 2.71.
Through all of this adversity from Smith's poor showing, the Flames are still tied for first place in the Pacific Division with the San Jose Sharks both tallying 25 points.
That can be mostly attributed to the excellent play of Rittich and not Smith. The Flames will need to do some soul-searching to decide what to do about Smith.
He may not like being demoted to the backup causing some locker room issues since he is a rather passionate and flamboyant personality. He wears his heart on his sleeve and sometimes that gets him in trouble.
The Flames will figure it out but for now, they are enjoying playing some good hockey and seem to be going with the hot goalie.
It's the NHL, you have no choice.
Do you think the Calgary Flames will be better off continuing to play David Rittich in goal instead of Mike Smith? Let us know in the comment section below, and make sure to give us a follow on Twitter (@VAVELNHL_ENG) for more updates!