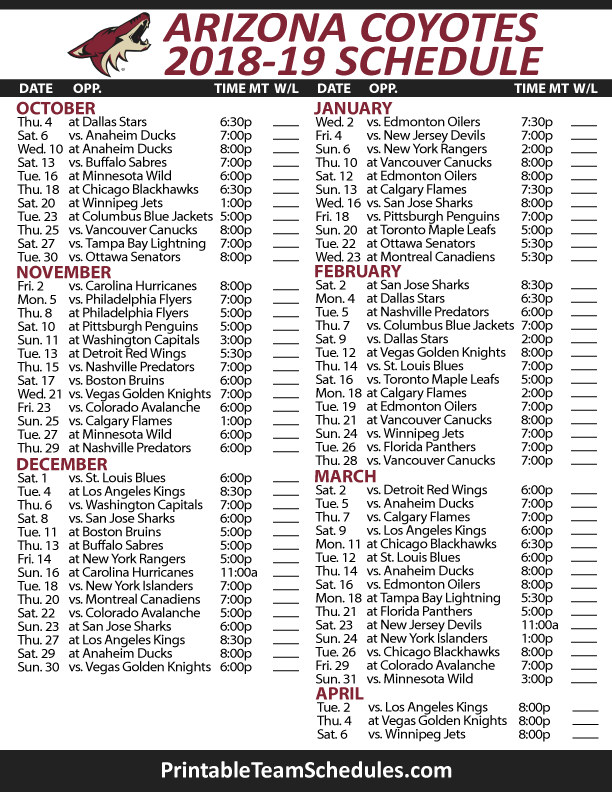 The Arizona Coyotes started out the new season with a disappointing 2-5 record but managed to collect a five-game winning streak which brought them back to respectability.
Still, over games 11-20 they have a sluggish 4-4-2 record and here are some of the things we learned about that span of games.
1. Alex Galchenyuk scored
The newest center of the team finally got onto the scoresheet after not tallying a goal in his first three games. Against the Ottawa Senators, he showed some hustle and determination to score a goal while falling to the ice near the right crease.
This is the kind of net-front presence the Coyotes sorely need to compete in the tough Western Conference. If Alex Galchenyuk can continue to take it to the net like this with any consistency, the Coyotes will be a tough opponent for any team.
2. Short-handed goals are STILL going in
After scoring five shorties in their first 10 games, nobody even considered that statistic would continue at such a pace... but it DID! The ever-dangerous penalty kill scored another five short-handed goals in their next 10 games to pace the NHL in that category.
This shortie gave the Coyotes a 1-0 lead against a top team like the Nashville Predators and just shows that if you give a player like Michael Grabner some space he'll carry the biscuit up the ice and take a shot. This shot should have been stopped by Pekka Rinne but he misplayed it horribly.
Will the formidable Coyotes' penalty kill continue to outpace their power play in production? Doubtful, but who knows with this group?
3. Defense falters a bit
The Coyotes defense came back to the earth's atmosphere after allowing just two goals a game the first 10 games. Though games 11-20 their goals-against average is still respectable at 2.55 per game.
This was caused by them allowing 14 goals in three games against the Philadelphia Flyers and the Pittsburgh Penguins. They gave up 10 goals alone to the Flyers in a rare back-to-back home series with them.
Some of that could be attributed to the fact that starting goalie Antti Raanta was injured and didn't play in any of those games. While Darcy Kuemper has been an admirable backup, he's no Antti Raanta.
4. Injury bug is back, and it hurts
In game 17 against the Detroit Red Wings defenseman, Jakob Chychrun made his debut after being sidelined since April with a knee injury requiring surgery.
His first game back was also exciting because the Coyotes inked him to a new six-year $$27.6 million contract prior to the game.
Exciting stuff… except for his first game back was not memorable in the respect that the team got shellacked 6-1. Chychrun was a +/- minus two and took three shots on net in his 20:39 of playing time.
To make matters worse, Chychrun was injured once again in his first game back and unable to play against the Nashville Predators due to an upper-body injury. He did, however, return against the Vegas Golden Knights and assisted on Derek Stepan's fifth goal of the season by sending a pass/shot that Stepan deflected perfectly.
Add to that Alex Goligoski who pairs with captain Oliver Ekman-Larsson missed five games due to that prevalent 'lower-body injury'.
Losing your starting goalie, first-line defenseman, and a returning defenseman in addition to center Christian Dvorak who has not played a game all season puts real pressure on a team's performance… and it showed.
And there is still no real replacement in place for Dvorak's spot on the roster.
5. Inconsistency showing its ugly head
The Coyotes are a difficult team to analyze. Who defeats the Stanley Cup champion Washington Capitals by a lopsided 4-1 score and then comes back to lose resoundingly to the lowly Detroit Red Wings?
The Arizona Coyotes do.
How can a team go from an extreme high of beating the Capitals to an extreme low of not only losing to the Red Wings but getting embarrassed?
INCONSISTENCY.
Head coach Rick Tocchet expressed best:
It's what killed any chance that this team was going anywhere last season, and for a while there it looked like they had it figured out… until the injuries hit them square in the face like a Dustin Byfuglien heavy hit (is there any other kind?).
6. Blowing the lead doesn't help either
A perfect example was the Flyers' game Nov. 8th where the Coyotes took what looked like a commanding 4-2 lead only to give up the next three goals including the game winner in overtime to seal their fate.
That is NOT a whirlpool the Coyotes want to get caught up in again because last season it was their demise (among other things) to relinquish leads only to play sloppy and lose the game.
In that Flyers' game what more motivation does a team need than to take a 4-2 lead with not ONE, but TWO shorthanded goals? It apparently wasn't enough in this game they gave away and were at least able to come away with one point.
Another example of blown leads was in the Carolina Hurricanes' game on Nov. 6th. Just as the Coyotes had done in some earlier leads they had a terrific first period taking a 3-0 into the locker.
They then allowed the Flyers right back into the game by allowing three unanswered goals the next two periods to knot the game up at 3-3. Luckily, if it weren't for Michael Grabner who got the winning goal in overtime the team managed two points the hard way.
7. Clayton Keller is in a goal-scoring slump
Keller hasn't scored a goal since Oct. 27th against the Tampa Bay Lightning when the Coyotes romped to a 6-1 victory.
Now he does have six assists over games 11-20, but for the Coyotes offense to click Keller needs to get the puck in the net. He was the team's leading scorer last season and is a very streaky scorer, so perhaps he will break out of it soon.
What's even more concerning is he has yet to score a power play goal and last season he had six. The Coyotes' power is sputtering at a slow pace, and when a team has just one more power play goal than short-handed goals something is askew.
Keller is an excellent player and may even be the team's best player but he needs to escape from his funk or this team will begin old habits of losing again, and that just won't go over well at all.
8. Is it time to panic… is a trade in order?
With all the injuries they've sustained they haven't fallen out of contention for the playoffs… yet.
But if they continue to be inconsistent and fail to score 5-on-5 goals the chances of improvement are slim. Head coach Tocchet has tried calling out players who are not performing and perhaps it's time to make a trade if that's the case.
A few players he may have in mind are young players like Dylan Strome, Brendan Perlini, Christian Fischer, and Lawson Crouse. They are all shooting below 10% and need to start scoring soon. The four players have only combined for 12 goals, 11 assists between them.
Those may be trading numbers… just sayin'.
The entire Coyotes' team is also having shooting issues. They are shooting at a putrid 7.9% success ratio and only the Carolina Hurricanes and Los Angeles Kings are doing worse in that category.
Right now the team could use another defenseman to replace the injured Jason Demers and another center to replace injured Christian Dvorak. The players filling in are just not getting the job done.
9. Secondary scoring is lacking
There just doesn't seem to be much secondary scoring on this team. As mentioned above some young players are not stepping up and it's hurting the team's results.
There are only five players with double-digit points production and even though the defense is playing well, the offense is drastically failing thus far this season.
That's just not going to win games. The team started out well, but after 20 games have slipped a bit. If the offense doesn't turn around, then changes will need to be made.
10. Losing Jason Demers may be critical
The steady defenseman who went down against the Nashville Predators may be lost the entire season with an injury to his lower body after crashing into the goalpost. It seems like the team has no other choice but to see to use Ilya Lyubuskin to fill in on the right side defense until a better solution presents itself.
Lyubuskin has been adequate and is a physical force to be reckoned with on the blue line. He's just not Jason Demers but at least plays the same style of game, being a stay-at-home defenseman.
Of course, Jason Demers may recuperate sooner but he is expected to be out the whole season.
It may be time for Chayka to do more shopping.
What is your assessment of the last 10 games for the Arizona Coyotes? Let us know in the comment section below.