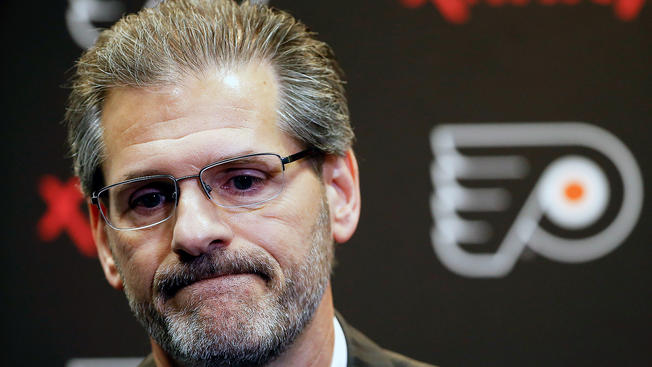 Saturday night's matchup between the Philadelphia Flyers and Toronto Maple Leafs marked the return of forward James van Riemsdyk to Toronto, the city where he turned into a star but his new, and once former, team Philadelphia failed to show up for the game and as a result were royally embarrassed in a 6-0 lopsided loss.
From a purely analytical standpoint, there was truly nothing of any significance to report in that game. No one hit anyone, no one fought and amazingly enough for two bitter rivals, as evident from an organization once regarded as the Broad Street Bullies, no penalties. How is that possible?
Bad start, bad game & bad times
Honestly, the Flyers, who are now 10-11-2 for seventh place in the Eastern Conference and losers of five of their last six, truly showed no heart, no fight, no anything. It felt like the team was playing one of those games where the players just gave up on their head coach, maybe their General Manager or perhaps both. Equally, for me, it was one of the most boring hockey games that I've witnessed in some time.
Forty-eight hours removed from that Ontario beatdown, Philadelphia caught at a crossroads between a full-blown rebuild and a legitimate playoff push, fired Executive Vice President and general manager Ron Hextall. Hextall became the latest casualty in a long line of front-office leaders who failed to win the franchise's first Stanley Cup in 44 years (e.g., the Stanley Cups of 1974 and 1975).
Statement released from Flyers President Paul Holmgren
"The Flyers organization has decided to relieve Ron Hextall of his duties as Executive Vice President and General Manager. We thank Ron for his many significant contributions, but it has become clear that we no longer share the same philosophical approach concerning the direction of the team. In light of these differences, we feel it's in the organization's best interests to make a change, effective immediately. I have already begun a process to identify and select our next General Manager, which we hope to complete as soon as possible."
What about coach Dave Hakstol?
The Flyers might not be done cleaning house. With Hextall gone, Flyers coach Dave Hakstol's has lost his biggest supporter and his job is now clearly in jeopardy.
"I feel a responsibility for what happened today. Nobody feels good about that in our room. It's a tough morning for all of us," said Hakstol. "Ron brought me here to do a job and I'm going to continue to focus on doing that job to the best of my abilities. We're not where we want to be. We have a better hockey team than where we're at record-wise. We've all got to own it and go out and do better."
Holmgren and Comcast Spectacor Chairman and CEO Dave Scott will be available to the media at 11:00 am on Tuesday, November 27. They specifically stated that no further comment would be available until that time.
Ron Hextall's playing career
During his National Hockey League playing career which spanned 13 seasons, Hextall played for Philadelphia, Quebec Nordiques, and the New York Islanders as an elite goaltender.
He had two separate stints with the Flyers covering 11 years. Ron holds several team records and is a member of the Flyers Hall of Fame. During his rookie season in 1986/87, he was awarded the Vezina Trophy as the league's top goaltender and led the team to the Stanley Cup Finals.
Despite the Flyers' loss to the Edmonton Oilers in seven games, he won the Conn Smythe Trophy as the playoffs' most valuable player, making him one of only five players to win the trophy in a losing effort.
Hextall became the first NHL goalie to score a goal by shooting the puck into the opponent's empty net. He also became the first goalie to score a goal in the playoffs. Hextall was known for his fiery temper as a player, he attacked Montreal Canadiens' defenseman Chris Chelios during the 1989 playoffs sparking a brawl.
Ron Hextall's general manager career
Prior to rejoining the organization in the front office in 2013 as an Assistance GM, Hextall spent seven seasons as assistant GM with the Los Angeles Kings.
Hextall, a popular Flyers' goalie in the 1980s and '90s, was dismissed after 4 1/2 seasons on the job in which he tried to revive a depleted farm system and patiently build a championship contender.
Philadelphia made the playoffs twice under Hextall's regime but that seemed more of a quirk than a true step toward contention. The Flyers won 10 straight games in 2016/17, but missed the playoffs; they lost 10 straight last season but made the playoffs.
The poor play of late comes in large part to a goalie carousel, featuring five of the six signed goalies on the active roster, that has yet to stop on a true No. 1.
So, what went wrong?
Despite being outplayed and dominated by the Pittsburgh Penguins in six playoff games last season, Hextall prioritized finding a goal-scorer in JVR and a right-shot defenseman in Christian Folin in the offseason rather than searching for a prominent goaltender.
As a result, Philadelphia entered the season with a goalie tandem of Brian Elliott and Michal Neuvirth.
The projected starter Elliott (2.66 goals-against average, .909 save percentage) proved when healthy he can be a solid goalie, but questions remained if he was fully recovered from February's abdominal surgery and a minor hip procedure this past summer.
The talented but injury-prone backup Michal Neuvirth (2.60 goals-against average, .915 save percentage) like Elliot proved that he is unable to remain healthy for an entire season.
Hakstol delivers news about Hextall
Shortly after the Flyers took the ice for practice, the team released the news that Ron Hextall was no longer the team's GM. The news created waves on social media first before ultimately coming back to the players and coaching staff.
Following practice, Hakstol reportedly held a team meeting regarding the news before players met with the media. The reaction was similar around the locker room. This was a shocking change.
"I don't control that," said Hakstol. "I feel a responsibility for what happened today. Nobody feels good about that. I've got a job to do. My job right now is to get our team ready to go and play a hockey game tomorrow and win a hockey game."
Player reactions
"I don't think a lot of guys saw it coming," said Claude Giroux the last holdover from the 2010 Eastern Conference Champions. "It's hockey. It's a business. As players, we don't control it. I think the players feel responsible here. I do believe we have a good team in here. We're just not getting it done. We've got to start playing like we can, play as a team, have fun doing it and get back on track. We need to start winning games. We know that, and it starts tomorrow."
"It was a shock for me definitely," said Wayne Simmonds. "I didn't expect anything of this nature. We've underperformed as a team and I think as players we've got to take it upon ourselves and right the ship."
"It's surprising," said Jake Voracek. Anything can happen any given day. Obviously when someone gets fired it's surprising. It's something that the organization thought had to be done and they did it. I don't know what the next step is going to be, but we can tell that nobody's safe. It's all about winning."
What's next? Who's next?
So, what's next for the Flyers? A coaching change? A major shakeup to the roster?
Don't be surprised to hear former Flyer Daniel Briere's name in management talks. Additionally, the new GM will make the call on the fate of the coaching staff. Former Chicago Blackhawks Stanley Cup champion coach Joel Quenneville is available after he was fired this season. Former Kings GM Dean Lombardi, who won two Cups, also is on the market.
Taking care of business
"This is a great organization," said Hakstol, "that in the beginning, I was excited to be a part of and today remain excited to be a part of. There's a lot of great hockey people in this organization and we all have a lot to live up to."
For now, Hakstol, Giroux and the rest of the Flyers must move forward and prepare for Tuesday night's home game against the Ottawa Senators. From there, what happens is anybody's guess. One way to stop any future changes is to win games.
Winning is contagious.
What do you think of the Philadelphia Flyers' decision? Let us know in the comment section below, and make sure to give us a follow on Twitter (@VAVELNHL_ENG) for more updates!