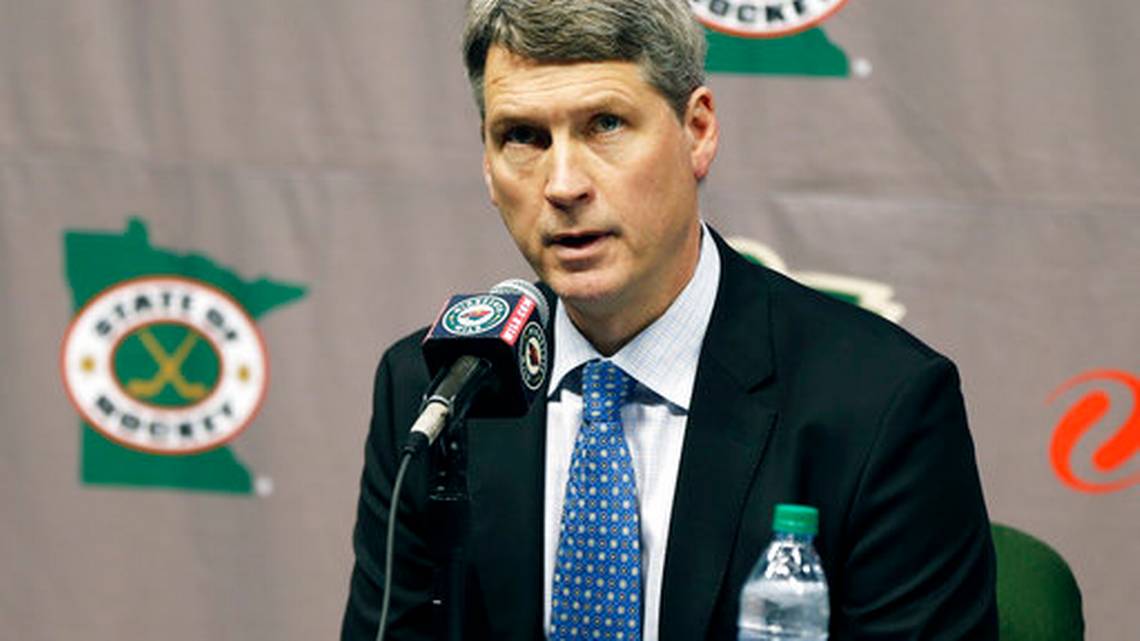 Exactly one week after the Philadelphia Flyers fired Ron Hextall, the team announced on Monday, December 3, 2018, that Chuck Fletcher has been named the new Executive Vice President and general manager of the organization.
Philosophical differences
Hextall was fired on Monday, November 26th, as the Flyers started the 2018/19 campaign with a 10-11-2 start and a minus-13 goal differential. Team officials stated that it didn't share the patient philosophy of Hextall, who was credited with building a strong collection of prospects and managed the salary cap successfully. Hextall's teams compiled a 165-128-58 record and made the playoffs in two of his four full seasons but never won a playoff series.
Philadelphia Flyers appoint Chuck Fletcher
The multi-year contract appointed Fletcher as the ninth general manager in the team's 51-year franchise history, and he immediately assumed the responsibilities as the day-to-day leader of the club's National Hockey League and minor league hockey operations.
The Fletcher announcement was made by Flyers President Paul Holmgren and Dave Scott, Chairman and CEO of Comcast Spectacor and Governor of the Philadelphia Flyers.
"The Flyers are proud to have Chuck Fletcher as the new general manager of our hockey club," said Holmgren. "Throughout his career, he has helped shape teams that have consistently competed in the playoffs. In addition, Chuck's tireless work ethic, wealth of knowledge and experience in the hockey community will be instrumental in leading our team into the future. I'd like to personally welcome Chuck to the Flyers family."
"At the conclusion of a rigorous review of GM candidates, Chuck Fletcher clearly stood out from the field of talented and capable executives we considered," said Scott. "Chuck has earned success throughout his impressive NHL career and offers the right mix of expertise, business acumen and leadership qualities that the Flyers need today as we work to achieve our ultimate goal, the Stanley Cup Championship."
Chuck Fletcher's reaction
"It is an honor to join the Flyers, an iconic NHL franchise, and I would like to thank Dave Scott and Paul Holmgren for entrusting me to guide the team forward," said Fletcher. "Adding to my excitement is the high level of talent that is in place, which sets this opportunity apart and will pay dividends as we move the organization ahead and ultimately compete for a championship."
Other GM considerations
Fletcher was considered a heavy favorite for the Philadelphia GM job. Other considerations who were also interviewed included Columbus Blue Jackets assistant GM Bill Zito and the Anaheim Ducks special assignment scout Dave Nonis, a former Toronto Maple Leafs general manager.
Chuck Fletcher's pedigree
Over the course of his 25-year career, Fletcher has served as a Senior Advisor to the General Manager/Hockey Operations for the New Jersey Devils since the beginning of the 2018/19 season. Prior to that, he spent nine seasons, from 2009/10 through 2017/18, as the GM of the Minnesota Wild where he compiled a record of 399-298-89 and helped lead them to the Stanley Cup Playoffs in each of his last six seasons, which is currently the second-longest active streak in the NHL, but never advanced past the second round.
Additionally, Fletcher has held several senior-level managerial and advisory positions with the Pittsburgh Penguins, Mighty Ducks of Anaheim and the Florida Panthers. He has advanced to the Stanley Cup Finals with three different franchises: Panthers, Ducks, and Penguins. He won the Stanley Cup Championship in 2009 with the Penguins.
Fletcher's father is Hockey Hall of Fame executive Cliff Fletcher, who was general manager of the Maple Leafs (1991-97) and Calgary Flames (1972-91).
Poised to win now
With the signing of Fletcher, Philadelphia wants to win now, and they believe that he is the guy to make that happen.
"I think it's just what Philly needs. I think everybody's going to be happy: win, win, win," said Craig Leopold. "I think he'll be absolutely fantastic in Philadelphia. He's a great general manager. He's a very cerebral guy. He's very good at building a playoff team, and he looks further ahead than just the year they're in and next year. He's going to be very successful."
But does Fletcher possess the boldness that the Flyers are seeking and wanted from former GM Hextall?
"We'll find out," Leopold said. "He was bold with us. We made some big moves. He's not afraid to make moves. I can tell you that. Bold he can do."
"He'll do a great job in Philly," another Flyers executive said. "Everybody's going to be happy to work for him. Everybody's going to be happy he's there. His reputation, which is pretty easy when you talk to scouts and all those who have worked for him, is top-level. Everybody enjoyed working for him. Everybody wanted to work for him. Everybody felt part of the team."
What do you think of the Philadelphia Flyers' decision? Let us know in the comment section below, and make sure to give us a follow on Twitter (@VAVELNHL_ENG) for more updates!