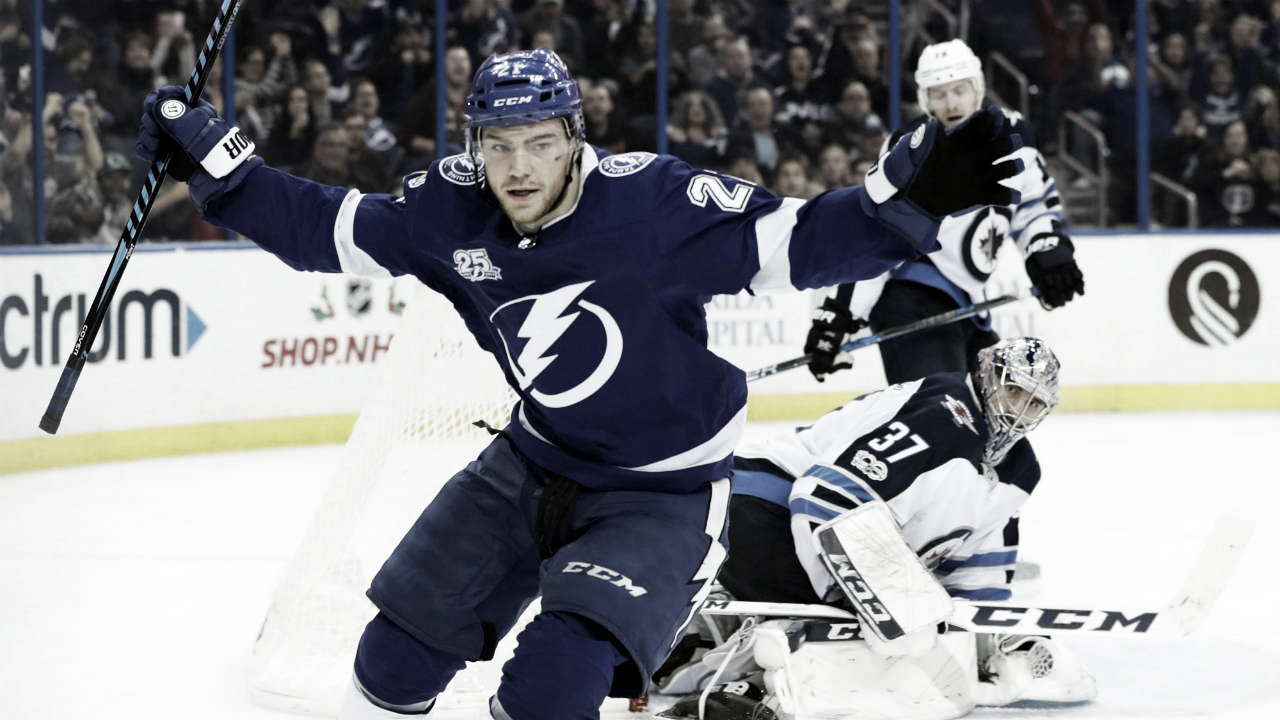 We are more than a quarter past the new NHL season and we have seen some pleasant surprises including the likes of Elias Petterson, Thomas Chabot, and Max Domi to name a few.
Amongst those names are other players that look on pace to having career years. Several of them are quickly becoming some of the biggest bargains in the NHL, especially when you compare their cap-hit to their production so far this year.
With that said, here is a look at some players who might be poised for a nice pay raise in the near future.
Alex Chiasson
After winning the Stanley Cup with Washington last spring, the Capitals decided to not bring back the 28-year-old for another season.
He went through the summer without a contract and had to sign a professional try-out contract with the Edmonton Oilers in September.
Only after that was he able to work his way into securing a one-year $650,000 contract with the team in October. In hindsight, it was a low-risk, high reward deal for the Oilers and after two months it looks like the contract is paying off.
Chaisson has 11 goals in 21 games for the Oilers and has worked his way onto the team's top line, playing alongside Connor McDavid and Leon Draisaitl.
He has given the Oilers the much needed secondary scoring they have been looking for over the past few seasons. Even if Chaisson cools off for the rest of the year, there is a good chance for him to score 20 goals and set new career highs in points as well.
Brayden Point
Brayden Point is another player that has been one of the best bargains in the NHL. Playing on the final year of his entry-level contract, the Tampa Bay Lightning is taking full advantage of his contributions this season.
Despite being one of the lowest paid players on his team ($686,667 cap-hit) Point has been one of the Lightning's major offensive weapons. He already has 20 goals and 37 points in 28 games and is second in points for his team (only behind Nikita Kucherov).
Point is on pace to break the 50 goal plateau but realistically speaking, a 35-goal, 70+ point season might be a more reasonable prediction.
No question the Lightning would love to keep him around beyond this season but it will come at a huge price. This will likely mean that they will have to make some tough decisions soon.
Perhaps a name like Alex Killorn or Tyler Johnson will have to be moved out to make room for Brayden Point next season.
Mikko Rantanen
Still, on his entry-level contract, Mikko Rantanen has been leading the NHL in scoring for much of the season. The 22-year-old has arguably been the best offensive player in the NHL so far.
He currently leads the league in scoring with 46 points in 28 games and is on pace to score over 100 points this season. He is a key piece of one of the best offensive lines in hockey featuring the likes of Nathan Mackinnon and Gabriel Landeskog.
Amongst all that, the young Finn only comes at a huge bargain for the Colorado Avalanche ($894,167 cap hit). But you can almost bet that Rantanen will be getting a huge pay raise in the near future. We can probably expect Rantanen to make somewhere north of $6 million per year next season.
It is still early but Rantanen is looking like one of the biggest steals to come out of the 2015 NHL draft. He fell to the Colorado Avalanche at number ten that year but in many re-drafts, he would probably go somewhere in the top-five.
Pontus Aberg
Pontus Aberg did not make the Edmonton Oilers roster out of training camp and was put on waivers by the club.
Despite being picked up by the Anaheim Ducks, his career in the NHL looked bleak as the Ducks sent him down to the minors after picking him up. Due to injuries, Aberg was a given a second chance to play for the Ducks and he has taken the opportunity and run with it.
Despite being one of the lowest paid player on the team ($650,000) Aberg has been a huge impact for the Ducks this season. He has nine goals and 14 points for the team in 23 games and is looking like a solid complementary scorer for his team's offense.
It took the 25-year-old some time to get acclimated to the NHL. Including a three-year stint in Nashville and a cup of tea in Edmonton but it looks like he may have finally found a home in Anaheim.
All in all, it was a nice pickup by the Ducks, and it might give them more options to move out other underperforming players in the near future.
What do you think of this list of bargains in the NHL? Let us know in the comment section below. Let us know in the comment section below, and make sure to follow us on Twitter (@VAVELNHL_ENG) for more updates!