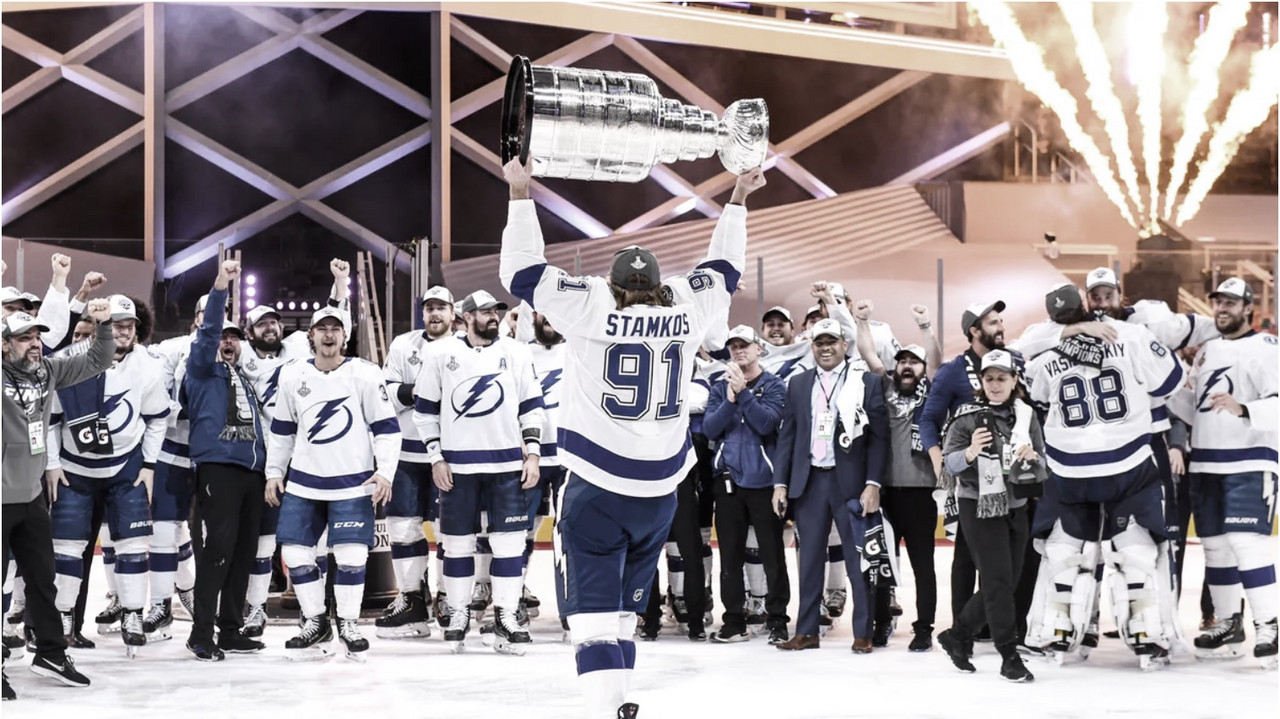 What's more festive than being granted an NHL season schedule right before the Holiday? Fans of all NHL markets were given this gift on Wednesday, giving them hope for a successful, yet challenging year amongst the coronavirus pandemic that has shifted and altered the sports world.
In agreement with the NHLPA, the league stated earlier in the month that the official 2020/21 start date is set for January 13, with the Tampa Bay Lightning highlighting opening night with their 2020 Stanley Cup Champions banner being lifted to the rafters against the Chicago Blackhawks.
The countdown to January 13 is on!

Full Schedule ➡️ https://t.co/Sb8ZnAFFYY pic.twitter.com/fPjP4qRg2q

— NHL (@NHL) December 23, 2020
In case you were wondering on if you weren't able to get enough hockey, the league's public relations was able to break down the number of games that are to be played on a day-by-day basis, so fans alike can get their hockey fix in.
116 consecutive days of @NHL hockey begins with a five-game slate on Wednesday, Jan. 13.

Load up on #NHLStats: https://t.co/hkOXa1arei pic.twitter.com/OTLMakakiD

— NHL Public Relations (@PR_NHL) December 23, 2020
You read that right. 116 days straight of nothing but all hockey, which we all love to see.
About the 20/21 NHL Season
For what is definitely going to be a strange year for the NHL, there were decisions that needed to be made before the NHL and the NHLPA could agree on when they could start. With that in mind, the agreement to limit team travel as much as possible had to come in play.
Both parties main goal is to play intradivisional matches at participating home arenas, while teams still discuss on whether or not to host fans for the first half of the season; However the league is prepared to play in one or more "neutral" site venues, should the instance arise that either market can't play in it's scheduled venue by division, if necessary.
As part of intradivisional play, all Canadian teams were put into their own division, making them the North Division.
🇨🇦 vs. 🇨🇦

The first all-Canadian division in NHL history is set to deliver more than triple the number of all-Canadian matchups versus the usual 82-game schedule (196 in 2020-21 vs. 58 scheduled in 2019-20).#NHLStats: https://t.co/hkOXa1arei pic.twitter.com/UVa2hnNkuJ

— NHL Public Relations (@PR_NHL) December 23, 2020
For the playoffs, the top four teams in each division will qualify, thus still continuing intradivisional play in the first two-rounds. After, the four teams that advance will be reseeded based on regular-season points total.
Training camp is set to open for the seven teams that did not participate in last-years playoffs Dec. 31, with the other training camps opening January 3 of the New Year.