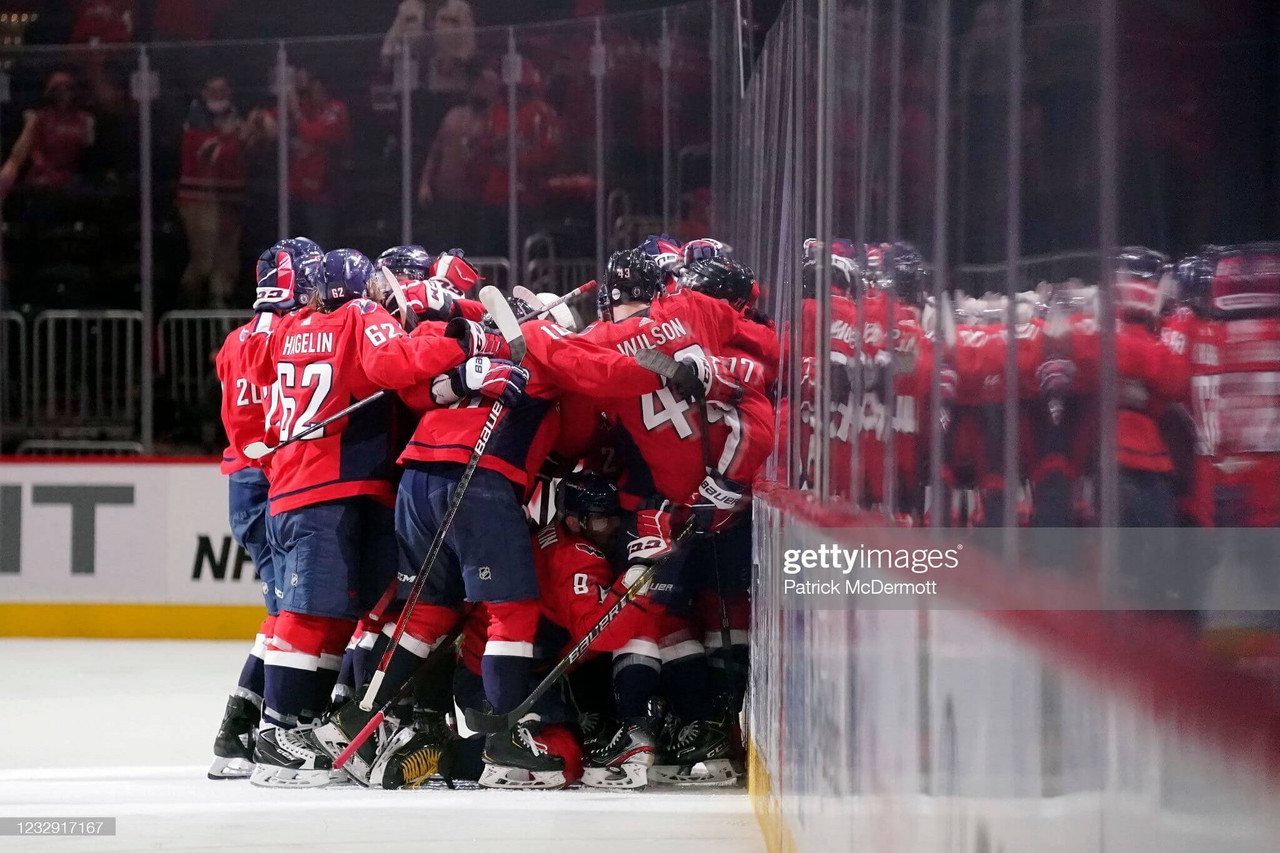 The Washington Capitals opened the Stanley Cup Playoffs with a 3-2 victory over the Boston Bruins at Capital One Arena.
Nic Dowd deflected T.J. Oshie's shot 4:41 into overtime to put Washington ahead 1-0 in the series despite losing starting goaltender Vitek Vanacek to a lower-body injury.
Story of the game
The Capitals opened the scoring 6:22 into the game as the Bruins' Charlie McAvoy broke his stick on an attempted shot, leading to a 3-on-2 breakaway for Washington.
After a few quick passes, Tom Wilson roofed his shot over Boston goaltender Tukka Rask's far shoulder to give the Capitals a 1-0 lead.
The Bruins tied the game with 6:50 remaining in the first as Curtis Lazar won an offensive zone faceoff and chopped the puck behind him to Jake DeBrusk, who beat a lunging Vanacek with a wrist shot.
In the second period, Alex Ovechkin appeared to score off of Brendon Dillon's shot, but replays showed the puck bounced through traffic and off of a Boston stick with Dillon eventually getting credit for the goal.
The Bruins would tie the game on their third power-play of the night with 3:22 left in the second period. Dmitry Orlov was penalized for high-sticking and a shot by David Pastrnak deflected off of the stick of Nick Ritchie and between the legs of Craig Anderson to make it 2-2.
After neither team scored in the third period, Wilson began the winning play by passing back to Oshie, who blasted a one-timer that Dowd got a stick on, the puck dribbling over Rask's leg pads and into the back of the net.
Washington post-game reaction
On his game-winning goal, Dowd said "I think you just got to read the play. You have the opportunity to join the rush, you join the rush and, you know, you make a play and we were fortunate enough to do that."
Anderson, now 40, came off of the bench in relief of Vanacek and made 21 saves in his first playoff action since 2017.
"I think opportunity knocks, you make the most of your opportunity", he said. "I've been here before, so I can share my experiences with Vitek and (Ilya Samsonov) and now to get to live the opportunity I've been telling them, it's kind of a great feeling to be involved and be a part of it."
Coach Peter Laviolette said "tough spot, I think, to put somebody in, but Andy's answered the bell - really his whole career, but he's answered it for us when we needed him.
"He truly epitomizes the concept of working hard every day so that when you get your opportunity, you're ready, and that's exactly what he did."