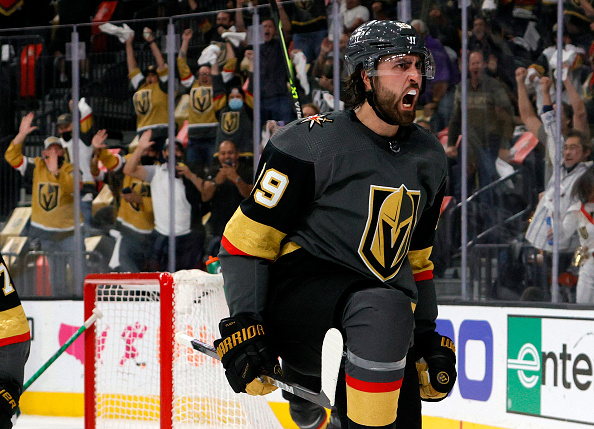 The Vegas Golden Knights and the Minnesota Wild squared off in game two of their best of seven series at T-Mobile Arena on the Las Vegas strip. Marc Andre Fleury got the start in goal with the Knights looking to even the series.
It didn't take long for the action to heat up as less than five minutes into the game Fleury made an amazing diving save on a Ryan Suter shot from the point. The first penalty of the game went to Vegas when Alec Martinez was called for hooking giving the Wild the first chance on the powerplay.
After one period of play despite all the great chances Vegas had and with Fleury shutting the door both teams went into the first intermission with no goals scored and the Wild outshooting the Golden Knights 17-9.
The Wild once again scored first late in the second period with seven minutes left in the period when Matt Dumba would get an amazing shot from the point that would beat Fleury top shelf and the Knights found themselves trailing 1-0. It didn't take long for Vegas to respond as off the ensuing play Jonathan Marchessault finally beat Cam Talbot with a quick wrist shot to tie the game at one.
With two minutes left in the second period, Vegas took the lead when Alex Tuch was in front of the net and found the puck, and managed to beat Talbot to make it 2-1 for the Golden Knights. The second period would finish with Vegas leading.
The third period was an absolute battle with the Wild trying to get back in the game and Fleury continued to stand on his head denying every opportunity Minnesota came up with. With less than two minutes left in regulation, Kirill Kaprizov took a tripping penalty and Tuch would score on the following play to take a 3-1 lead and seal the victory.
After the game Pete Deboer spoke to the Vegas media and in his post game press conference he mentioned he was happy with the response from his team to get scored on and score on the following play.
" The response was key and getting a goal was critical, I sensed we were a different group after the goal, it was great timing from Marcy (Marchessault) to get that one and put us back in the game and I think we were much better after that".
Marc Andre Fluery made 34 saves in the win and Deboer is not surprised by his play at all.
" He's played like that all year for us, he has been consistently excellent all season so for me he was doing what he did all year for us".
The team will now travel on Wednesday to Minnesota for game 3 and 4 scheduled for Thursday and Saturday at the Excel Energey Center in St Paul.