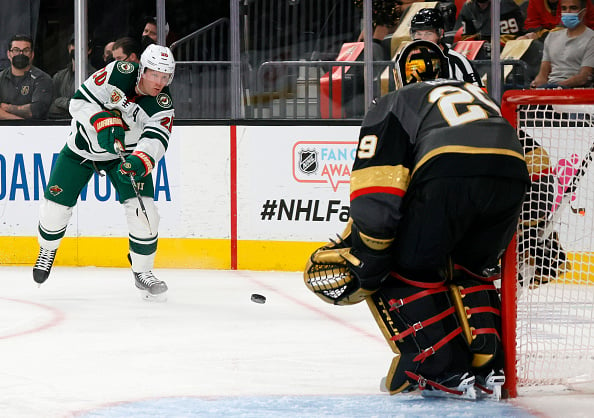 The Vegas Golden Knights had the chance to close out their series with the Minnesota Wild in game 5 at T-Mobile Arena in front of their fans but ended up losing 4-2.
In the first eight minutes of the game, both teams were trying to set the tone with their physicality and the Knights went right to work looking for the first goal of the game.
They got it less than 10 minutes into the first period when Mark Stone found himself on a breakaway and managed to beat Cam Talbot to give Vegas the 1-0 lead.
The lead didn't last long as less than two minutes later the Wild would tie the game at one when Kirill Kaprizov got a great feed from Matts Zuccarello and managed to beat Marc Andre Fleury top shelf.
Minnesota took the lead two minutes later when Zach Parise managed to bank a puck off Fleury and into the back of the net and just like that in a span of fewer than five minutes we saw three goals.
Late in the first period, the Wild would add to their lead when Jordan Greenway got a great shot on Fleury and managed to jam a rebound past him to double their lead and Vegas went into the first intermission down two.
Alec Martinez would reduce Minnesota lead to one halfway into the second period when he managed to slap a one-timer past Talbot to make it 3-2 but the Wild would seal the win with less than 30 seconds left in regulation when Nico Sturm would score into an empty net.
Despite the loss, Pete Deboer feels pretty confident for game 6 on Wednesday in Minnesota where the Knights will have a second chance to clinch the series and move on.
" I think if you play that game 9 out of 10 times you win, we didn't tonight and we knew this wasn't going to be easy coming in and we worked to be in the good spot we have and we had an opportunity tonight, we worked hard and didn't get it done, we need to regroup and get it done in game 6".
As mentioned Game 6 goes Wednesday night at 9:00 pm eastern in St, Paul Minnesota at the Xcel Energy Center.