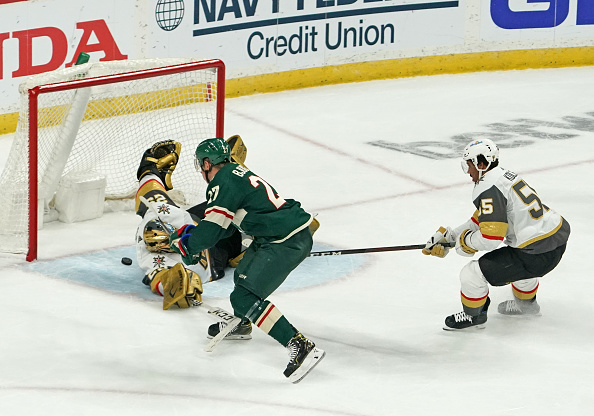 The Vegas Golden Knights had a second chance to advance and eliminate the Minnesota Wild in the process but got shut out on the road in the twin city.
Head coach Pete Deboer made a change to his lineup putting in Cody Glass for Ryan Reaves and Glass made his first appearance in the 2021 NHL playoffs.
Vegas went on the attack right from the drop of the puck and got their first good chance when Alex Pietrangelo managed to get a slap shot from the point but Cam Talbot would make his first big save of the net 90 seconds into the game.
A couple of minutes later Talbot was forced into action once again as Alex Tuch was sprung all alone on him but he would come up with an even better save. Three minutes later it was Shea Theodore with a blast from the point but Talbot was there to stop the puck.
Seven minutes later it was Marc Andre Fleury to be thrown into action as he made a great glove save on Nico Sturm who went in on a breakaway.
With 40 seconds left in the first period, Victor Rask had another chance to score on a breakaway but Fleury once again made a brilliant save. The first period ended with both teams locked at 0-0 and both teams hungry for the first goal.
Less than five minutes into the second period Fleury made another save on Sturm before robbing Matts Zuccarello seven minutes later with a stunning glove save.
Once again after another period, the score remained 0-0 with 20 minutes left in regulation. The Wild would open the scoring early in the third period less than five minutes in when Kevin Fiala gave a great cross-ice pass to Ryan Hartman who would beat Fleury for the 1-0 lead.
Three minutes Glass had his first scoring chance of the game but Talbot would come up with a pad save to keep the puck out. Two minutes later the Knights thought they scored when a shot from the point went off Alex Tuch and past Talbot.
The refs would review it and call it no goal due to goalie interference but Vegas challenged it and after the coaches challenge the call on the ice stood and it was no goal with the Knights being penalized for losing it.
On the ensuing powerplay for Minnesota, they doubled their lead when Kevin Fiala managed to beat Fleury. With less than five minutes left in regulation, Nick Bjugstad put the game out of reach scoring the third goal to make it 3-0.
Deboer was asked in his post-game press conference what he thought of the first two periods ending with no goals.
" I think you have two good defensive teams, were on the road and it wasn't for lack of effort and it was a hard-fought game at ice level both ways and as the game went on you felt whoever was going to get that first goal was going to win and that's what happened".
Game 7 is scheduled for Friday night in Las Vegas at T-Mobile Arena and the Knights will have a third and final chance to advance to the next round of the Stanley Cup Playoffs.