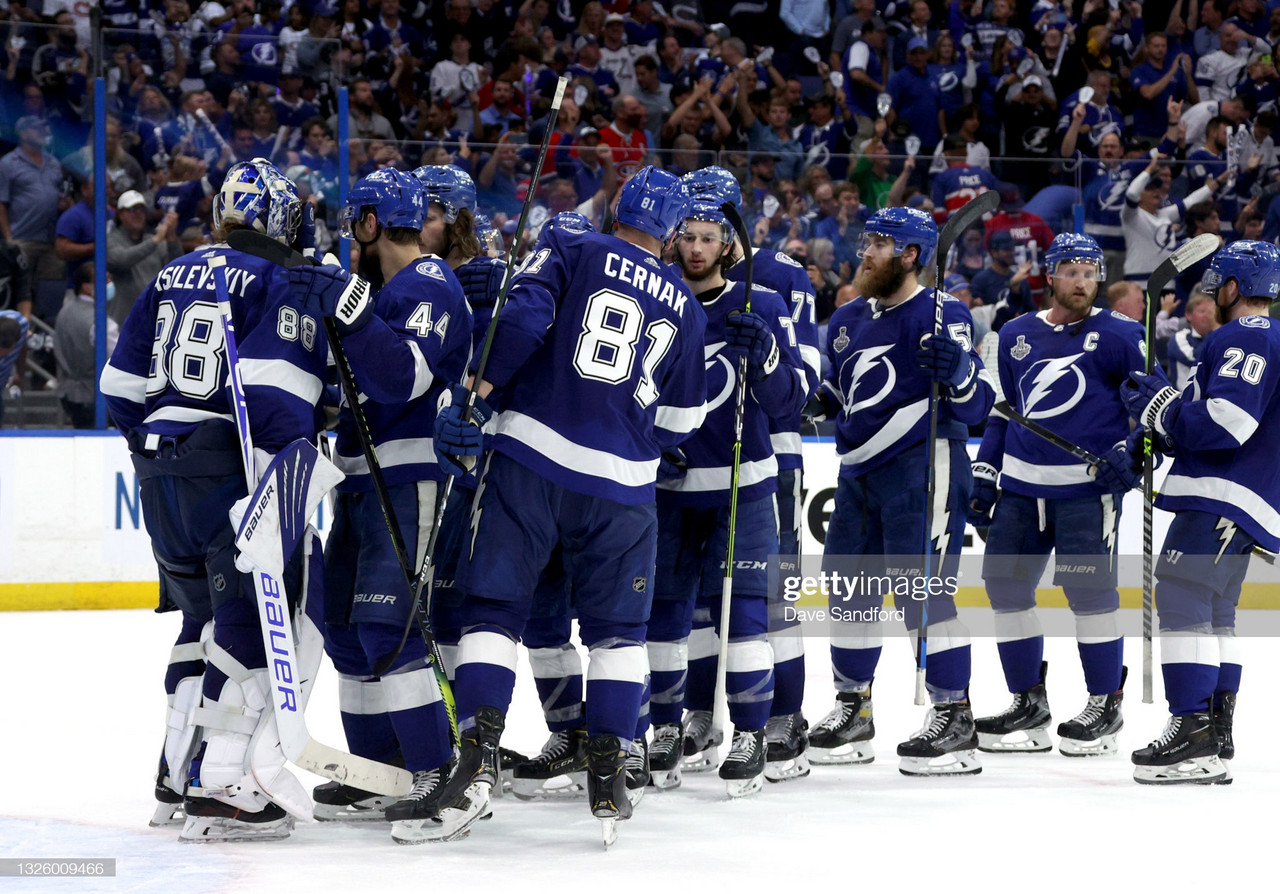 The Tampa Bay Lightning have taken Game 1 of the 2021 Stanley Cup Finals over the Montreal Canadiens by a 5-1 score at Amalie Arena on Monday night.
Nikita Kucherov and Brayden Point led the way with three points each while Andrei Vasilevskiy stopped 18 of 19 Montreal shots.
The Canadiens attempted 51 shots, but only 19 were on goal. 15 were blocked while the other 17 were missed.
Lightning rout Canadiens to gain early series lead
Point got the play that led to the opening goal started. He took the puck away and fed it to Ondrej Palat and he threw the puck into open space where Erik Cernak deflected it past Canadiens goaltender Carey Price to make it 1-0.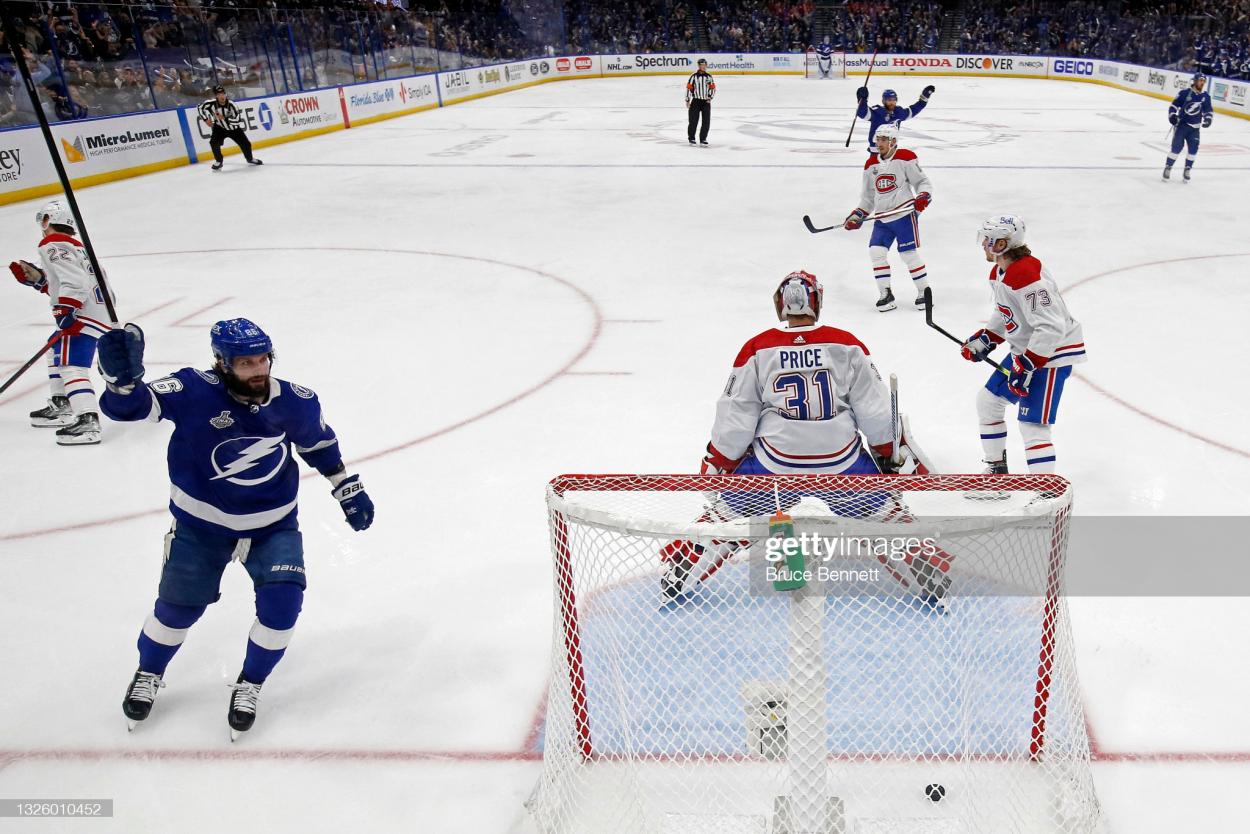 Barclay Goodrow was penalized for hitting Brendan Gallagher, who was getting under the skin of several Tampa Bay players. Montreal didn't have a shot on goal with the man advantage while Anthony Cirelli had a shorthanded chance.
Ben Chairot was called for cross-checking Kucherov and it was he and Steven Stamkos who had good chances before the first period ended with 1:15 left on the power play. Price then made a glove save on a high Stamkos shot.
Gallagher was guilty of a turnover as Goodrow and Jan Rutta started the other way with the former seeing his shot blocked. Blake Coleman sent a blast that Yanni Gourde deflected in to double the Lightning lead.
Both goaltenders were playing well in the middle period as Vasilevskiy was stopping point-blank shots while Price, who made 21 saves on 26 shots, was scrambling to keep out second and third efforts, including a pad save on Tyler Johnson.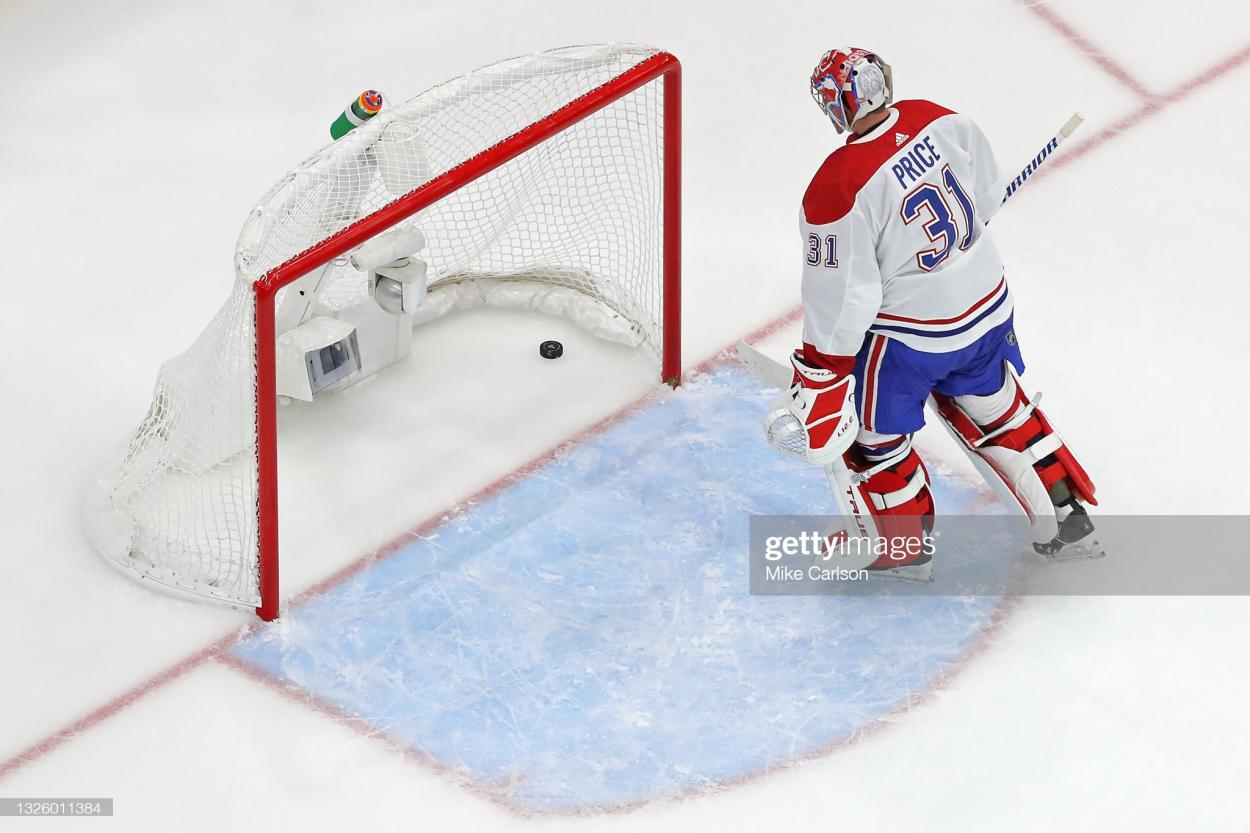 Chairot pulled Montreal within a goal as his point shot eluded several bodies in front and went in off of the foot of Tampa Bay defenseman Ryan McDonagh. That was the last significant play of the second period, which ended as it started: Tampa Bay ahead by a single goal.
The Lightning put the game away in the third period. Mikhail Sergachev fed the puck to Kucherov, who flipped a backhand that Chairot missed knocking down with his hand, his stick pushing the puck in, Kucherov credited with the goal.
Point then won an offensive zone faceoff and Kucherov sped past Jeff Petry and beat Price to extend the defending champions lead to 4-1.
Coleman then knocked Gallagher's helmet off as the two were grabbing at each other and Sergachev tackled him to the ice. Gallagher hit his head and came up bleeding, Coleman assessed a roughing penalty. Jesperi Kotkaniemi then got called for a retaliatory hit on Cernak.
The Lightning earned a two-man advantage after Joel Edmundson went to the box for roughing and Stamkos beat Price from a short angle to close out the scoring as Tampa Bay won a Game 1 of the Finals for the first time in franchise history.