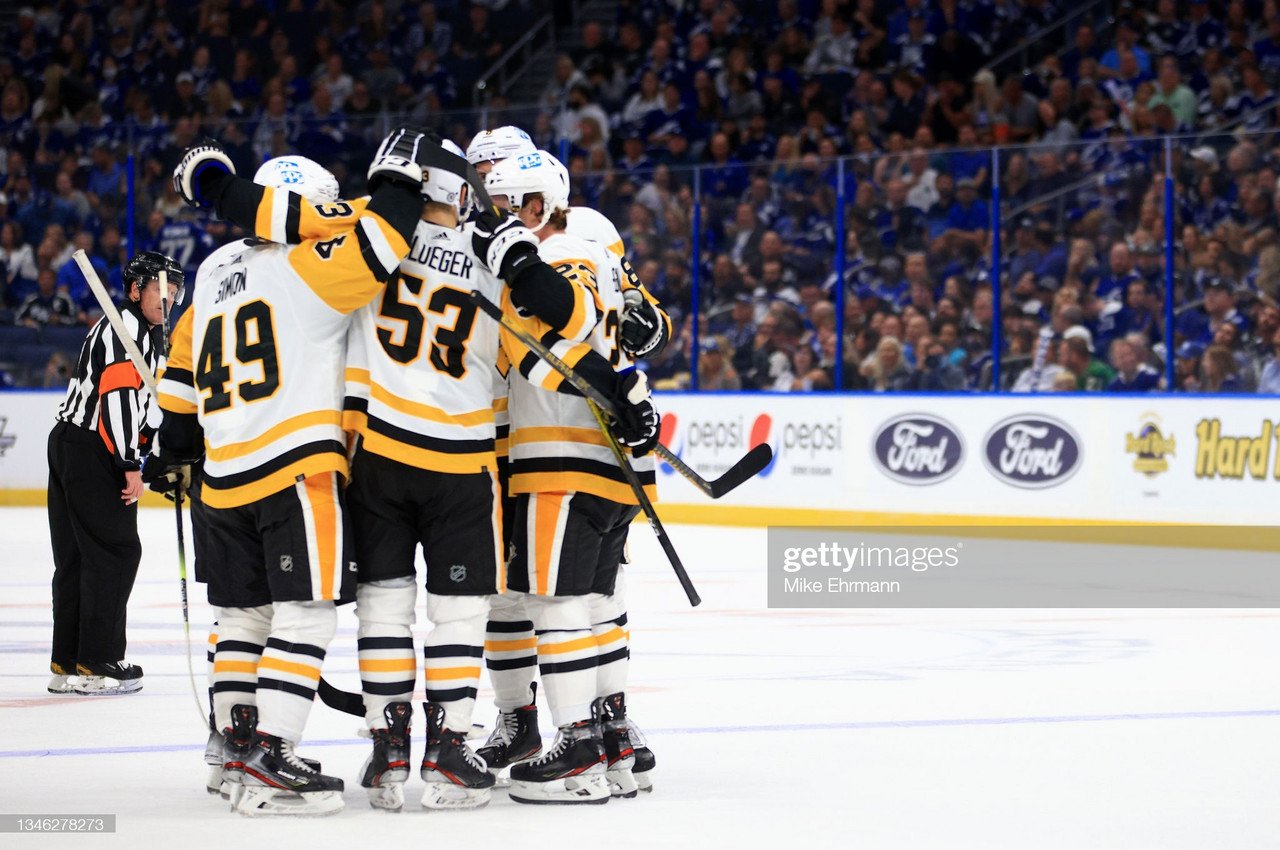 The Pittsburgh Penguins spoiled the banner-raising ceremony of the Tampa Bay Lightning as they routed the two-time defending Stanley Cup champions 6-2 at Amalie Arena.
Playing without Sidney Crosby, Evgeni Malkin and Jake Guentzel, six different Pittsburgh players scored while Tristan Jarry made 26 saves to earn the win.
Tampa Bay got late goals from Anthony Cirelli and Alex Killorn while Andrei Vasilevskiy stopped 29 shots as the Lightning lost a season opener for the first time in seven years.
Story of the game
Dominik Simon had the first good scoring chance of the game for Pittsburgh as he took a pass from Mark Freidman, but Vasilevskiy made the save. Evan Rodrigues had a clean breakaway, but failed to register a shot on goal.
Jason Zucker was hit in the leg with a shot and limped off to the bench, but later returned. Neither team had a power play as the Penguins outshot the Lightning 14-7 over the first 20 minutes.
The visitors took the lead just 12 seconds into the second period. Pittsburgh dumped the puck in, forcing Vasilevskiy to play it behind his own net and his clearing pass was knocked down by Jeff Carter, who centered for Danton Heinen, who scored into basically an open net.
Less than five minutes into the period, it was 2-0 as the Penguins fourth line did the damage. Drew O'Connor started the rush on-ice and passed to Sam Lafferty down the right. His saucer pass set up Brian Boyle, who beat Vasilevskiy through the five-hole.
Heinen took a tripping penalty which temporarily halted the Pittsburgh momentum against a lethargic Tampa Bay team. The penalty was killed and they went on the power play after the Lightning had too many men on ice.
Second period shots were 11-8 Pittsburgh and 25-15 overall as the Penguins looked set to leave Amalie Arena with a victory.
Before the first TV timeout of the third period, Pittsburgh essentially put the game away as Simon threw a puck on net that hit some traffic in front and eluded Vasilevskiy.
Lightning coach Jon Cooper pulled his goaltender with less than six minutes to play and Tampa Bay was able to score from a faceoff. Victor Hedman tossed the puck towards the net that Anthony Cirelli re-directed in the slot to make it 3-1 Pittsburgh.
Vasilevskiy was pulled again and Teddy Blueger responded by picking up the puck, skating up ice and scoring into the empty net. It was 4-2 after Alex Killorn took a pass from Steven Stamkos and beat Jarry with 3:08 remaining.
Rodrigues made it 5-2 and Bryan Rust closed the scoring from behind the red line to cap off a wildly successful season opener for Pittsburgh.