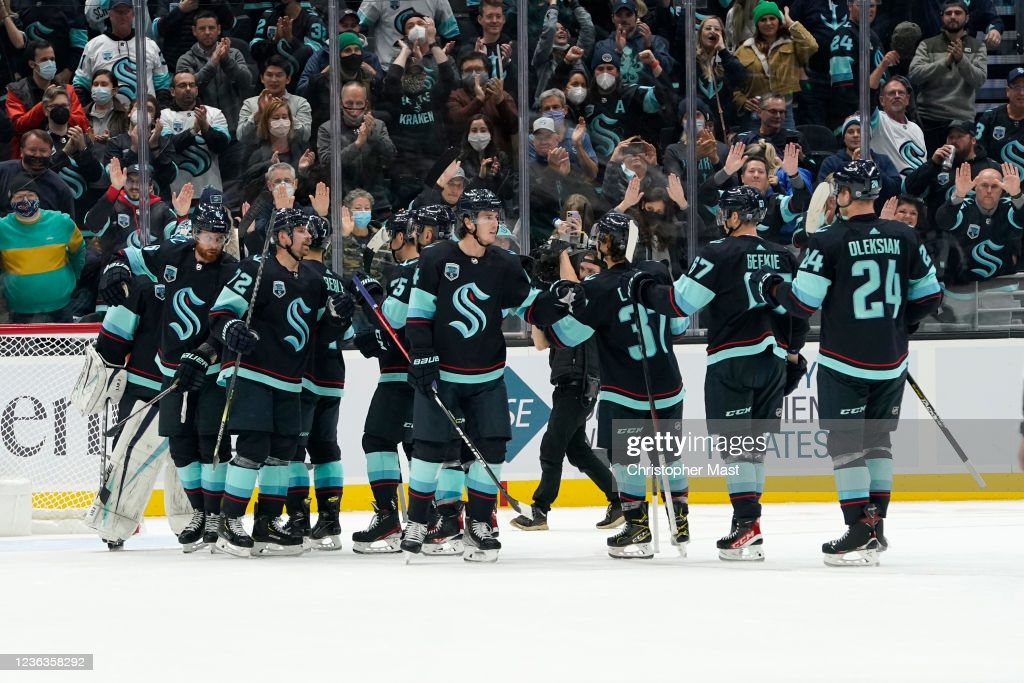 Jordan Eberle scored the first hat trick in Seattle Kraken history as the expansion team defeated the Buffalo Sabres 5-2 at Climate Pledge Arena.
Jaden Schwartz had a goal and two assists, and Philipp Grubauer made 19 saves for Seattle (4-6-1), who won for the first time in three games.
'It's an honor. It's really cool", said Eberle, who had a natural hat trick. "I have a couple [of hat tricks], but this one for sure, you get the first in Kraken history, in this arena, it's pretty special.
"I'm not going to lie, when it went in, I definitely thought about it. it's a neat moment, and it's a part of history."
Tage Thompson and Kyle Okposo had the Buffalo goals while Dustin Tokarski made 33 saves for the Sabres (5-4-1), who were playing their first game since trading Jack Eichel to Vegas.
"Think we were getting outmuscled to pucks and getting beat to loose pucks", Thompson said. "I think we gave up too many opportunities against. I think really just a little too spread out.
"We weren't as tight in the defensive zone, not supporting each other enough out there. I think we had flashes of good stuff, but we got to be able to connect it for a full 60".
Story of the game
Morgan Geekie opened the scoring with his first goal in 10 games on a one-timer just after a Kraken power play had expired. A wrist shot from the slot by Thompson tied the game with 13:33 left in the second period.
The teams exchanged goals 26 seconds apart at the end of the period with Okposo putting Buffalo in front on a wrist shot and Schwartz found Eberle, who one-timed past Tarkowski to make it 2-2.
"At the end of the second, we weren't necessarily playing our best", Schwartz said. "They had a power-play goal to go up 2-1 so it was good to tie it up.
"Really, really good shot by [Eberle]. So that tied it up late and gave us some momentum in the locker room."
Less than two minutes into the period, Eberle put Seattle in front for good with a four-on-four tally. He completed the natural hat trick when he skated in close on the Buffalo net and his shot trickled through after Tokarski got a piece of it.
Schwartz scored into an empty net to cap off the evening.
"We haven't gotten a lot of bounces, even in the first half of this hockey game", Kraken coach Dave Hakstol said. "There were a lot of pucks that went around the blue paint and out the other side.
"It's nice to have a little puck luck and we got that on our fourth goal. Just the hunger to get to those areas and really expect to be able to punch those home. That's still an area that can grow for us and getting a few tonight helps that."