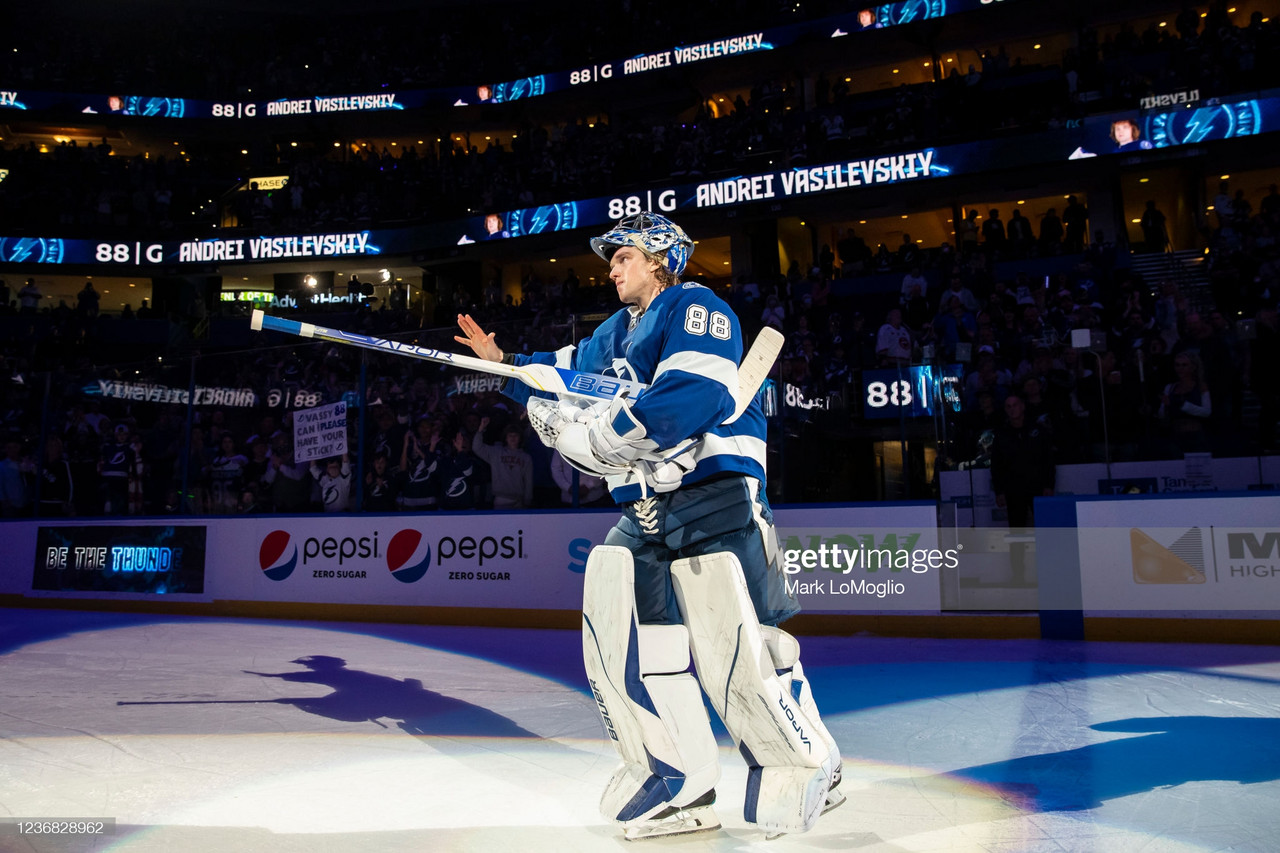 The Tampa Bay Lightning scored in each period as they shut out the Seattle Kraken 3-0 at Amalie Arena.
Andrei Vasilevskiy made 17 saves to post his 200th NHL win. Pierre-Edouard Bellemare, Ross Colton and Steven Stamkos scored for the Lightning (12-4-3).
"Big achievement, I'm proud of it", Vasilevskiy said of his milestone. "Obviously I want to thank my teammates for that because I can't win on my own. It's great teamwork."
Phillip Grubauer made 23 saves for Seattle (6-13-1), which fell to 1-7-1 on the road.
"We were a half a step behind tonight", said Kraken head coach Dave Hakstol. "We didn't create enough pressure in the offensive zone. We needed to be better at winning pucks in both zones".
Story of the game
Bellemare opened the scoring less than three minutes into the game with a slapshot from the left faceoff circle that beat Grubauer inside the far post.
"That's how we're winning", Lightning head coach Jon Cooper said. "We're playing D, trying to keep things to the outside and if things break down, the goalie's there and everyone is chipping in.
"And especially with some of the guys we have out it's much-needed. It's been a really solid team effort."
It was the 14th time Seattle has allowed their opponents to score first.
"We seem to be giving up the first goal a lot", center Jaden Schwartz said. "We need better starts. We wind up chasing [the game] too much.
"They broke the puck out too easily. We didn't do a good job helping each other out."
31 seconds into the second period, Colton doubled Tanpa Bay's lead after knocking in a loose puck from a Jan Rutta slap shot that hit Jeremy Lauzon.
Stamkos closed out the scoring when he took a pass from Ondrej Palat and one-timed it past Grubauer.
Seattle's best chances both fell to Jordan Eberle. A little more than a minute into the game, he was stopped by Vasilevskiy following a two-on-one and a little over six minutes into the third, he was stoned on a breakaway.
"They defended well, they skated well, they pushed us to the outside", Hakstol said. "A lot of times we spent the first half of a shift playing defense, and after that you don't have much energy left."
Midway through the first period, the Lightning played a video tribute to Yanni Gourde, who was selected by Seattle in the Expsnsion Draft on July 21st following six seasons in Tampa Bay.
"I hope the camera didn't pan to me because my eyes were a little watery, to be honest", Cooper said. "And that's as loud an ovation as you're going to get.".
Vasilevskiy added: "It was great. I watched it even though I [usually] never look up at the screen. Great player, great guy. Two Stanley Cups. Well deserved."