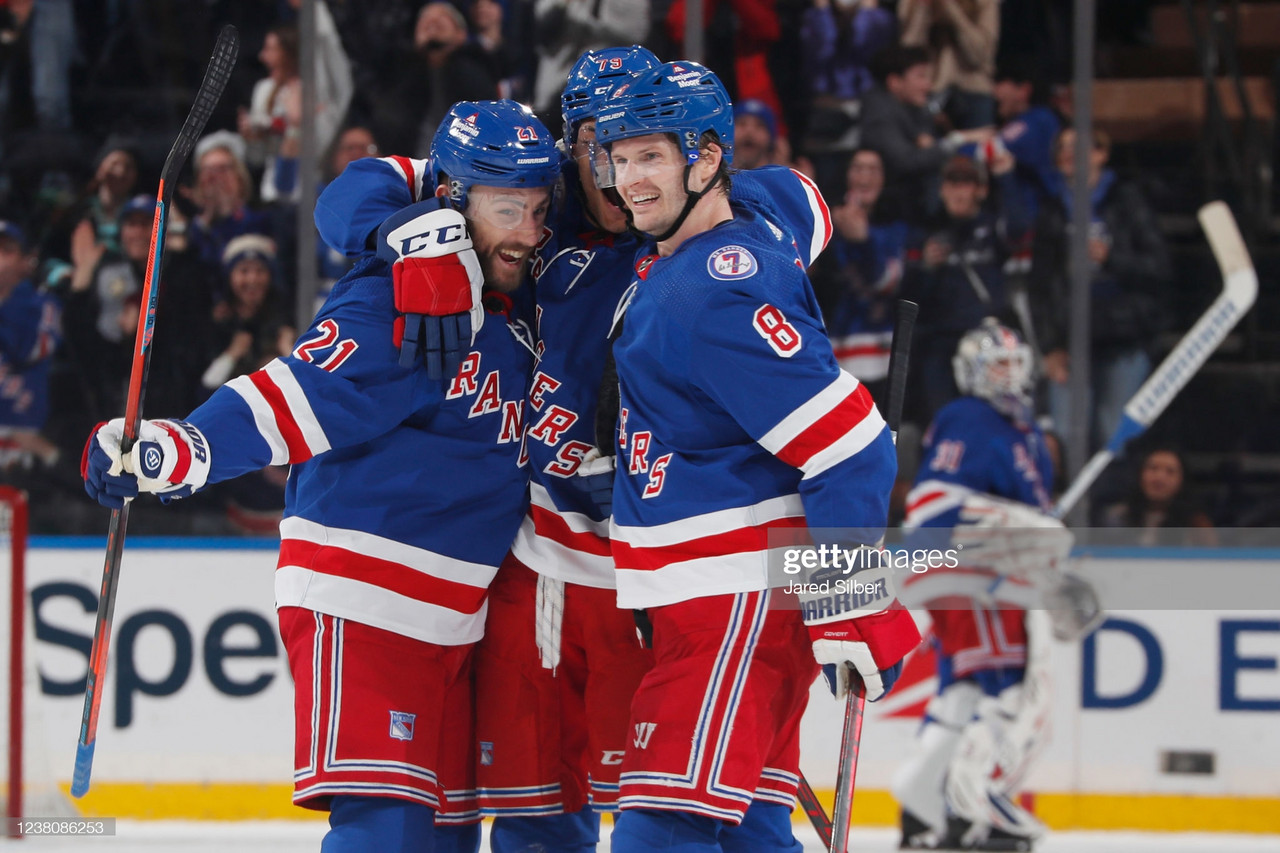 K'Andre Miller scored with 34 seconds left as the New York Rangers defeated the Seattle Kraken 3-2 at Madison Square Garden.
Mika Zibanejad had a goal and an assist and Igor Shesterkin made 40 saves as the Rangers (29-13-4), who had lost two in a row, were outshot 42-24.
"I think it was awful", said New York head coach Gerard Gallant. "Love the win. Competitiveness, quite a bit disappointing.
"They play hard, they send four lines at you and i'm not disrespecting their team. I'm talking about my team and we just weren't hard enough."
Jared McCann scored his team-leading 18th goal for the Kraken (14-26-4) and Philipp Grubauer made 21 saves, including stopping Miller on a breakaway in the third period.
"When we take care of the puck and manage it well and make sure we're not giving away anything easily, especially off of the rush, we become difficult to play against", Seattle head coach Dave Hakstol said. "That's the way we played tonight."
Story of the game
Zibanejad gave New York a 1-0 lead the first period as he moved the puck left to right across the zone to Artemi Panerin, who delivered it back to Zibanejad for a short-side one-timer from the left circle that beat Grubauer for his 17th goal.
"When you get passes like that you just want to make sure you hit the net and i've been fortunate enough to do that", he said. "That gives you confidence to shoot more and put myself in a position to shoot."
Lafreniere doubled the Rangers' lead 4:23 into the second period, scoring off the rebound of Zibanejad's one-timer from the left circle that hit the post and caromed in front.
The Kraken cut the Rangers lead to 2-1 on McCann's goal off of a three-on-two rush with Jordan Eberle and Marcus Johansson.
Seattle insured a thrilling finish as Gourde made it 2-2 with his short-side one-timer from below the face-off dot in the right circle with just 1:08 left after Grubauer was pulled for the extra attacker.
The momentum was short-lived as Zibanejad won the face-off in the right circle back to Miller and the shooting lane opened when Chris Kreider collided with Riley Shehan.
"[Mika] has been really good on the draw for us this year so I kind of had a feeling it was going to come right back to me", Miller said. "[Kreider] obviously helping with picking a guy a little bit.
"Not bringing our best game tonight, just finding a way to get two points is the biggest thing. We can definitely use this game to learn off of and improve from."