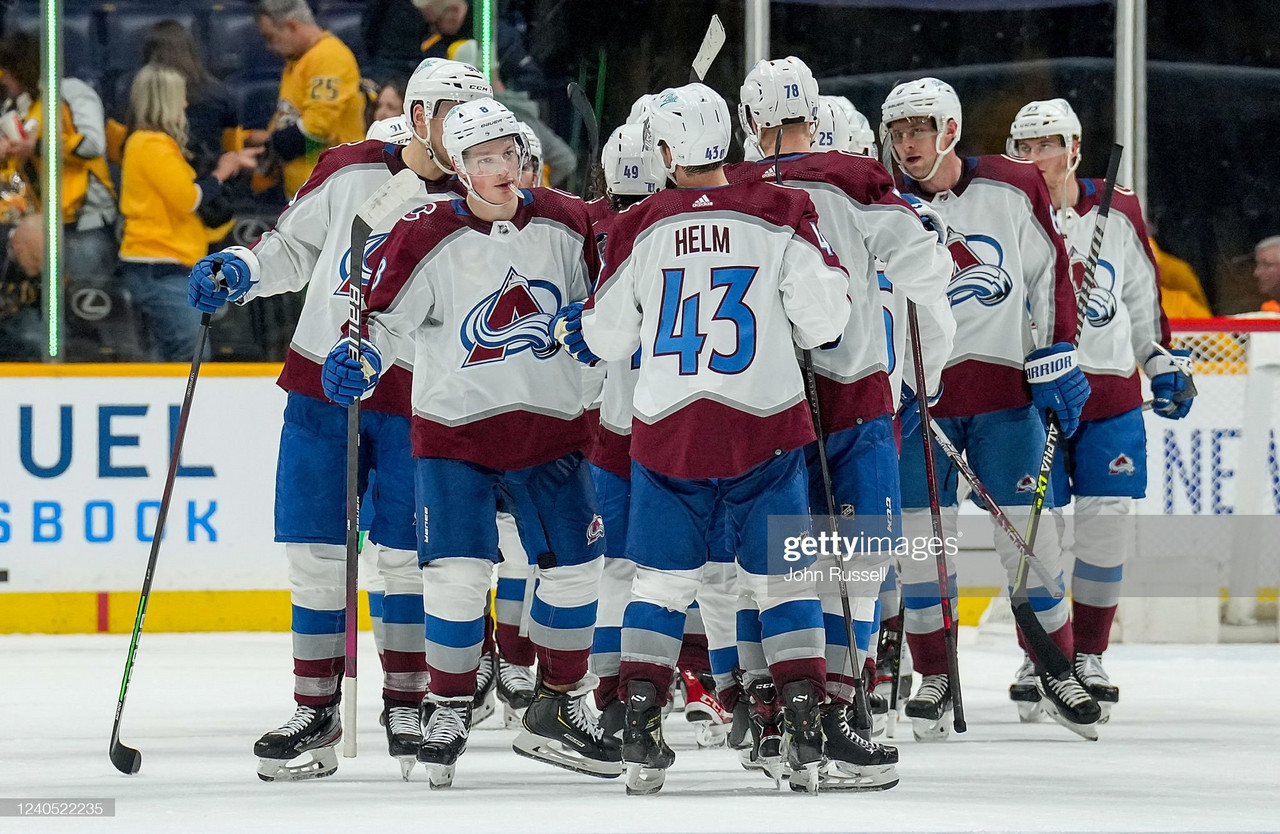 The Colorado Avalanche are on the verge of advancing in the Stanley Cup playoffs following a 7-3 victory over the Nashville Predators in Game 3 of their first-round playoff series at Bridgestone Arena.
Gabriel Landeskog had two goals and two assists, but isn't taking anything for granted despite Colorado's 3-0 series lead.
"There's no easy games in the playoffs", he said. "They've got their back against the wall at home. They definitely don't want to get swept at home. We want to try and end this thing and don't give them any life."
Nazem Kadri and Devon Toews each had a goal and an assist, and Cale Makar had three assists for the Avalanche.
Darcy Kuemper made nine saves on 10 shots before being forced to leave the game with 57 seconds left in the first period after Predators forward Ryan Johansen's stick hit him in the eye through his mask. He was replaced by Pavel Francouz, who made 18 saves on 20 shots.
"I didn't see initially what happened to Darcy, but I only saw that he was having a lot of pain and I was sure that i'm going in right away", Francouz said.
"It's always tough when you see a goalie get hurt, but you have to focus all of your thoughts on the game, on the puck, so that was something I was trying to do. I had huge support from my teammates."
Coach Jared Bednar said that Kuemper could still play in a potential series-clinching Game 4.
"He's doing better and we'll get him further evaluated. He's got some swelling there, obviously was unable to return, but hopefully he is doing good and is able to get back in the net."
Matt Duchene scored his third goal of the series, Alexandre Carrier had two assists, and Connor Ingram made 34 saves for Nashville, who trail 3-0 in a playoff series for the first time in franchise history.
"We liked our game, [and I] thought we played a lot better than we did in the first two games", captain Roman Josi said. "[We've] got to stay aggressive. There's not one person in this room that doesn't believe we can turn this around.
"We're going to come out Monday and play aggressive. ...We believe we can beat this team."
Story of the game
Arturi Lekhonen gave Colorado 1-0 just past the midway point of the first period as he re-directed Toews' shot from the point past Ingram on the power play.
The Avalanche took advantage of their power-play chances, scoring on four of five opportunities, leaving Bednar pleased.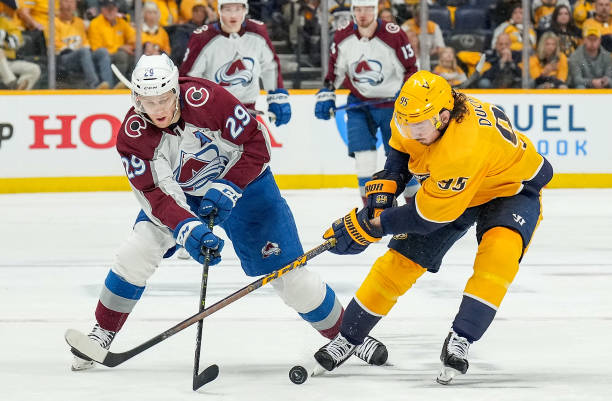 "We finished on them tonight. Good attack mentality again, and just taking what they gave us and weren't afraid to put the puck to the net and go there."
Nathan MacKinnon doubled the Colorado advantage to pick up his fourth goal of the series on a goalmouth scramble.
Duchene cut the lead to 2-1, scoring from the left circle of Kuemper's shoulder and Eeli Tolvanen tied the game with a one-timer from the left circle with Nashvillle up a man.
Landsekog put the Avalanche ahead again with 9:02 remaining in the second period, knocking in his second rebound attempt.
Josi made it 3-3 less than two minutes later with a one-timer through a screen by Filip Forsberg.
Just 68 seconds after that, Landeskog tallied his second of the game with a wrist shot from the slot.
The Predators challenged the play for goaltender interference, but a video review confirmed Nashville forward Mikael Granlund caused Lehkonen to make contact with Ingram.
The rookie goaltender made a big mistake after that, playing the puck from behind his own net right in front to a waiting Kadri, who made it 5-3 on yet another Colorado power play.
"Obviously it was a swing", said Nashville coach John Hynes. "We review these things [for] basically for every goalie interference call that goes through.
"You review it, and, in our opinion, you take all thoae things into account. But we felt in our review and judgement that it was goaltender interference."
Toews extended the lead to 6-3 in the third period with a slap shot from the top of the left faceoff circle, and Valeri Nichushkin closed out the scoring into an empty net.