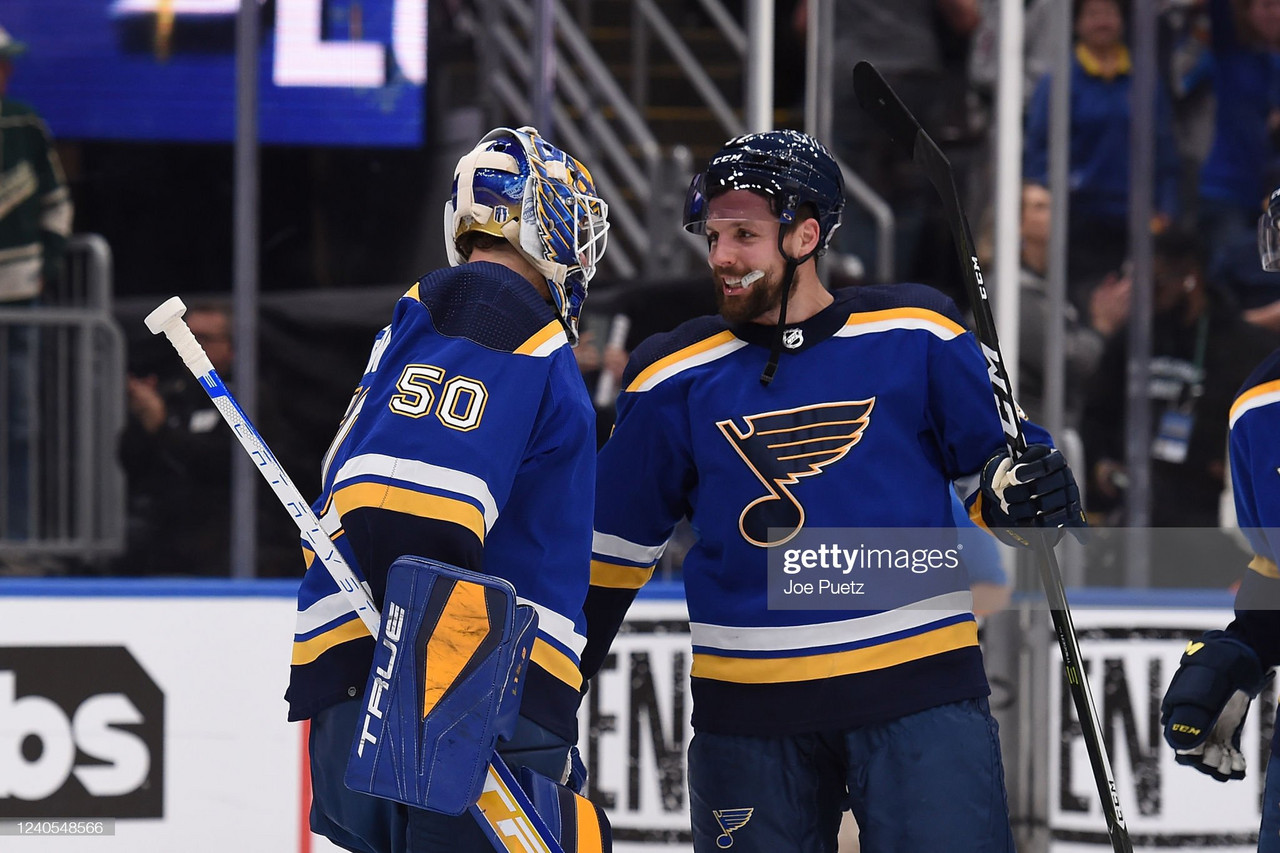 Jordan Binnington made 28 saves as the St. Louis took down the Minnesota Wild 5-2 in Game 4 of their Western Conference first-round series at the Scottrade Center.
Since St. Louis won Game 7 of the Stanley Cup Finals against Boston, Binnington had lost his last nine starts in the postseason.
​​​​​"It felt good, I felt prepared", he said. "We had a good start to the game, a really good first period. Definitely a big win, a hard-fought win. We had guys step in the lineup, but I felt pretty good.
"Definitely I had to be patient. Nothing this morning, wait for the game, just hanging out at home and just prepping."
David Perron had two goals and an assist, Jordan Kyrou scored twice and Ryan O'Reilly had a goal and two assists for the Blues.
"They're a great team, they're hard to play against", coach Craig Berube said of the Wild. "They do a good job, and we're a good team, too, so here we are. We're tied."
Kirill Kaprizov picked up his fifth goal of the series, Matt Boldy added a goal and Marc-Andre Fleury made 29 saves for Minnesota.
"Well, the vibe right now, of course, when we lose a game is not the best", said forward Frederick Gaudreau. "The vibe is it's 2-2. Like we said earlier, it's not going to be easy, it's the playoffs, and the Blues are a good team."
Story of the game
Kyrou put St. Louis in front a little four minutes into the game, scoring on his own rebound after Fleury couldn't handle his initial shot.
"Yeah, it's definitely nice to get that first goal", he said. "It's a huge confidence builder for the team, especially here at home. The crowd was unbelievable tonight and it definitely got us going."
Kaprizov tied the game with 5:54 remaining in the period, blasting a one-timer from the left circle off a pass from Jared Spurgeon.
​​​​​​Minnesota was outshot 18-5 in the opening 20 minutes.
"We just felt we got a little disrupted early in the game, obviously, with [a] four-minute (minor to Kevin Fiala) and ... then another high stick (on Joel Eriksson Ek) and then four-on-four, so, the first period, we wanted to get to our game, and we weren't able to get to our game because of that", said coach Dean Evason.
"But having said that, we've got to stay out of the box, too. It disrupted everything. ... It disrupts the flow of the game, disrupts what we want to do, what we want to get to, five on five.
"But having said that, we have to find a way to get to it. We did get momentum from those skills. So, we didn't do enough to get to our game, but [the penalties] hurt us early, as well."
Perron made it 2-1 when his backhand shot squeezed through Fleury's right arm and was inadvertently kicked into the net by forward Marcus Foligno during a scramble in the crease.
Kyrou scored 54 seconds later to extend the lead to 3-1. Minnesota defenseman Matt Dumba turned the puck over to O'Reilly, who fed Kyrou in the slot, and he got around two Wild skaters as he played the puck through his own legs before finishing on the backhand.
Boldy cut the score to 3-2 with 17:21 left in the third period when the puck squirted between Binnington's pads he tapped it across the goal line.
Perron scored from his own end into an empty net to make it 4-2, and 58 seconds later, O'Reilly did the same for the 5-2 final.
​
​​​​​
​​​​