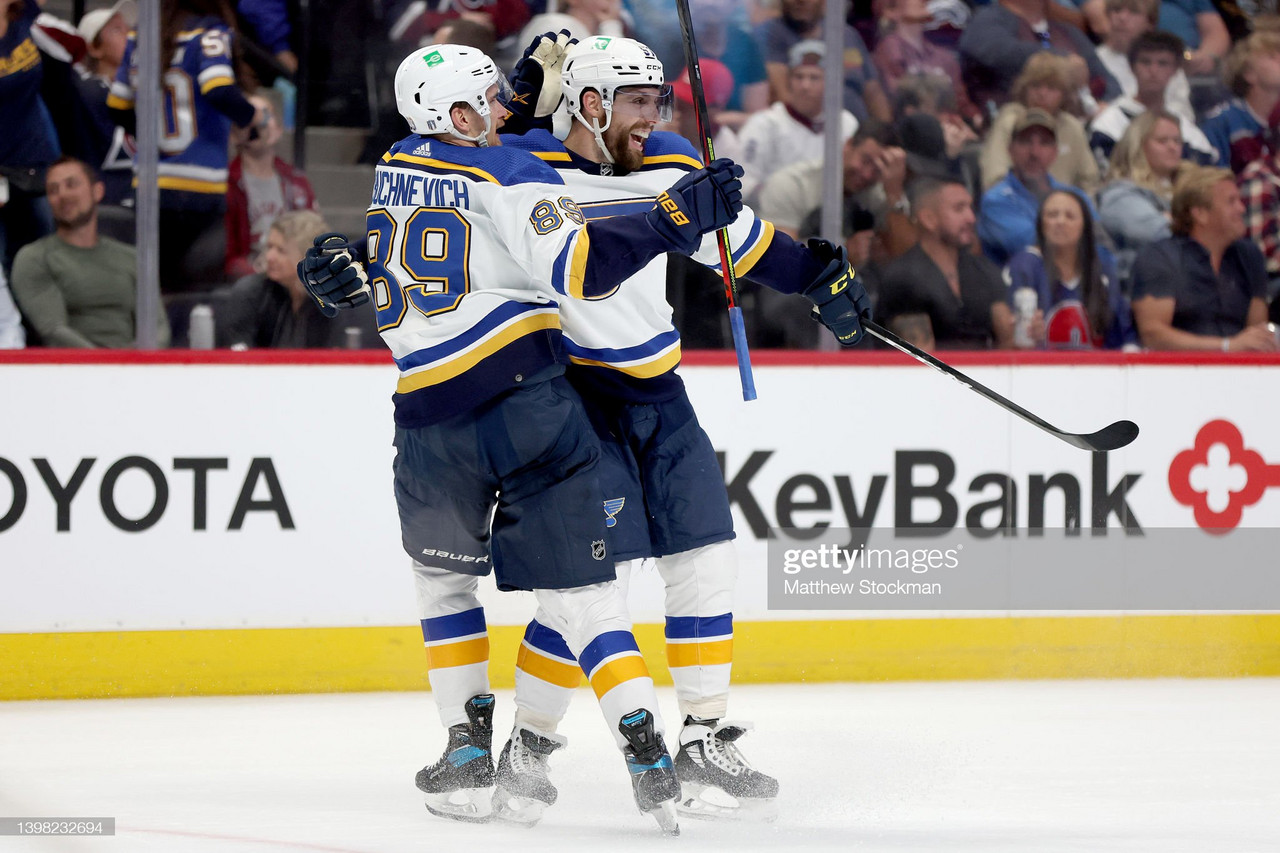 David Perron scored twice as the St. Louis Blues evened their Western Conference semifinal series at one game apiece with a 4-1 victory over the Colorado Avalanche in Game 2 at Ball Arena.
Game 3 is Saturday night as the series shifts to St. Louis.
"That's playoffs right there for you, a big roller-coaster", Perron said. "Obviously, we didn't feel good about ourselves that last game. We probably had two or three players that had good games. That was it.
"Tonight, we had a lot more guys, and it was important to find a way to win one here on the road, just like we did last time against Minnesota (in the first round)."
Jordan Kyrou and Brandon Saad scored the other goals, Pavel Buchnevich had two assists, and Jordan Binnington made 30 saves for the Blues.
"We did a good job, and we forechecked hard tonight", said coach Craig Berube. "We put pucks to good areas and were on it. We had numbers on it all night and made them play in their own end and did a good job.
"When the puck turned over or they get possession, we reloaded well, and I thought that we did a good job coming back in our own zone, protecting the middle ice, and our 'D' did a [heck] of a job of defending the rush, defending in our zone.
"We played good hockey all year. It's a good group of guys that want to win. They know in Game 1 they didn't do well enough, and all year they've responded when things [get hard]. You go over things and tell them why and you show them why, and they respond."
Gabriel Landeskog scored the only goal, and Darcy Kuemper made 28 saves for the Avalanche, who lost for the first time this postseason.
"No. 1, we got out-worked and out-skated, so that makes everything more difficult", said Colorado head coach Jared Bednar. "It's one game. We knew this was going to be a long, hard series.
"This is a really good team. They answered back after a bad night in Game 1. Now the onus is on us. We have to do the exact same thing."
Story of the game
After a scoreless first period, Kyrou put St. Louis in front 5:45 into the second period when his wrist shot from the right circle deflected off of the stick of Samuel Girard and beat Kuemper over his left shoulder.
"Big goal by Kyrou", Berube said. "He was skating and attacking, and had a couple other good looks."
Perron made it 2-0 with 34 seconds left in the period as his one-timer from the left circle went off the stick of Josh Manson and went under Kuemper's right arm on a two-man advantage.
"We were pretty comfortable. We made some good plays", Perron said. "We also, I think, can be even better, which is a good sign when you play a good game."
Landsekog cut the lead in half on the power play with 1:49 remaining.
"We still had a chance to tie the game. Gabe scored that goal, we were feeling good", forward Nathan MacKinnon said. It felt like the building was back in it.
"We had our legs back a little bit, and just a little miscommunication, that kind of sums up our night, in the third there off the face-off. They ended it, but got to move on."
Perron restored the Blues' two-goal advantage with a wrsit shot after Andre Burakovsky and Cale Makar turned the puck over following miscommunication at the left.
"I just kind of took a step to the middle and the 'D' really didn't come my way", he said. "If he did, probably i'd just slide it over the stick to [Buchnevich] hoping that he scores, but [it] went in.
"That was a big goal for us. It was important."
Saad scored into the empty net with less than two minutes to go for the final margin.
"We didn't have our jump tonight. Our execution was just off", MacKinnon said. "Just weren't feeling it. Just fighting it out there, and it was unfortunate, but it's 1-1.
"We get to go on the road and hopefully steal one there, hopefully two, and we got to forget about it and move on and get back to the way we play."