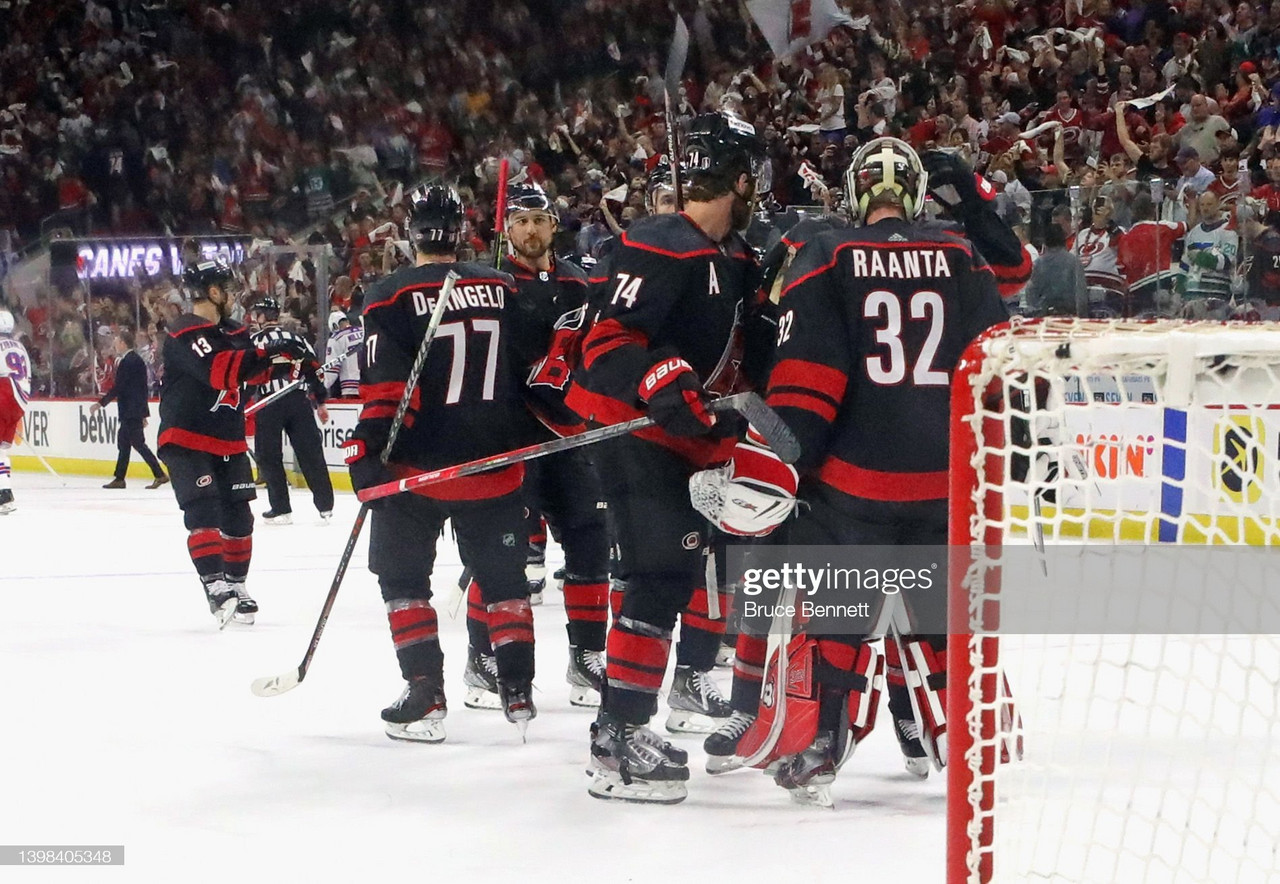 Antti Raanta made 21 saves as the Carolina Hurricanes defeated the New York Rangers 2-0 in Game 2 of the Eastern Conference semifinals at PNC Arena.
Game 3 is Sunday with the series shifting to Madison Square Garden.
"I didn't feel like I needed to do that many huge saves", said Raanta after his first career playoff shutout. "Our guys were making sure there were no easy plays or backdoor shots.
"The PK was huger for us, and that last three minutes was huge also, so the guys helped me a lot for sure."
Brendan Smith scored shorthanded and Sebastian Aho had a goal and an assist for Carolina.
Igor Shesterkin made 20 saves for New York.
"You get your team prepared to play, you play as hard as you can and you hope you win these hockey games", said coach Gerard Gallant. "I'm happy with the way we performed overall.
"I wish we could have got one of these two games, we probably could have. That's they way it goes. Play well, play hard, we'll find a way to get another win."
Story of the game
After a scoreless first period, Smith put the Hurricanes in front with 4:06 remaining in the second as he drove to the net on a two-on-one and re-directed a pass from Aho while killing a four-minute power-play.
Teuvo Teravainen began the play by chipping the puck to Aho off the boards into the neutral zone.
[Teravaibnen] makes great plays and he can chip it into space, where I saw [Aho] moving", Smith said. "I tried to get going as fast as I could and find the lane.
"[Aho] is an elite passer and he put it right on the money, so I can't take too much [credit], but it was a good read by a lot of players."
Aho scored an empty-net goal with two seconds to play for the final margin.
New York was 0 for 4 on the power play.
"I'm seeing a great penalty kill put a lot of pressure on them", Gallant said. "We didn't find the inside man in the very often in the slot, the bumper guy.
"They put on a lot of pressure, and we just didn't adjust to it quick enough. We've got to compete a little harder, I think."
The Rangers only got off 21 shots, their fewest in any playoff game so far.
"We have a good defense. We have a really solid group back there", said Carolina head coach Rod Brind'Amour. "You're going to have to earn your chances against us for the most part.
"Both teams, we're not getting much going the other way either. Both teams are fighting for every inch out there. It's playoff hockey, and both teams are lying it on the line."