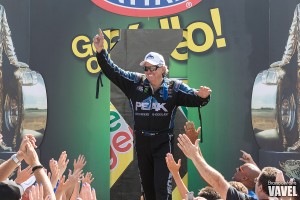 With the 2016 NHRA season kicking off at the Winternationals this coming weekend at Ponoma Raceway, VAVEL USA interviewed John Force about his team's offseason, comparing 2016 to 2015 and the state of NHRA with the new TV package with Fox Sports this season. VAVEL USA: After a disappointing 2015 season, what are your reasonable goals for the 2016 season for John Force and John Force Racing? John Force: Train new employees, build a brain trust and win the championship. VAVEL USA: How are all four of your teams looking going into 2016? You guys had a really good test session this past weekend, how much confidence does that give you going forward? John Force: We didn't pass the competition, but we ran right into the ballpark putting cars into the eighties (referencing 3.80's elapsed time), what we can really hope for right now, it looks good. VAVEL USA: Do you focus on trying to beat Don...
VAVEL USA writer and photographer Brandon Farris recently got to sit down with NHRA Legend John Force to talk about his team, the future for it and NHRA....
Brandon Farris of VAVEL USA had the opportunity to sit down with Alexis DeJoria at the NHRA Northwest Nationals and ask her a few questions about her season thus far and more....
During a wet and soggy Sunday at Brainerd International Raceway, Robert Hight picked up his first win in Funny Car while Richie Crampton raced to his fourth victory of the season in Top Fuel. Erica Enders scored her fifth win of the season in Pro Stock....
On a sunny Sunday afternoon at Pacific Raceways in Seattle, Tommy Johnson Jr wrapped up his second win of the season in Funny Car along with J.R. Todd in Top Fuel dragsters and Chris McGaha in the Pro Stock category....
The NHRA Northwest Nationals kicked off Friday afternoon at Pacific Raceway's to track record breaking eta's and mph in all three national classes....
total:
13
displaying:
1 - 13