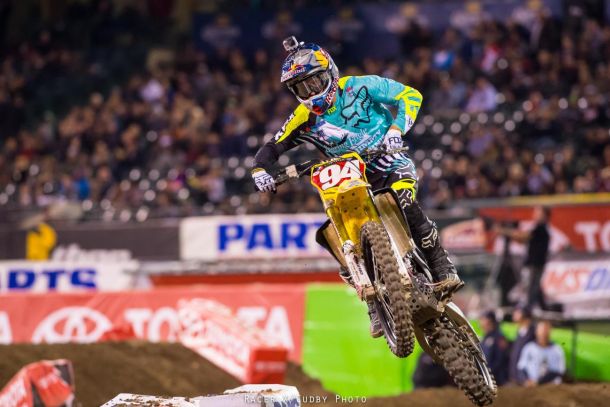 That does it for the LIVE coverage of the sixth round of the 2015 Monster Energy Supercross Series here on VAVEL. Thank you for following tonight! Watch for another LIVE in a weeks' time, when the series heads east to Arlington, Texas. Thank you!
450 Supercross San Diego main event recap:

The sixth main event of the year for the 450s kicked off with the RCH Racing Suzuki of Ken Roczen stealing immediately to the front, getting a huge lead within the first two corners on the rest of the field. His lead did not last long, though, as Trey Canard, Davi Millsaps, and Ryan Dungey were all there to make it interesting. Millsaps, though, would crash from third place early in the race, dropping all the way down to second-to-last on timing and scoring; closer to the end of the race, he was lapped by Trey Canard and Ken Roczen, who were beginning a battle. Eli Tomac also had an off as he and his #3 Geico Honda hit the ground. Trey Canard and Ken Roczen had a few exciting moments, but it was Canard on the Honda who would dominate the race right to the end - taking his second win in the last three races, and sticking right at the front in the points race. Roczen finished with a strong second, and was content with his result, stating that he would've made more of a run for a pass for the lead on Canard, but he didn't know it was so late in the race until he was shown the white flag. Points leader Ryan Dungey rode his #5 to a podium finish once again (he's ⅚ on the podium in 2015), retaining the aforementioned points leader and the red number plate that comes with it. He will hold that points lead heading to Arlington, Texas, next weekend.


450 Supercross San Diego main event recap (above):
250 West San Diego main event recap:
The 250 West main event saw comparably clean racing - compared to a few rounds earlier this season, that is. There was no aborted race and restart seven laps in due to a gate malfunction, like there was last weekend. It was Osborne (whose gate didn't fall, causing the restart last weekend) who stole to the front, grabbing the holeshot and the lead in the earliest stages of the race. Cooper Webb, Shane McElrath, and Tyler Bowers were in the top four, just behind Osborne's white Husqvarna. Bowers got his factory Kawasaki to the lead, but it wasn't there for long until Webb rode his Yamaha on the inside of him in the final corner of the track, just after the halfway point of the race. Malcolm Stewart crashed on the first lap, which resulted in a horrible and disappointing finish. Cooper Webb, after a vicious crash in practice that made him questionable to race tonight, continued on to the win - his fourth win in the last five races. The 250 West class will have a nice, long break, as next weekend it will be the 250 East group hitting the track in Arlington, Texas.
250 West San Diego main event recap (above):
Now that the main events have concluded, stay tuned for just a few moments for the recaps of both! Thanks for following tonight on VAVEL.
Dungey: "the podium is a given, we'll have to be back up here, and be consistent." In the six races of 2015 so far, he has podiumed on his KTM in five of them.
Ken Roczen states, simply, that he rode a bit messy and it cost him. He did not know it was so late in the race until he got the white flag; maybe he could've pushed harder and gone for the win.
A lot of racing left (11 of 17 rounds still left)... but Trey Canard has won two of the last three races.
Trey Canard begins celebrating, as he's won his second race of 2015! Both he and Roczen gave fist-pumps as they jumped the finish line; great rides for first and second.
Analysis of tonight's racing (above):
450 Supercross MAIN EVENT:
Not only is this military appreciation night, it is the first ever Supercross event at Petco Park. Canard wins the first ever race in Petco Park!
Roczen on the back of Canard's Honda once again. 2 to go, will he run out of time?
Canard, Roczen, Dungey still the top three. Dungey would still be nine points up in the championship heading to Arlington, Texas, if it were to finish the way it is now. 3 laps to go.
Canard is catching Roczen - and they're both catching lapped-traffic. Roczen continues to close in on the Honda of Trey Canard. If Canard wins, he's at a good spot points-wise heading east, taking his second win of 2015. If Roczen wins, it'll be his third win of the year, and he would close the points on Dungey, as they head east. Roczen has shown Canard a wheel, the battle is beginning!
The leading group of Canard, Roczen, and Dungey have just lapped Millsaps who crashed from third place early in the race. How disappointing that must be after running at the front, being lapped by the leaders.
Will Canard leading this final main event in California, you must think of the statement "it depends on who comes out of California with a good position in the points," and you can't help but thinking Trey Canard has a good shot at the 2015 title. If he wins tonight, it would be his first season that he's won two races in a single season since 2011 - his first year on the big bikes.
Tomac and Millsaps both had falls at this point in the race. They run tenth and eleventh.
Chad Reed is having one of his best rides of 2015, currently fourth.
Canard leads, as Roczen pressures him from behind. A fantastic battle brewing here. Canard on the #41 Honda is looking very strong. These two leaders, have a five second gap on the #5 Ryan Dungey.
Down goes Millsaps now, who was running in the top 3!
Top 10 on lap 3 of 20:
Roczen
Canard
Millsaps
Dungey
Short
Reed
Weimer
Metcalfe
Anderson
Baggett
Through two corners, Roczen already has 5 or so bike-lengths on the rest of the pack! Alessi went for the holeshot, but ended up wide and all the way off the track. Down goes Tomac!
Here goes the final race in California for a while as the series moves east!
Bikes are running, 30 second board is up. Here comes the final gate drop of the night. Tweet your predictions to: @DoubleA291
The sighting lap for the 450s is complete, and they have lined up to the gates.
Shoot your predictions to me via Twitter! Let me know you're following. @DoubleA291
Time for the last race of the night - and of the week. Next weekend begins the 250 East campaign, in Arlington, Texas.
450 Supercross MAIN EVENT (above):
250 West MAIN EVENT:
Podium interviews are done. Time for the final race of the night - you know what it is.
That makes it 4 wins in the last 5 races for Cooper Webb.
A season-best finish for Shane McElrath, as he finishes behind Webb in second.
Even Tyler Bowers stops by after the race to congratulate Webb. They hug and shake hands whilst still on the bikes.
Cooper Webb wins in San Diego!
Remember: Webb had a vicious crash in practice in the afternoon today, and we didn't even know if he would line up to race tonight - and he is about to win yet another main event.
2 to go.
Cooper Webb to the inside of Bowers for the lead! McElrath just behind these two in third - a great battle is brewing! Bowers is passed by McElrath! Shane McElrath is riding strong, don't count him out for the win. Just over a second behind leader Webb. Bowers goes from the lead to hanging onto a podium position.
The top five are still the same as they were when I listed them below. Halfway point of the first main event tonight.
Nelson is just out of the top 10, battling with Politelli for a top 10 position. Not riding very strong.
Malcolm Stewart is taking his time around the track after his first lap crash. Very disappointing. He won't be challenging for the championship this year, even with his win a week or two ago.
Current top 5:
Bowers
Webb
McElrath
Osborne
Hansen
Osborne with the holeshot on the Husqvarna! Webb, Bowers, Malcolm Stewart all right there! Malcolm Stewart goes down...! Stewart cased the jump. Bowers and Webb run 1-2.
GATE DROP!
We've reached main event time! Tweet your predictions to: @DoubleA291
250 West MAIN EVENT (above):
450 Supercross LCQ:
The four riders mentioned below will be the final four additions to the 450 main event. Hill takes fifth - one spot short of a main.
Grant, Albertson, Wey, Baggett in transfer positions on the final lap.
Gate drop. Final four spots in the main! Grant to the lead!
Final race before the main events. Grant and Hill are in this one.
450 Supercross LCQ (above):
450 Supercross Semi 2:
Reed takes the checkers. That makes it TWELVE different winners in each of the TWELVE different semis.
Reed to the inside of Grant, who goes over the berm in the final corner. Everyone moves up; Anderson up to fourth from sixth! Final lap.
Grant, Reed, Weimer, Alessi, Chisholm the top 5 in transfer spots.
Grant with the holeshot, Reed behind him off the start. Alessi there as well.
450 Supercross Semi 2 (above):
450 Supercross Semi 1:
Great final lap! Rusk comes back to win the race in the final corner, a photo finish with Tickle!
Baggett has actually retired from this semi race. Might as well not risk getting hurt and get ready for the LCQ - if he's not hurt already.
R. Stewart, Rusk, Tickle, Clermont, A. Enticknap in the top 5 and transfer positions.
Baggett down! He'll be headed to the LCQ...
30 second board down... and... gate drop for the 11th semi of the year!
450 Supercross Semi 1 (above):
250 West LCQ:
Checkers, Bisceglia wins from Alldredge. Horban took fourth, and is headed to his first ever main event.
White flag; final lap in this first of two LCQs for the night.
Bisceglia to the lead! Breece and Horban are in the final two transfer positions (third and fourth).
Only four laps in this final 250 race of the night until their main event. Bisceglia second, on another one of the white Geico Hondas.
Gate drop! Alldredge to the lead.
250 LCQ (above)
450 Supercross heat 2:
All the heat races are now complete. Continue to stay tuned here for coverage through the rest of tonight's racing - including the main events!
Seely, Roczen, Canard, and Dungey all headed to the main! Lots of close calls in that race, and all night so far on this track inside Petco Park. Technically difficult track.
Seely, Roczen, Canard, Dungey the top four (who are in transfer positions).
Baggett all the way back in 11th! Roczen is just in front of Dungey, second and third. Lap 1 is completed with Seely at the front.
Roczen, Seely, Canard, Dungey, Baggett all in this one, among all the others. Gate drop!
Again, my personal Twitter account if you'd like to say hello and talk some racing. I want your predictions for the main events tonight! @DoubleA291
The gates are full for the next race tonight, the second 450 heat race.
450 Supercross heat 2 (above):
450 Supercross heat 1:
Reed's crash came from a mistake transtioning mid-jump into a corner. Onto heat 2 for the 450s.
Checkers. Note: Tomac is riding masterful tonight.
Millsaps all over the back of Tomac for the lead of this heat race. Final lap.
REED HAS CRASHED! Nicoletti back into the transfer position. He was down in a rhythm section.
The Geico Hondas tonight are all white. A new theme for military appreciation night tonight.
Only the top 4 go straight to the main from the 450 main events. Nicoletti now out of his transfer position, as Reed gets by for fourth.
Short, Millsaps, Tomac, Nicoletti, Reed the top 5. A FANTASTIC start for Nicoletti.
Riders have been having a hard time finding a rhythm on the track tonight. Lots of crashes on that start again.
Short to the lead! His starts have been superb thsis year.
Tomac, Millsaps, Reed, Anderson, Hill, Short in this heat race. About to be gate drop.
Got anything to say about my coverage or about the racing tonight? My Twitter is waiting! @DoubleA291
The 450 riders are lined up at the gates for their first race of the night in San Diego.
450 Supercross heat 1 (above):
250 West heat 2:
Webb gets by Bell for 4th! Great battling. McElrath takes the win on his No. 40 KTM - the only KTM that raced in this heat race.
Shane McElrath continues to lead with half the race gone.
Mcelrath, Osborne, Bowers, Bell, Webb the current top 5. Remember: the top 9 go straight to the main for the 250 heat races.
Some riders fall, but Bowers and Webb are away clean and in the top 5.
Gate drop!
Cooper Webb, Tyler Bowers, and the rest of the 250 West riders are lined up for heat 2.
250 West heat two (above):
250 West heat one:
Hill, M. Stewart, Hansen, A. Martin, Nelson, Richardson among those headed straight to the 250 main event later tonight.
Final lap. Some good battles going on; Nelson actually nearly fell with another rider. Hill wins on his No. 32 KTM. It was Freeberg who fell as Nelson went on the inside of him.
Hill, Stewart, Hansen, Martin, Freeberg, Nelson, Richardson, Politelli, Canada, Breece the top 10 with 3 to go in 250 heat one.
The track looks awesome as it always does this early in the night. Lap 2 of 6 of the first race of the night. Hansen and Hill and Malcolm Stewart (who is on a white Geico Honda tonight) are battling for the top three spots.
Gate drop! Hill to the lead.
The Kawasaki Track Map is being shown on Fox Sports 1's coverage, just before the 250's heat one gets going. Cooper Webb's crash from practice earlier today was just shown as well, was a rough one.
The 250 West riders in heat one are lining up at the gates for the first race of the night. Minute by minute coverage will be here all night.
Also, if you're a fan of racing, following the all new VAVEL Racing account is a must: @RacingonVAVEL
Speaking of social media... my personal Twitter will be open all night for you to talk Supercross with me: @DoubleA291
Before the gate drops for the first heat races of the night, scroll down a bit to check out recaps from last weekend's Supercross, current points standings for both classes, and some interesting news and notes. Going to be a great event all night tonight - be sure to stay tuned, and share via social media!
10:00 pm Eastern is now just minutes away... and so is live coverage of tonight's racing right here on VAVEL! Should be some great racing inside Petco Park tonight. Yet another baseball field this year.
Remember: this article here on VAVEL will be the best coverage of the Supercross racing from tonight in San Diego - if you're away from a TV, of course. Stay tuned!
With all the important information that now resides in this LIVE article, from now until race time in about four hours will be analysis, things to watch for, and more.
Below are now recaps from last weekend in Anaheim for both classes, the top few riders in the points for both classes, and, just below, interesting notes from vitalmx.com for the 450 class.
Interesting notes and things to keep in mind via vitalmx.com:
The first race was held on October 25, 1980, and Mike Bell won on a Yamaha
►This will be the 31st time the gate will drop for a 450SX Class race in San Diego
►The only first time winner in San Diego is David Vuillemin, who won on a Yamaha in 2000
►Davi Millsaps gave Suzuki their first-ever win in San Diego last year, can James Stewart give Suzuki back-to-back wins?
►Chad Reed holds the all-time win record in San Diego at six
►Jeremy McGrath has five wins in San Diego
►McGrath, James Stewart, and Ryan Villopoto have won in San Diego in both the 250SX and 450SX Classes. Can Ryan Dungey, Eli Tomac, Jake Weimer, or Andrew Short join them?
►Honda won 10 of 11 races in San Diego from 1985 to 1996
►San Diego hosted the season opener in 1985
►Honda has six event sweeps in San Diego, Yamaha has two
►Kawasaki has one event sweep in San Diego and scored their first event sweep since the season opener in 2011 last weekend
►Davi Millsaps earned the fifth 450SX Class victory of his career last year in San Diego and is the fourth rider to win on his 100th career 450SX Class start. Other riders to do this are Jeff Stanton, Jeremy McGrath, and Ricky Carmichael.
►Where riders finished on their 100th start: Davi Millsaps- 1st; Jeff Stanton- 1st; Ricky Carmichael- 1st; Jeff Ward- 2nd; Chad Reed- 2nd; Kevin Windham- 3rd; Ezra Lusk- 3rd; Tim Ferry- 3rd; Mike LaRocco- 4th; Johnny O'Mara- 7th; Michael Byrne- 7th; Rick Johnson- 8th; Larry Ward- 8th; Broc Glover- 10th (won his 101st and final start); Jeff Emig- 13th; Jason Thomas- 13th; Nick Wey- 15th
►Can Ken Roczen or Ryan Dungey give KTM their first win in San Diego?
►Reed gave Honda their 200th victory in 2011 in San Diego
►McGrath, Stewart, and Reed have all won San Diego on two brands. Can Reed become the first rider to win San Diego on three brands?
►Honda won 10 of 11 races in San Diego from 1985 to 1996
450 Supercross top 10 in points:
| | | |
| --- | --- | --- |
| 1. | Dungey | 107 |
| 2. | Roczen | 96 |
| 3. | Tomac | 84 |
| 4. | Canard | 84 |
| 5. | Anderson | 74 |
| 6. | Barcia | 71 |
| 7. | Seely | 67 |
| 8. | Reed | 57 |
| 9. | Millsaps | 54 |
| 10. | Baggett | 54 |
250 West top 5 in points:
| | | |
| --- | --- | --- |
| 1. | Webb | 111 |
| 2. | Nelson | 93 |
| 3. | Osborne | 84 |
| 4. | Bowers | 84 |
| 5. | Hill | 74 |
Below are now recaps for both classes from their main events last Saturday night at round five of 2015, the third and final event from Angel Stadium in Anaheim. Above will be the current points standings for the two classes, heading into tonight's racing at Petco Park in San Diego.
450 Supercross recap from last weekend at Anaheim 3:
For the 450 Supercross class, there was no issues with the gates, all 22 riders got going, dropping down the 7 foot tall elevated start, and all 20 laps were run clean - although Trey Canard did hit the ground, though, losing the front end in the corner that began the sand section. Tomac, Seely, and Roczen were all in an exciting battle for the second step of the podium, as 2010 champion Ryan Dungey pushed away at the front. Roczen, who won the other two races in Angel Stadium of Anaheim earlier in the year, couldn't get to the front and sweep the Anaheim races for 2015 It was Ryan Dungey, who stayed at the front after getting by Blake Baggett in the early stages of the race, who took his 15th career Supercross win - his first of 2015. He rode his KTM smoothly, quickly, and effortlessly to the win, extending his points lead to 11 over RCH Racing's Ken Roczen. Chad Reed of 22 Motorsports is way back, 50 points behind Dungey, although still in the top 10 in the points.
250 West recap from last weekend at Anaheim 3:
The main event for the 250 West class, their fifth of 2015, wasn't as action-packed as one or two that have come before it so far this year. It did, however, have the event of Zach Osborne's gate not falling, causing a red flag to come out and the race to be fully restarted; a fresh 15 laps after 6 had already been run. When leader Cooper Webb got the red flag, he couldn't believe it. He was very animated, very frustrated. When the 250 riders all lined back up into the gates for the restart and 15 new laps, all the gates fell, and all 22 riders left, plummeting down the 7 foot drop that was the elevated start - the first one in Supercross since the 90s. Osborne shot to a good start, but it was Cooper Webb who went right on back to the lead. It was Oakland winner Malcolm Stewart who lost out to the restart, as he went down in the first corner, starting his race in dead last. Webb's new rival, Tyler Bowers, would also eventually lose hugely to the restarting of the main event, after he was in contention for a podium position in the aborted race, then had a rough crash in the official one. Not yet to the halfway point of the race, Bowers came up short in a rhythm section, sending him forward on the bike and into the air, still on the bike but not in control. Just before landing, he jumped off the bike, getting his legs over the handlebars and just getting his body over the next jump - and getting out of the way of Geico Honda rider Bisceglia (who led laps in the aborted main event) who nearly struck him. Malcolm Stewart and Tyler Bowers stayed back in the pack for the race, around 17th and 18th. Up at the front though, it was Cooper Webb, Nelson, Plessinger, and Osborne (whose gate didn't fall, causing the restart). The front of the pack continued to knock off good laps, with Cooper Webb winning his third race of the year and extending his points lead. Kawasaki rider Tyler Bowers is now 27 points behind Webb, going into San Diego tonight.
Monster Energy Supercross 2015 live race
To begin, above are recaps of the most recent two main events - from last weekend, back at Angel Stadium in Anaheim for the third and final time of 2015. Above the two recaps for the two classes will be the current points standings as it stands heading into round six tonight.
San Diego Supercross live
Welcome to VAVEL's coverage of the sixth round of the Monster Energy Supercross Series LIVE. With a few hours to go before race time at 10pm Eastern, above will be plenty of news, notes, analysis, interesting facts, and recaps of last Saturday night's main events to follow before the gates drop for heat one for the 250 West class.