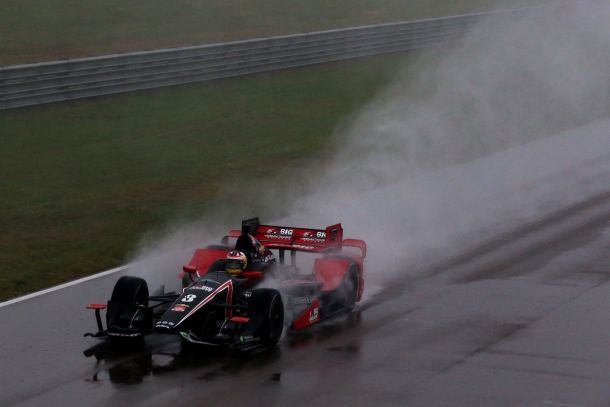 Today Chip Ganassi Racing Teams (CGRT) announced full season plans for the No. 8 entry. For the first two races of the season, St. Petersburg and New Orleans, rookie Sage Karam had been in the driver's seat. Series veteran and former Indy Lights driver Sebastian Saavedra, who drove last year for KV Racing Technology, will take over the No. 8 at three events: Toyota Grand Prix of Long Beach, Angie's List Grand Prix of Indianapolis, and the season finale at Sonoma Raceway. Karam will handle the balance of the 2015 Verizon IndyCar Series schedule, including the 99th Running of the Indianapolis 500, in the No. 8. Team newcomer Saavedra will join Karam at Indy in a fifth entry also overseen by CGRT.
Karam, 20, is a 2015 Sunoco Rookie of the Year candidate. He began his current role as a CGRT developmental driver at the 2014 Indianapolis 500 where he finished ninth in a joint Dreyer & Reinbold/Ganassi entry, bettering his teammates Scott Dixon, Tony Kanaan, Charlie Kimball, and Ryan Briscoe. Karam is the youngest winner of the Indy Lights series at age 18 and is also the first driver to win at each level of the Mazda Road to Indy developmental ladder. In addition to open wheel racing, Karam has also contributed to Ganassi's sports car program where he has been paired with the primary drivers at endurance races and also been called upon as a replacement driver.
"I'm grateful to Chip and the team for their ongoing commitment to me, and I can't wait to get back in the car at Barber," said Karam. "I just take things one day at a time and nothing has really changed for me since I started as a development driver here– when Chip calls, I'm ready to go race."
Saavedra, 24, comes to CGRT with backing from longtime supporter AFS Racing/Automatic Fire Sprinklers, Inc. His American racing career began in 2009 when he joined the Indy Lights series with Andretti Green Racing, earning two wins and a runner-up finish in the championship in his first season of competition. Saavedra made his Verizon IndyCar Series debut at the 2010 Indianapolis 500 with Bryan Herta Autosport. Since then, he has raced full seasons for three different IndyCar teams: Conquest Racing in 2011, Dragon Racing in 2013, and KV Racing Technology in 2014.
"It's good to be back in the Verizon IndyCar Series," said Saavedra. "This is an amazing opportunity for me with AFS to work with one of the most prestigious teams in all of racing. I'm very grateful to Chip and the team, which have had an incredible history in the sport, and specifically the Indianpolis 500. I'm looking forward to Long Beach and doing everything I can to get the No. 8 car to the front."
The Verizon IndyCar Series heads to the streets of Long Beach, California for the Toyota Grand Prix of Long Beach. The green flag will drop on the 1.968 mile circuit at 4:37 PM ET on April 19. The race will be broadcast in the United States on NBCSN starting at 4 PM ET.