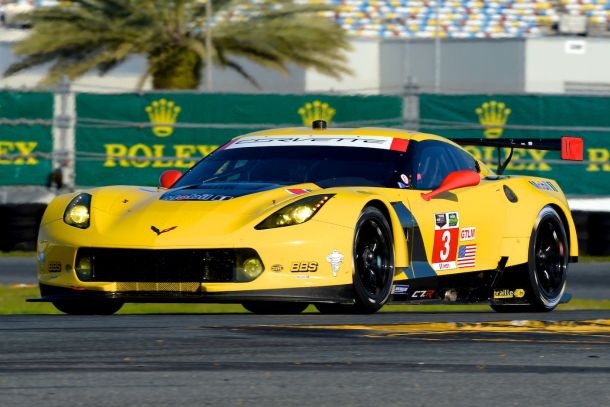 The two longest races of the year are behind the four categories of the TUDOR United SportsCar championship, and the third race on the calendar has arrived; The Tequila Patrón Sports Car Showcase at Long Beach is the third and shortest race on the TUDOR Championship schedule, and it historically has been good to Corvette Racing.
Corvette took the GTLM victory on the streets of Long Beach in 2014, winning for the first time in the Chevrolet Corvette C7.R - a car that went on to win four more times last year. The two-car team will attempt to win for the sixth time at Long Beach since 2007 and for the second time in a row after last year's win.
We've Been Here Before
It'll be Antonio Garcia and Jan Magnussen in the No. 3 Corvette C7.R and Oliver Gavin will share the No. 4 Corvette C7.R with Tommy Milner on Sunday. Each one of these drivers has won at the famed 1.969-mile Long Beach street circuit:
- Antonio Garcia: 2014
- Jan Magnussen: 2008, 2014
- Oliver Gavin: 2007, 2009, 2012
- Tommy Milner: 2012
Gavin and Milner have been on the podium two of the last three years at Long Beach and finished third at the 2014 event. The duo is tied for sixth in the GTLM class standings, but is just four points out of second position.
Corvette's Year Thus Far
The Corvettes took two of the three spots on the Rolex 24 At Daytona podium as Garcia, Magnussen and Ryan Briscoe won the GTLM class by less than half a second and Gavin, Milner, and IndyCar's Simon Pagenaud brought the second Vette home in third.
The second and most recent race of the 2015 season at Sebring International Raceway, a 12 hour endurance event, saw Garcia, Magnussen and Briscoe win once again, becoming the first duo to win Daytona and Sebring in the same year in 15 years.
Because of these two race wins, these three lead the GTLM drivers' championship entering Long Beach.
The Race
Being that the street circuit race in Long Beach is only 100 minutes long, the minimum drive time for each of the two drivers is just 35 minutes. Strategy will most likely involve a single pit stop which is when the drivers will switch.
The Tequila Patrón Sports Car Showcase at Long Beach, the third race of the TUDOR United SportsCar Championship, is set for 4:05 p.m. PT on Saturday, April 18 from the Long Beach street circuit. Live coverage begins at 7:05 p.m. ET on IMSA.com with FOX Sports 1 airing the race at 4 p.m. ET. Flag-to-flag radio coverage will be available via IMSA Radio.