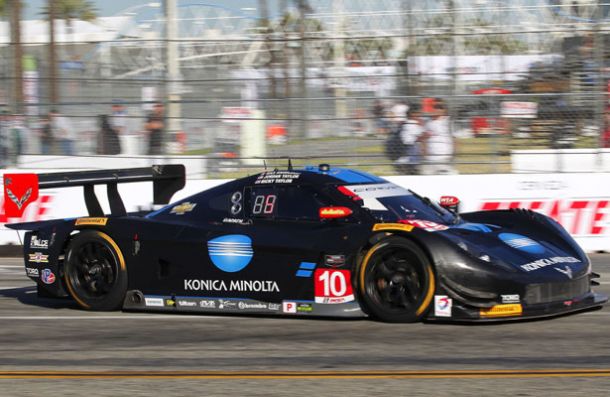 Two of the four United SportsCar classes raced at Long Beach, and two cars won from pole.
Both the No. 10 Wayne Taylor Racing Prototype and No. 25 BMW Team RLL earned pole position on Friday, and both hit the track on Saturday, laying down dominant performances in the 100-minute street fight.
The Ganassi car of Scott Pruett and Joey Hand was stubbornly pressuring the Taylor brothers as it did in qualifying on Friday, and the Ganassi Ford EcoBoost Prototype actually had the advantage in regards to fuel (they went two extra laps on a mid-race pit stop sequence).
In the closing chapters of the race, Taylor approached traffic, but was able to hold onto the lead over Hand who was at the wheel of the Ganassi entry; Jordan Taylor went on to win the race by 3.3 seconds over Hand.
Rounding out the podium for the Prototype category was the No. 90 VisitFlorida.com Racing Corvette DP at the hands of Richard Westbrook and Michael Valiante.
Also a close race, GTLM entertained on the streets of Long Beach. Pole went to BMW Team RLL on Friday, and Bill Auberlan began the race in BMW's No. 25 from the pole, before handing the car off to Dirk Werner. Werner was second-in-class as the 100-minutes winded down.
The No. 62 Risi Competizione Ferrari was leading the GTLM field on lap 66 with Pierre Kaffer at the wheel before Werner made the pass entering turn 9.
Werner held on in the No. 25 BMW Team RLL No. 25 to win from the pole by 2.911 seconds over Kaffer in the Ferrari. The win breaks a winless streak of two years for the Rahal Letterman Lanigan BMW team; they last won on the streets of Long Beach at the same race two years ago - back when it was the American Le Mans Series.
Corvette Racing, although unable to win for a second year in a row at Long Beach, finished third, driven by Antonio Garcia and Jan Magnussen who were undefeated in 2015 entering Long Beach.
Next up for the TUDOR United SportsCar Championship is Mazda Raceway, where all four classes will race at the same event once again.